5 Day Sai Dahabiya Lake Cruise from Aswan to Abu-Simbel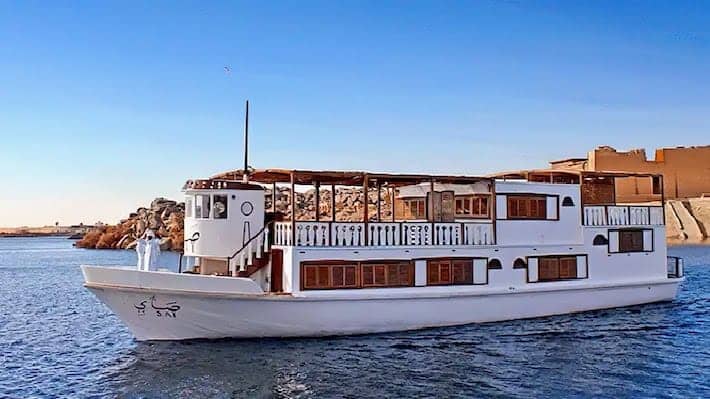 Discover a long-gone but never forgotten ancient world with our magical 5-day Sai Dahabiya Lake Cruise from Aswan to Abu Simbel. Relax and unwind aboard a beautiful traditional Dahabiya as it cruises on the tranquil waters of Lake Nasser, taking you from one indescribable ancient monument to the next.
While the Sai Dahabiya may not have all the amenities you find on the large 5-Star cruise ships, it is everything you could ever hope for and more. Lake Nasser Dahabiya cruises are a truly immersive experience away from large crowds, and the level of personal attention is second to none. Explore the secrets of Nubia on board the beautiful handcrafted Sai Dahabiya, one of the greenest boats in the region – Epic Nile cruises with lifelong memories guaranteed.
NOTE: Cruises Depart from Aswan every Monday.
Inquire
5-Day Sai Dahabiya Lake Cruise
Itinerary
5 Day Sai Dahabiya Lake Cruise from Aswan to Abu-Simbel
See also: 4 Day Sai Lake Nasser Cruise from Abu Simbel to Aswan
DAY 1 – Embarkation and Sightseeing Cruise to Khour el Ghazal Creek
If you are worried or concerned about anything to do with your Sai Dahabiya Lake Cruise, you needn't be. You are going to have an incredible experience, a Lake Nasser cruise which is flawless in every way, from the moment we meet you in Aswan, to the moment we bid you farewell at Abu Simbel.
When you arrive at the airport or train station in Aswan, one of our tour managers will be there to meet you, and you will then be escorted in a modern air-conditioned vehicle to the area where you will be boarding the beautiful handcrafted Sai Dahabiya boat for your cruise.
Today you will also be visiting two amazing ancient attractions: Kalabsha Temple and Beit El Wali. Your Dahabiya will then sail on towards Khour el Ghazal Creek where it will tie-up for the night. Of course, a first-class lunch and a delicious dinner will also be prepared and served onboard the vessel. Tonight you will be sleeping in the comfort of your cabin on the water at Khour el Ghazal Creek.
Meals Included: Lunch and Dinner
DAY 2 – Leisure Cruise to Wadi El Saboua
Wake up to a lovely breakfast on board your Dahabiya, then relax and take in the scenery as the boat sails slowly towards Wadi El Seboua. Enjoy another first-class lunch on board, followed by afternoon tea at about 15h00, and another hearty dinner in the evening.
After dinner, you will have the remainder of the evening to enjoy as you wish. Tonight you will be sleeping on the water at Wadi El Seboua.
Meals Included: Breakfast, Lunch and Dinner
DAY 3 – Onshore Sightseeing Excursions and Cruise to Amada
Wake up and enjoy a fantastic onboard breakfast, and then it will be time to visit the Valley of Lions to explore the ancient Wadi El Seboua temples. These are two "New Kingdom" temples which were built during the reign of Pharaoh Ramses II of the 19th Dynasty. While these temples may not look very impressive at first sight, they have an abundance of fascinating features which will become apparent once you start exploring the site.
Like a number of other ancient relics seen along the shores of Lake Nasser, these temple are now located away from their original location, having been moved in order to save them from being flooded by Lake Nasser after the High Dam was completed.
After spending some time at these two temples, you will return to the Sai Dahabiya, and it will then begin sailing to Amada, with a good wholesome lunch being served along the way.
At Amada you you will disembark, and you will visit another three intriguing ancient sites: the Temple of Amada; the Temple of Derr, and the Tomb of Penout.
The Temple of Amada dates back to the time of Pharaoh Thutmose III of the 18th Dynasty, but sections of it were added later by 19th Dynasty rulers, including Seti the 1st and Ramses the 2nd. It was also Ramses the 2nd who built the nearby rock-cut Temple of Derr, which is another site you are unlikely to ever forget. Finally, you will explore the amazing rock-cut Tomb of Pennut. All 3 of these ancient monuments are in close proximity to each other after having been moved from their original locations.
After your excursion, you will return to the Sai Dahabiya. There will be a very entertaining Nubian Folkloric Show, and then it will soon be time for you to enjoy another fine onboard dinner.You will be spending tonight on board the ship, on the water at Amada.
Meals Included: Breakfast, Lunch and Dinner
DAY 4 – Sail to Abu Simbel via Kasr Ibrim and Abu Simbel Temple Visit
As usual, the 4th day of your Sai Dahabiya Lake Cruise once again begins with a good onboard breakfast, and your Dahabiya will sail to Kasr Ibrim.
At one point in the past, there was an entire ancient city here, and one which was of great religious and political importance. Today, only a tiny island and an old fortress remain. The island you see is essentially the top of the old city's highest hill. The rest of the area disappeared beneath the water of Lake Nasser as water levels rose following the construction of the Aswan High Dam.
The fortress that you see is the only ancient monument to have survived the flooding of this area. All the other ancient monuments that line the shores of Lake Nasser were moved to higher ground in order to spare them. Kasr Ibrim is of great archeological value and it is strictly off limits for everyone apart from archeologists who have obtained special permission. Your Dahabiya will however be able to get close enough for you to take some amazing photos.
Next, you will be served another delicious lunch while you are sailing to Abu Simbel, where you will be disembarking for an incredible sightseeing experience at the truly indescribable Abu Simbel Temples. After the Giza Pyramids, this is the second most recognizable ancient attraction in Egypt. No amount of words could even begin to describe the magic of these two extraordinary rock-cut temples.
Later in the day you will also have the option of going to see a Sound and Lights show at the Abu Simbel Temples. However, this is optional and is therefore not included in the price of your Sai Dahabiya Lake Cruise.
As usual, a delicious dinner will be served up on your Dahabiya in the evening, and you will be spending tonight sleeping on the water at Abu Simbel.
Meals Included: Breakfast, Lunch, and Dinner
DAY 5 – Sai Dahabiya Lake Cruise Disembarkation
Sadly, today marks the end of your 5-Day Sai Dahabiya Lake Cruise, but before you disembark, first sit down to another wholesome onboard breakfast which you can enjoy at leisure while you think about all the great things you have seen during your cruise.
After breakfast, it will be time to say goodbye to any new friends you've made along the way, and it will be time to wave goodbye to the imposing Abu Simbel Temples. Of course, you will also be driven to the airport or railway station, dependent on what your onward travel arrangements are. We hope you have a wonderful onward journey, and we thank you for placing your trust in Egypt Tours Plus.
Meals Included: Breakfast
What is Included
What is
included

in your Sai Dahabiya Lake Cruise :
Meet and Greet Service – One of tour representatives will meet you on arrival in Aswan, and another one will be there to bid you farewell when you depart from Luxor.
Full Personal Assistance – Our team of tour professionals will be available to offer assistance throughout the duration of your Sai Dahabiya Lake Cruise in the unlikely event that something goes wrong.
All Transfers – All transfers are done in modern air-conditioned vehicles and are included in the price of your cruise.
Full Board – Sai Dahabiya Lake Cruise includes full board and lodging on board the Sai Dahabiya boat.
All Excursions – All excursions mentioned in the Sai Dahabiya Lake Cruise itinerary are included in the tour price.
Entrance Fees – Any and all entrance fees to the various sites visited are included.
English Speaking Guide – A fully certified English-speaking guide will accompany you on all excursions. Our guides are extremely knowledgeable, and visitors are encouraged to ask question during excursions.
All Service Charges and Taxes – The price of your cruise is inclusive of all taxes, services charges, and etc. With us, there are NO hidden charges along the way.
What is
not included

in your Sai Dahabiya Lake Cruise:
Pre-Arrival and Post-Departure Travel – Tour price does not include travel to Aswan or onward travel from Luxor.
Tipping – Tour price does not include money for tipping guides, waitresses, waiters, and etc. Tipping is not required or expected, but always appreciated if you feel it is well-deserved.
Price
Accommodation Plan
Sai Dahabiya Lake Cruise Ship
| Price per 1 person | October to April |
| --- | --- |
| Double Cabin | $1377 |
| Single Cabin | $1809 |
Prices are quoted per person in US$ and valid up until the 30th of September 2023, except during Easter and Christmas and New Year holidays.
Egypt Nile Cruises
Didn't find the Dahabiya lake cruise you were looking for? See more 5-day Nile cruises here or find a SAI Dahabiya Nile Cruise alternative below.
Design Your Custom Egypt Tour
Explore Egypt your way by selecting only the attractions you want to visit