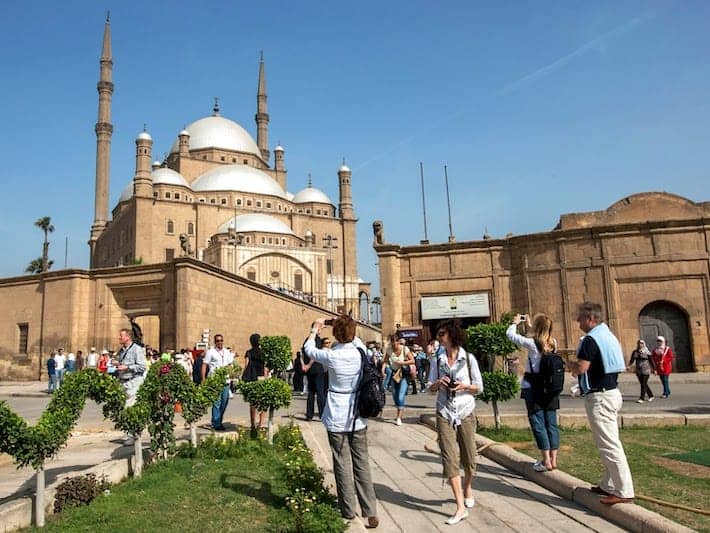 If you are planning a trip to Cairo, and you are wondering what to wear in Cairo, then you have come to the right place. Most people, who have visited Cairo, as well as other parts of the country, describe Egypt as being a modern country, but also a somewhat conservative country.
Does this mean tourists need to dress in a particular way?
While not all Egyptians are Muslim, the majority are. As such, Egypt is by and large a Muslim country. This also means that the general population tends to dress more conservatively than people in many Western and/or non-Muslim countries.
So, does this mean that tourists are all expected to dress in the same way locals do?
Unlike in some other Muslim countries, tourists in Egypt are free to dress as they wish, and Cairo is no different. The truth is, most Egyptians in Cairo and other large cities don't really care how tourists choose to dress.
With that having been said, there are some exceptions, but we'll look at a bit further down the page.
What to Wear in Cairo?
There is no formal dress code in Cairo. While Egyptian women tend to dress conservatively, and while Egyptian men tend to dress smartly, tourists are under no obligation to follow their example. Most Egyptians are very tolerant of tourists and their ways. Also, in a city as populated and as busy as Cairo is, nobody even pays much attention to how you choose to dress.
Decisions on what to wear in Cairo should be based more on the climate than on cultural norms. Egypt has a hot climate, and Cairo is no exception. Cairo often has lower daytime temperatures than some other parts of the country. However, the high humidity and airborne pollution can make it feel hotter than it actually is.
So, in our opinion, the ideal dress code for tourists would be a dress code that helps you to feel comfortable in the heat while at the same time respecting cultural norms. Here are our recommendations for both male and female visitors:
The Best Clothes for Male Visitors
For men visiting Cairo, we would recommend wearing long loose pants and a long sleeve shirt, along with a comfortable pair of closed shoes or a respectable looking pair of breathable sandals. We would also recommend that you opt for white clothing or other light colored clothing. Dark colored clothing attracts the heat, which is something you really do want to avoid when you are out and about in Cairo.
The Best Clothes for Female Visitors
In our opinion, women should also opt for long sleeved tops. Nothing prevents women from wearing long loose-fitting pants, although many female tourists find ankle-length skirts and/or maxi dresses to be more comfortable. As far as footwear is concerned, women can also choose to wear closed shoes, although it seems most female tourists prefer to wear decent looking breathable sandals instead.
When Do Dress Codes Apply?
You are essentially free to dress as you wish when you are exploring the streets of Cairo or visiting outdoor attractions like the Giza Pyramids. However, if you visit certain attractions or venues, you will need to abide to a particular dress code.
Let's take a look at a few examples:
Visiting Cairo's Historical Mosques
Cairo is sometimes referred to as the City if Minarets due to it many mosques. It is estimated that Cairo is home to as many as 1,000 mosques, some of which are hundreds of years old. Some of the mosques in this bustling city are of immense religious significance. In fact, many Muslims from all over the world travel to Cairo for the opportunity to pray in some of the city's mosques.
Some of Cairo's mosques don't only attract worshippers either. Some are among the city's top tourist attractions due to their spectacular architecture. Two such examples would be the Mohammad Ali Alabaster Mosque and the Mosque of Ibn Tulun. 
Several of our own Nile Cruise holidays also include a visit to at least one mosques, usually the Mohammad Ali Alabaster Mosque which is located in the old Cairo Citadel in the city's Islamic Quarter.
So, how should one dress when visiting mosques?
What to Wear when Visiting Mosques [Women]
Unlike in many other Islamic countries, many mosques in Cairo and elsewhere in the country are open to non-Muslim visitors. However, it is expected of you to dress appropriately. For women, this means covering your hair and shoulders when entering a mosque. Ideally, women should also wear a long sleeved top and an ankle-length dress or a pair of ankle-length slacks.
It is not necessary for non-Muslim women to wear a hijab when visiting a mosque. A simple head scarf will suffice. Under no circumstance should a woman enter a mosque wearing a mini skirt or short pants. Doing so is seen as being highly disrespectful.
What to Wear when Visiting Mosques [Men]
Men in Egypt can dress however they want, and the same applies to male tourists. Nonetheless, all men, including tourists, are expected to dress appropriately when visiting a mosque. Some non-Muslim male tourists do visit mosques wear short pants and/or sleeveless tops, but this really is frowned upon. It is seen as being disrespectful, even if nobody says anything about.
If you really must wear a pair of shorts, or if you visit a mosque unexpectedly while you happen to have shorts on, it shouldn't be a major problem. The worst that is likely to happen is that you may attract some unwanted attention.
The All-New Grand Egyptian Museum at Giza
The Grand Egyptian Museum is a newly built museum located at Giza, roughly 2km from the legendary pyramids and the Sphinx. It is the world's largest museum dedicate to a single human civilization. Visitors can view more than 100,000 ancient artifacts, many of which have never been on display before.
The original Museum of Egyptian Antiquities [Egyptian Museum] in Cairo will remain open, but many of the artifacts that were once on display there are now being display in the new museum at Giza.
Unlike at the old Egyptian Museum in downtown Cairo, the all-new Grand Egyptian Museum does have a dress code in place. The dress code being: smart casual. It remains to be seen to what extent this ruled will be enforced. However, visitors should be aware of the fact that they may be turned away if they are dressed inappropriately.
How to Dress for the Giza Pyramids
When visiting the famous Giza Pyramids, or the Great Step Pyramid of pharaoh Djoser at Saqqara, you can essentially dress anyway you want. At least one or two of the pyramids at Giza are open to visitors on any given day. However, most package tours, including our own range of Egypt tour packages, only include admission to the actual site, and not entry tickets for the pyramids. 
Visitors who wish to enter one of more of the pyramids can purchase the necessary tickets on site. If you only want to view the pyramids from the outside, some lightweight breathable clothing, a wide-brimmed hat, and a pair of sandals should be just fine. A lightweight handheld umbrella is also something you might want to consider because there is no shade at the site.
If you plan on entering one or more of the pyramids, it is really important that you wear comfortable shoes because you are going to encounter a lot of stairs. When we say a lot of stairs, we really do mean plenty of stairs. You may also want to leave your wide-brimmed hat and/umbrella at your hotel because you will be encountering some pretty confined spaces inside the pyramids.
Last but not least, it is warm inside the pyramids, VERY warm. Don't expect cool air-conditioned spaces. Instead, be prepared to perspire, so having a small hand towel with you is probably a good idea. 
Breathable Fabrics – There Is No Better Choice!
When you are visiting historical sites in and around Cairo, such as the Giza Pyramids, perspiring is more or less guaranteed. When perspiration gets trapped inside your clothing, it can feel seriously uncomfortable.  Choosing clothing made from breathable fabrics like cotton can go a long way in helping you to avoid this problem. This is especially true if you are planning to partake in any active pursuits.
Other Items to Add To Your Packing List
Expect hot weather and plenty of sun when you get to Cairo. We have already discussed what sort of clothing is best in terms of comfort. The clothing items we have mentioned will also provide excellent protection against sunburn. However, even if you keep your arms and legs completely covered, your hands, face, and neck can still suffer. With this in mind, we recommend packing in the following items for you trip to Cairo:
Wide-Brimmed Hat – Wide brimmed hats can provide plenty of protection, and are particularly useful when visiting and exploring outdoor tourist sites.
Sunscreen Lotion – When visiting Cairo or any other part of Egypt, it is imperative that you apply a good quality sunscreen lotion to any and all parts of your body that are going to be exposed to the sun. This includes your hands, face and neck, assuming that the rest of your body is covered.
Lip Balm – Dry and chapped lips are a very common occurrence among tourists, even though it is a problem which can easily be avoided simply by using a good quality lip balm.
Head Scarf – For women who want an extra layer of sun protection, a lightweight cotton head scarf is highly recommended. They also come in handy when visiting religious sites and especially mosques since women are required to cover their hair and shoulders when entering a mosque.
Water Bottle – Tap water is not safe to drink in Egypt. Instead, you will need to buy and drink bottled water only. With Egypt being such a warm country, a bottle of cold water doesn't stay cold for very long. With this in mind, we highly recommend packing in an insulated water bottle to keep your water and/or other refreshments cool.
NOTE: Some people find that a handheld umbrella offers better protection than a wide-brimmed hat. However, these take up space in your luggage. If you feel you would like to use an umbrella, you might rather want to consider buying one in Cairo when you arrive in the country.
A Word about Revealing Clothing
As has been mentioned, most Egyptians in large cities like Cairo are very tolerant of tourists and the way they choose to dress. Both men and women are free to wear things like sleeveless tops, but such tops, as well as crop tops, are not appropriate for entering mosques. Short pants are also not appropriate for entering mosques.
When entering religious sites, men should wear long pants. while a female tourist should wear a maxi dress or ankle length dress. At the very least, your dress or maxi skirt should reach to just below your knees.
Despite what you might have read, if you, as a female traveler decide to wear a pair of shorts and a crop top while visiting places like the Giza Pyramids, nobody is going to bat an eyelid. Still, as a female tourist, if you do choose to wear revealing clothing while you're exploring Cairo, it's very likely that you will attract extra attention.
In short, and especially as far as female travers are concerned, revealing clothing should be saved for going to the beach or for when you visit a coastal resort town like Hurghada or Sharm El Sheikh.
Topless and/or Nude Sunbathing
Strictly speaking, topless sunbathing is illegal in Egypt, just as it is in any other Islamic country. However, authorities often turn a blind eye when it comes to tourists tanning topless unless they receive complaints. Some hotels that cater mostly for foreign guests will also allow this, as will some resorts on the coast that have their own private beaches.
While topless sunbathing might be tolerated in certain places, nude sunbathing is not. Regardless of whether you are male or female, being nude in public is likely to get you arrested.
When to Visit – and What to Wear in Cairo and the Rest of Egypt?
Egypt is a hot country. While Cairo may generally have somewhat cooler weather compared to places like Luxor, temperatures can still vary quite significantly depending on when you choose to visit. As one would expect, the summer months are a lot warmer than the winter months.
Let's take a look at the different seasons, and the best way to dress based on when in the year you choose to visit.
What to Wear in Cairo in Summer [June, July & August]
June, July and August are the summer months in Egypt. If you choose to visit at this time of year, expect very warm weather. Light colored loose fitting clothes, preferably made from cotton or some other type of breathable fabrics are by far your best choice.
Bear in mind that daytime temperatures in Cairo range between 96° to 105° Fahrenheit (35° to 40° Celsius). By the end of August, however, temperatures will have started to drop. Expect daytime temperatures of around 91°F (33° Celsius). Due to these high temperatures, you are not likely to encounter many tourists in Cairo or elsewhere in the country during June, July and August.
On the upside, tourist related prices are at their lowest during this part of the year. This, along with the absence of tourists, makes the summer months an attractive option for some travelers. Even a Nile River cruise costs less at this time of the year.
Most people will find the evenings in Cairo to be quite pleasant, with average night time lows of around 69.8°F (21° Celsius). Despite the mild temperatures in the evenings, light jackets are a common sight, and something we would recommend adding to your packing list.
What to Wear in Cairo During the Fall Months [September, October & November]
By the time September arrives, the days and nights have started to cool somewhat. The low season ends at the end of September, so from October onwards, expect higher prices. 
The weather has become more pleasant, while the main influx of tourists has not yet begun. Average highs during October, for example, are around 86°F (30° Celsius), while average lows are around 66.2°F (19° Celsius). Despite the slightly cooler temperatures, we would still recommend wearing the same sort of clothing we would recommend if you were going to be visiting during the summer months.
What to Wear in Cairo in Winter [December. January & February]
By the time November arrives, the weather in Cairo has actually become rather pleasant, and more tourists are starting to arrive. December and January are the busiest months in terms of tourist numbers. If you want to enjoy pleasant weather while at the same time avoiding huge numbers of tourists, it would probably be best to visit in November rather than in December or January.
Even though the days are still warm enough to warrant thin and lightweight clothes, the evenings are quite cool by now. With this in mind, you should definitely take a lightweight winter coat with you. You may also want to consider packing in one or two pairs of jeans or other long pants long pants to wear in the evenings
January tends to be the coolest month throughout the country. In Cairo you can expect the average temperature in January to be around 66.2°F (19° Celsius) during the day, and around 50°F (10° Celsius) at night. While you are not likely to feel cold during the day, evenings are a different matter altogether.
The need for some extra clothing is even more important if you intend visiting any desert regions in Egypt, including places like Luxor.
Visiting Other Egyptian Destinations
If you are planning to visit other parts of the country, don't automatically assume that the weather/temperatures will be much the same as in Cairo. In places like Luxor, daytime temperatures are higher than they are in Cairo, and nighttime temperatures are also lower than they are in Cairo.
As we've seen, daytime temperatures in Cairo during the month of January stand around 66.2°F (19° Celsius), while in Luxor they stand at around 73.4°F (23° Celsius). While nighttime temperature Cairo drop to around 50°F (10° Celsius), in Luxor they drop to around 44.6°F (7° Celsius). This might not seem like a big difference, but it is a difference which most people will clearly feel.
Dressing for Formal Settings
When dining at roadside cafes and/or makeshift food stalls, you can dress more or less however you choose. However, at more upscale establishments, it is best to dress accordingly, which is either smart or smart-casual. Some restaurants may even insist on this, and will refuse entry to anyone who is not dressed appropriately.
On some, but not on all Nile cruise ships, passengers are also required to adhere to a certain dress code. This usually only applies to certain areas aboard the ship, such as the dining hall and/or nightclub/disco. However, dress codes on most Nile cruise ships are rarely enforced.
Explore the Best of Egypt Your Way!
You can also check out our spectacular range of Egypt tour packages and Nile cruise holidays today, or even create your dream trip to Egypt right now.
Design Your Custom Egypt Tour
Explore Egypt your way by selecting only the attractions you want to visit