Do I Need a Visa to Visit Egypt from UK?
UK citizens traveling on a British passport need to obtain a valid tourist visa if they wish to visit Egypt. They can however visit the South Sinai Peninsula for up to 15 days without a visa.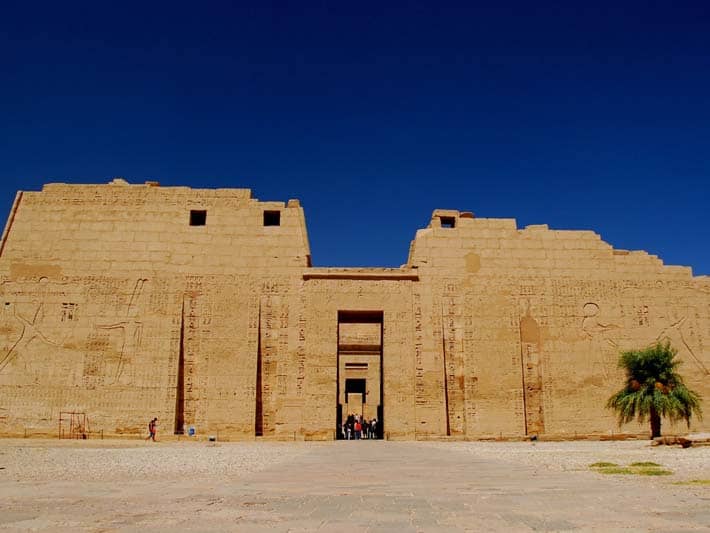 Do I Need a Visa to Visit Egypt from UK?
Egypt welcomes tens of thousands of tourists from the UK each year. This is hardly surprising considering that Egypt is one of the oldest and most fascinating holiday destinations.
People with a British passport are not faced with a long list of entry requirements. Instead, they only need a valid passport and a visa. Passports must have at least six months validity remaining, as well as at least one blank page. Proof of onward travel may or may not be asked for by immigration officials at Cairo International Airport or any other port of arrival.
Getting your Visa for Egypt
To obtain an Egypt visa, you have three options available to you. Your first option, but also the most inconvenient and most time consuming option would be to apply for visa at an Egyptian embassy. It is best to phone the embassy first to find out what the opening hours are for visa applications, bearing in mind that visa applications are only accepted during certain hours.
Below, you will find the phone numbers, email addresses, and the street address for the Egyptian Embassy in London:
ADDRESS: Embassy of Egypt, 26 South St, Mayfair, London W1K 1DW, UK.
TEL NO: (0044207)4992401
EMAIL: [email protected] & [email protected]
Egypt Visa on Arrival
British nationals and those traveling on a British passport are able to obtain a tourist visa on arrival at any international airport in Egypt. Keep in mind that only 30-day single entry visas are issued on arrival.
If you want to get your visa on arrival, just join the queue at one of the bank kiosks which you will pass on your way to the immigration counters. When it's your turn, simply fill out the visa application form, show your passport, and pay the visa fee, which at the time of writing was 25 US dollars. You will then be handed a sticker, after which you can make your way to the immigration counters.
Suggested Reading: Egypt Tours from UK
Egypt Electronic Visa
UK nationals and those traveling on a British passport are also able to obtain their visa online. Also known as an Egypt e-Visa, this is by far the most convenient option for obtaining an entry visa for Egypt. Egypt's e-Visa system is well laid out and extremely user-friendly.
To apply for an online visa, you will need to visit the official Egypt e-Visa portal and set up an account. Once you have done that, an email will be sent to the email address you provided, asking you to confirm your account. Once you have confirmed your account, you can then choose which visa you want to apply for.
You can only apply for a standard visitor visa, either a single-entry visa or a multiple entry visa. As of the time of writing, the cost for a single-entry visa was 25 US Dollars, while the cost for multiple entry visas was 60 US dollars. You can pay for your e-Visa fee using any credit card or debit card bearing the Visa or MasterCard logo.
Recommended: Nile Cruise Holiday Packages
Visa Application Centres
Be wary about using visa application centres in the UK that offer to obtain a valid visa for Egypt on your behalf. They can in fact apply for an online e visa on your behalf, but you will have to pay for the service, and you can rest assured that you are going to pay far more than you need to. Expect to pay anywhere from GBP40 to GBP100. There really isn't any reason why you should have to fork out this sort of money when you can do everything yourself in a matter of a few minutes.
Suggested Reading: How Much Does it Cost to Visit Egypt?
Transiting Through Egypt
Do I need a visa to visit Egypt as a transit passenger? If your stopover in Egypt is anywhere from 6 to 48 hours, you are free to leave the airport altogether without any need for a visa. This is really good for transit passengers who would like to visit a few attractions in Cairo, such as the Giza Pyramids and the Egyptian Museum.
The nationals of certain countries can leave the transit area but not the airport, while the citizens of a very small number of countries are also not allowed to leave the transit area at all. UK nationals are free to leave the airport providing they return to the airport within 48 hours of their flight landing.
Recommended: Top 6 Best Egypt Tours
Egyptian Citizens with Foreign Passports
Do I need a visa to visit Egypt as an Egyptian citizen who will be traveling on a British passport? Egyptian citizens who are traveling on a British passport will be granted a courtesy visa providing they are able to prove their Egyptian citizenship. They can do this by providing an Egyptian passport, an Egyptian identification card, or their Egyptian birth certificate.
Interestingly, British women who are married to Egyptian men can also obtain a courtesy visa providing they can show proof of their marriage.
Book your Dream Trip to Egypt from the UK Today
At Egypt Tours Plus, we don't only sell tours; we make dreams come true with our range of bespoke Egypt vacation packages. All of our Egypt private tours can be customized to suit your own individual needs and desires, or our team of travel specialists can also help you to design your very own tailor-made Egypt tour from scratch.
Contact us now to begin planning a once-in-a-lifetime trip to the Land of the Pharaohs, or to book your dream vacation to Egypt today.
Design Your Custom Egypt Tour
Explore Egypt your way by selecting only the attractions you want to visit