Our Jordan Travel Blog is your key to a great vacation in a truly wonderful destination; a country that has not only embraced tourism to the full extent, but one which welcomes visitors with open arms. In fact, the Jordanian authorities have made a tremendous effort to make visiting Jordan as hassle-free as possible. We in turn hope that our Jordan travel blog will encourage you to visit this lovely country; a country which has been spared from the perils of mass tourism.
Whether you are searching for the perfect Jordan tour package, or whether you are searching for information about Jordan Tourist Attractions or Jordan visa requirements, we are confident that you will the answers right here.
Lifetime Memories Guarateed → Egypt and Jordan Tours
Jordan Tourist Attractions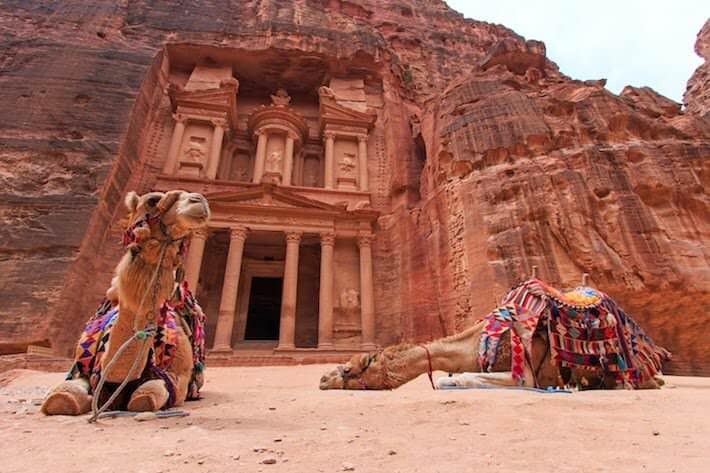 There is simply no denying the fact that there are Jordan tourist attractions to suit every type of traveler. Whether you want to relax and unwind on the Red Sea coast; float on the water in the Dead Sea; go on a desert safari to Wadi Rum, or whether you want to spend your time exploring the country's fascinating historical monuments such as the Lost City of Petra, a vacation in Jordan in unlikely to disappoint. Explore the top sights in Jordan here →
Jordan Travel Information and Blog Posts
The Jordan Travel Blog by EgyptToursPlus
For centuries, Jordan more or less remained off the main tourist map, but that all changed drastically after the discovery of one of the world's most fascinating archeological monuments, the Rose City of Petra.
Ever since Petra was discovered, tourist numbers have been steadily climbing, but Petra is not the only reason why more and more people are visiting Jordan. In this Jordan travel blog, we will of course discuss Petra because no Jordan travel blog would be complete without some information about this site, but we will also be looking at other reasons why Jordan has become increasingly popular.
Ideal Geographical Location
One of the things which make Jordan such a great place to visit, is its geographical location, with Egypt on one side, and Israel on the other. Many people who visit Egypt decide to visit Jordan as well while they are in the region. Some will book Egypt tour packages and then head across the border into Jordan to see the Lost City of Petra, while others prefer to book multi-destination tours, such as our Egypt and Jordan tours. Of course, others prefer to stand-alone Jordan tour packages which don't feature another destination because there is so much to see in Jordan anyway.
Bestseller! THE Egypt, Jordan and Israel Tour
Design Your Custom Egypt And Jordan Tour
Explore Egypt and Jordan your way by selecting only the attractions you want to visit
Minimal Red Tape and Even Visa-Free Travel
The citizens of many countries only need to be in possession of a valid passport with 6 months validity remaining, and they can then obtain a visa on arrival at the airport when they land, or at certain land border crossings. Others might have to show proof of onward travel and perhaps even a copy of their tour itinerary, but in general, getting a visa for Jordan is very quick and easy.
Also, if you are going to be in the country for a minimum of two or three days, and you are going to be hosting a Jordanian registered tour guide, it is possible to have your visa fees waived. The same applies if you purchase a Jordan Pass prior to arriving in the country, which, coincidentally, also gives you free access to countless Jordan tourist attractions, including Petra. Depending on which country you come from, you should be able to find links to visa related information right here on our Jordan travel blog which is specific to your particular nationality.
Jordan's Most Popular Tourist Attractions
You can also find links here on our Jordan travel blog that will take you to pages containing information about many of Jordan's top tourist attractions, but let's just touch on some of the places you just have to see while you are in Jordan:
>> Visit here to explore ALL the most important tourist attractions in Jordan
Wadi Rum and the Jordanian Desert
You would be forgiven for thinking there must surely be nothing to see in the desert apart from sand dunes, but in reality, there is plenty to see, including places such as Wadi Rum. In fact, if you ever watched the movie, "Lawrence of Arabia" then you might even recognize some of the areas at Wadi Rum because much of the movie was actually filmed here. Wadi Rum is definitely not your average desert landscape. If it was, then it would not be one of Jordan's most visited tourist attractions.
The Irresistible Appeal of the Dead Sea
With the Dead Sea being as famous as it is, it only seems right that we make mention of it in our Jordan travel blog, and especially because for many who choose to visit Jordan, the Dead Sea is high on their list of must-see attractions. Yes, it is true; you really can read your book while floating the water. This exceptional buoyancy is due to the incredibly high salt and mineral content of the water, and it never fails to impress all who visit.
Mud from the Dead Sea is also very mineral-dense, and is used in a numerous therapeutic and cosmetic treatments, not only in the region, but all around the world. Because the Dead Sea is such a popular tourist attraction, there is nowadays no shortage of accommodation in the area to suit both high-end travelers and budget travelers alike. Even if you only have a limited amount of time to spare when you visit Jordan, we highly recommend trying to fit a visit to the Dead Sea into your travel plans.
The Rose City of Petra Which Words Can't Describe
While just about every Jordan travel blog will mention the Rose City of Petra, the fact of the matter is that no amount of words could ever possibly do this incredible monument the sort of justice it deserves. In fact, if you haven't been to Petra, then you haven't been to Jordan. Also known as the Rose Red City of Petra or the Lost City of Petra, the site comprises an entire ancient city that was carved out of the rock faces on either side of a deep and narrow gorge roughly one kilometer long. As the sun moves across the sky, the sandstone cliffs turn all different shades of red, which essentially gave rise to the site's popularized name.
The city was created by the Nabateans and played a significant role as a major trading hub. Its layout and design which included a continuous supply of fresh water, along with its strategic location, allowed the Nabateans to flourish, and Petra, as it stands today, is clear evidence of just how wealthy the Nabateans became.
Jordan – A World of Culinary Delights
If you enjoy eating, and particularly if you like trying new types of cuisine, then your time in Jordan is likely to be a magical culinary journey; a journey limited only by your own inhibitions. In short, Jordanian cuisine is simply amazing, and whatever you do, you have just got to try Jordan's national dish called Mansaf.
Mansaf is a traditional Jordanian dish which is made by cooking lamb in a very unique and absolutely delicious sauce consisting mostly of Jameed, which is a special type of fermented dried yogurt which is unique to Jordanian cuisine. Once ready, the Mansaf is then served either with rice or with Bulgur. Another very famous dish, although not unique to Jordan, is Zarb. This is very popular in the south of the country, in the vicinity of Wadi Rum and Petra for example.
Zarb is also a lamb dish, but the lamb is cooked very slowly in a submerged oven, and is then served with rice, roasted nuts, raisins and etc. And, if you want a whole lot of variety in one sitting, then be sure to order Mezze. This is a selection of smaller servings of various appetizers and snacks which make for a delightful dining experience.
Places to Visit in Jordan
Getting the Most Value Out of Our Jordan Travel Blog
Our Jordan travel blog really does contain a wealth of information relating to all things Jordan, so we strongly recommend taking some time out to click on the various links made available on this page. You will almost certainly be able to find the sort of information you are looking for, along with plenty of other information that can help to add more value to any vacation in Jordan.
Of course, if you cannot find what you are looking for, then just get in touch, and we will do our best to help.
Egypt and Jordan Travel Packages
>> Click here to see all Egypt and Jordan travel packages