Every year, scores of people book Egypt tours from Chennai and they are never disappointed. Egypt is a diverse country that attracts millions of tourist from all around the world, including India. Most visitors, and especially first time visitors, want to explore Egypt's almost infinite number of ancient sites. From the Giza Pyramids and the Sphinx in Cairo, to the breathtaking rock-cut temples of Abu Simbel, there is just so much to see.
Egypt tour packages from India have never been more affordable than they are now, and when you travel to Egypt with us, you can enjoy the best of Egypt with more than 65 years of experience right by your side. Want even more from your vacation? Be sure to check out our epic range of Egypt and Jordan tours from India as well.
Top 6 Egypt Tours from Chennai
FREQUENTLY ASKED QUESTIONS
What to See In Egypt?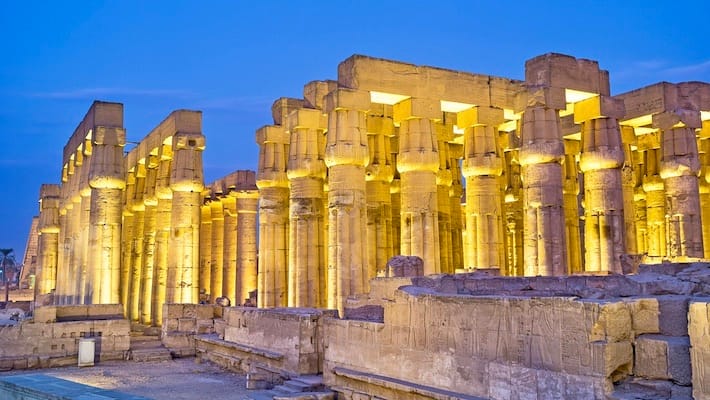 Egypt has so much and do that it is easy for travelers to feel overwhelmed by all the choices they have. Every visitor to Egypt wants to visit the pyramids and some ancient temples and tombs during their stay. Sadly, many people miss out on so much due to a lack of knowledge or a lack of planning. To really get the most out of any trip to the Land of the Pharaohs, private guided tours are the way to go.
With good quality Egypt tours from Chennai, you can get to see many of the best Egypt tourist attractions, including those already mentioned, as well as many other wonderful sites like Karnak Temple; Luxor Temple; Edfu Temple; Hatshepsut Temple; Valley of the Kings, and so many others.
Top 5 Attractions to See In Egypt
Giza Pyramids and the Sphinx in Cairo
The rock-cut Temples of Abu Simbel near Aswan
Valley of Kings in Luxor
The Karnak Temple complex in Luxor
The Temple of Horus in Edfu
What to Pack for Egypt?
We want people to enjoy their Egypt tours from Chennai as much as they possibly can. For this reason, we recommend packing in a few essential items before you travel. Having these things with you can help you to avoid a lot of discomfort. If you are wondering what to pack for Egypt, we always advise packing the following essentials: some white lightweight cotton tops; some sunscreen lotion; sunglasses; a wide-brimmed hat, and a comfortable pair of shoes.
Distance and Flight Time from Chennai to Egypt
The distance from Chennai to Egypt is approximately 5,364 kilometers. This is assuming you book a direct flight from Chennai to Cairo. Direct flights from Chennai to Cairo take about 10 hours and 55 minutes depending on weather conditions.
How to Obtain a Tourist Visa for Egypt?
Unlike the citizens of some countries, Indian passport holders are not able to obtain an Egypt e-Visa or a Visa-on-Arrival in Egypt. Instead, Indian passport holders who wish to book Egypt tours from Chennai need to apply for their visas at the Egyptian Embassy in Delhi or at the Egyptian Consulate in Mumbai. Visas can be applied for in person or via a visa agent. You can also get a friend or family member to do it for you providing you give them a letter of authorization.
Is It Safe to Visit Egypt?
Absolutely, Egypt is a very safe country for tourists to visit but every country has some crime, including Egypt. To this end, we recommend applying some common sense, especially if you are traveling alone or if you are out at night on your own. People who are concerned can also visit the Indian Embassy in Cairo website to read the latest Travel Advisory prior to booking their Egypt tours from Chennai.
Tailor Made Egypt Vacations from Chennai, India
Explore Egypt your way by selecting only your favorite attractions. Click here to design your own unique Egypt trip from Chennai.