Felucca Nile Cruises – Sail The Nile In Timeless Tradition
Most Felucca Nile cruises are typically journeys that last from one to three hours, and a trip in one of these traditional sail boats can really allow you to get up close to some fascinating sites which aren't accessible via larger boats or ships.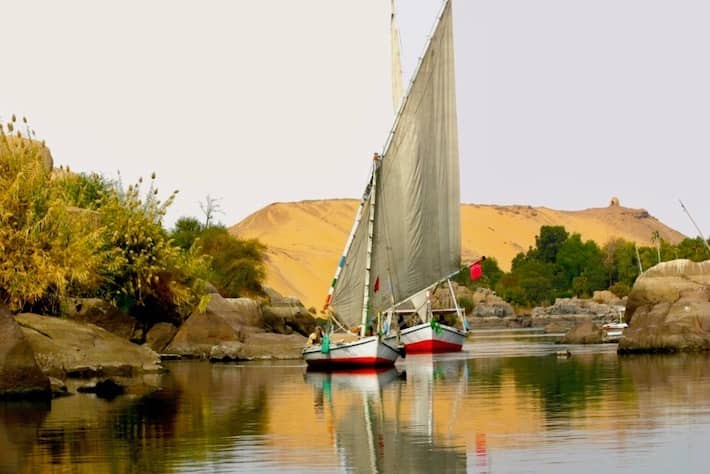 → Click here to learn more, find and book your favorite Nile cruise experience
What is a Felucca?
The Felucca is a type of dhow, a traditional boat that originated in the Middle East. They are typically characterized by two tall, lateen sails, and they have been used in one form or another for thousands of years already. They have been historically important to commerce in this region, and in fact, they were the main means of water transport all the way up until the mid Twentieth Century.
These days, they are frequently the option of choice among tourists who want a relaxing, and also very quiet experience of Felucca Nile cruises.
Visiting Archaeological Sites with Felucca Nile Cruises
The Nile River snakes its way through some of the most important archaeological sites in the world. The famed Valley of the Kings; Valley of Queens; Philae Temple and Karnak Temples are just some of the spectacular ancient sites located all along its winding path.
Nile cruise holidays are more popular than ever because unlike most things in life, Nile cruises have become increasingly affordable over the years. All Nile cruises offer travelers an opportunity to enjoy and experience what they will never forget. Making such a journey in a boat that makes no sound save for the wind in the sails and the bow cutting through the water, allows one the peace to reflect upon where they are and the significance of what they're actually witnessing.
Watching farmers work their fields (just as they have been doing for thousands of years) from the deck on a Felucca Nile cruise while silently sailing is well and truly a magnificent experience. If a Felucca cruise is too "bare-bones" for you, and you would prefer a similar experience but which is far more comfortable and luxurious, then we would recommend a Dahabiya Nile cruise instead.
Design Your Custom Egypt Tour
Explore Egypt your way by selecting only the attractions you want to visit
Types of "Felucca" Cruises on the Nile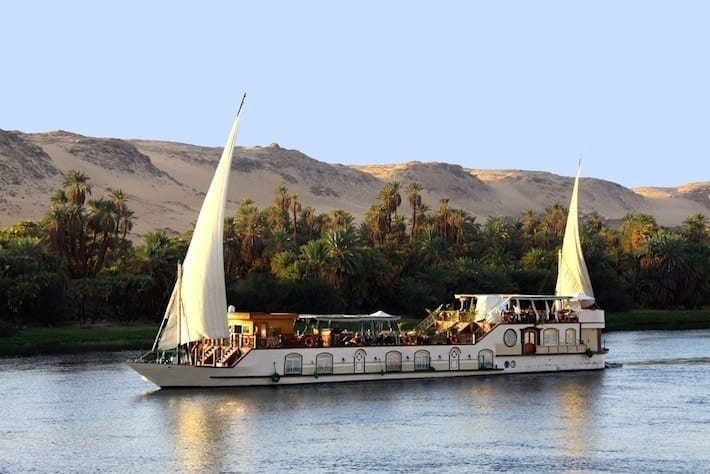 Many modern "Feluccas" are converted yachts that are owned and operated by private captains or by tour agencies, as are the bigger and more elegant Dahabiya boats, as seen in the picture above. Nearly all Nile River cruises, including Felucca cruises, depart from either Luxor or Aswan and head up or downriver, respectively, following much the same route as the large cruise ships.
Felucca tours can be booked for a few days or for longer than a week, and are more often than not private tours booked by families and/or small groups of friends.
Felucca Nile cruises are by their very nature smaller than the majority of the boats you will see sailing up and down this historic river. The original Feluccas (unmodified versions) can typically accommodate between 6 and 8 people, which makes them perfect for a small group of individuals who are travelling together.
Private Felucca Nile cruises can also be arranged, either through a reputable tour operator of by negotiating a price with one of the locals. However, the latter option is not recommended. It's also worth noting that with very basic cruises, you will almost certainly have to forego any luxuries. Amenities are often very basic or sometimes almost non-existent.
These days, an increasing number of tourists are also making the journey from Aswan to Luxor or from Luxor to Aswan on Feluccas, but it can be quite a costly choice.
An Authentic Experience
For a truly authentic experience, it's really impossible to beat a Felucca cruise. You'll be taking part in a history that spans millennia, and you will be doing so just as the people who are native to these lands have done for generations. The boats themselves represent part of Egyptian culture, and the closer to the culture one can get, the better.
Design Your Custom Egypt Tour
Explore Egypt your way by selecting only the attractions you want to visit