How to Travel to Egypt Cheap?
Cheap travel to Egypt starts with finding cheap flights on websites like Skyscanner. Staying in budget accommodation and living on Egypt food will also reduce the cost of your holiday significantly.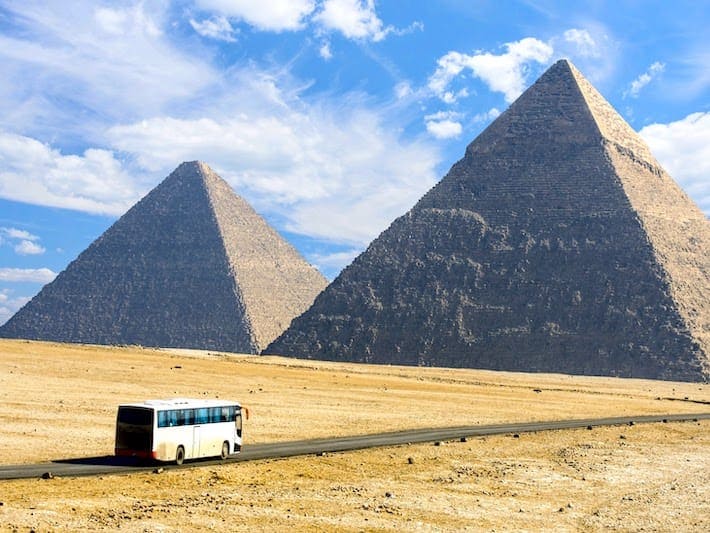 If you are wondering how to travel to Egypt cheap, you have come to the right place because in this post we take a look at how to travel to Egypt on a budget.
Airline Ticket Prices
Finding cheap flight prices is the first step when planning a cheap vacation in the Land of the Pharaohs.
As is always the case, flight ticket prices vary tremendously from one airline company to the next. Many travelers like to try and snap up last minute deals, but this is not always the best option. A far better approach would be to look for an airline company that generally has the most affordable flight prices, and then book your flight as far in advance as possible.
If you are willing to endure longer flight times you can and will also save money. Ticket prices for direct flights are always higher than flight prices for indirect flights.
Domestic Travel in Egypt
If you are wondering how to travel to Egypt cheap, you also need to think about transport once you are in the country. Sure, taxis in Egypt are cheap, but buses are even cheaper, a lot cheaper. And, if you are planning on spending a few days in Cairo, we seriously recommend familiarizing yourself with the city's Metro rail service which is clean, comfortable, and extremely efficient.
If you do need to use taxis during your trip, always insist that the taxi driver turns on the meter, or negotiate and agree on a price before you get in the taxi.
If you intend traveling between different cities in Egypt, domestic flights are very affordable, but not your cheapest option. The cheapest way to get from one city to the next is by using ordinary public buses. However, these can be very slow and uncomfortable. For this reason, many travelers choose to use tour buses instead.
Train travel is another option. For example, if you want to visit Luxor after a few days in Cairo, you should consider taking the overnight train. With the overnight train you have three options:
Seat-only carriage (US$42)
Double berth compartment (US$80)
Single berth compartment ((US$120)
The above prices were correct at the time that this post was being written. Also, at the time of writing, US$1 was equivalent to 18.74 Egyptian Pounds (EGP).
Your overnight train journey usually includes dinner and breakfast. So, for the cost of your ticket, you get accommodation for a night as well as two meals. Train travel in Egypt is safe, and the overnight journey from Cairo to Aswan or Luxor is a great experience.
Train travel is very popular in Egypt, so in order to avoid disappointment, you need to book in advance.
Choosing the Best Travel Dates
If you are serious about how to travel to Egypt cheap, you should visit the country during the low season which runs from May to September. The most expensive time to visit is during the High season which runs from October to April. Also, expect to pay even more if you visit during the Christmas, New Year and/or Easter holidays. For the best possible prices/deals, visit during the summer months, June, July or August.
Cruising the Nile on a Budget
There is no better way to experience the magic of Ancient Egypt than to do it by way of a Nile cruise. Of course, if you are traveling through Egypt on a really tight budget, then a 5-star Nile River cruise may be beyond your means. However, you could still consider a 3-night or 4-night Nile cruise aboard a Felucca.
Feluccas are small river yachts which are common on the Nile River in Egypt, and several have been modified to make them more suitable for a multi-day Nile River cruise for tourists.
Felucca Nile cruises are sort of "bare bones" cruises, so don't expect any special amenities. They typically also don't include admission tickets for the ancient sites you will sail past during your cruise, but you can still enjoy seeing them while sailing along the mighty Nile River.
Keep in mind that for every night you spend on the river, it is one night less in hotel accommodation. Some cruises will also include three meals a day. If your budget allows for it, we would recommend booking a cruise on one of the large cruise boats. There are many budget Nile cruises that will allow you to enjoy 5-star luxury without costing you a fortune.
Budget Accommodation
If you are wondering how to travel to Egypt cheap, you will pleased to know that you can save a whole lot of money based on accommodation choices. If all sorts of amenities are not important to you, and you don't mind shared facilities, then you may way to consider staying in hostels rather than in hotels.
As a general rule, hostels in Egypt cost between 7 and 25 US Dollars per person per night. Some hostels will even provide their guests with one meal a day. Many of the hostels in Cairo and other major cities are surprisingly clean and comfortable and offer excellent value for money. If you enjoy meeting new people, then you have another good reason to consider hostel accommodation.
Booking Sightseeing Tours
While getting about with busses, taxis and trains can save you some money, there is typically a lot of frustration to deal with and you can also waste a lot of time. Many of Egypt's best ancient attractions also cannot be accessed by bus or by train, so your only choice would be to rely on taxis.
An alternative option would be budget friendly group tours. Tour buses are incredibly popular in Egypt, and especially in places like Luxor where a day trip will allow you to see some of the area's top sites, including Karnak Temple, Luxor Temple, Valley of the Kings and more.
Private guided Egypt tours are better than group tours, but obviously Egypt group tours usually cost less which is ideal for those who are travelling on a tight budget.
How to Travel to Egypt Cheap? Consider a Shorter Vacation
Instead of spending 14 or 15 days living in budget hostels and eating budget meals, consider reducing the length of your planned Egypt vacation. If you reduce your trip to 10 days rather than 14 days, the money that you save can be used for better accommodation and/or a better quality Nile cruise. At the end of the day, it's a matter of quantity vs. quality.
A Dream Trip on a Budget in Egypt
If you are not sure if you want to travel through Egypt independently on a tight budget, we can help. We have a fantastic range of Egypt budget tours and budget Nile cruises which are surprisingly affordable and they are literally prefect in every way. Visit us now to see all our Egypt tour packages or to book your dream trip today.
Design Your Custom Egypt Tour
Explore Egypt your way by selecting only the attractions you want to visit