Where Not to Visit In Egypt
The Egyptian government advises travelers not to visit areas within 50km of Egypt's borders with Libya and Sudan. All travel to North Sinai and the Israeli border should also be avoided.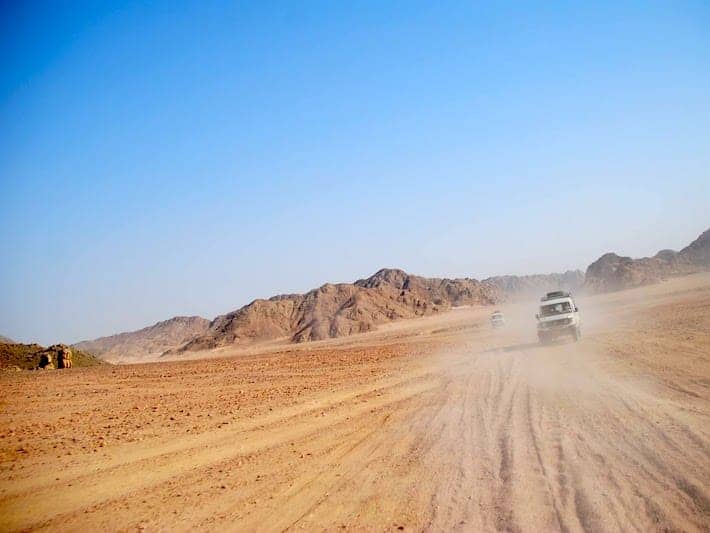 Where Not to Visit in Egypt
Most of Egypt is perfectly safe for tourists to visit so long as they exercise the same sort of caution as they would if they were visiting any other unfamiliar international destination. As is always the case when traveling, both at home and abroad, a little bit of common sense can go a long way in helping you to avoid unnecessary problems.
While Egypt is a fantastic destination for tourists, there are a few "risk areas" that are best avoided.
Okay, let's take a look at where not to visit in Egypt.
Regions and Areas to Avoid in Egypt
Some areas in Egypt have been designated as "risk areas" due to safety concerns about armed groups, bandits, and potential terrorist attacks. Risk areas are places not to visit in Egypt. In some cases, travelers may be able to apply for a permit to visit certain areas where there is not a very substantial or very real threat of terrorism.
In other areas where there is a very real threat of terrorism or where there are ongoing military operations, the Egyptian armed forces may prohibit all travel for both foreigners and locals alike.
For your own safety, and in order to stay within the law, avoid visiting the following places/areas without a permit during your incredible trip to Egypt:
Libyan and Sudanese Border Areas
The Libyan and Sudanese border areas are two places not to visit in Egypt. This is because Egypt's borders with Libya and Sudan are very porous. Armed groups and bandits regularly cross over into Egypt. Even though the Egyptian military has numerous security checkpoints in these regions, this has failed to prevent illegal crossings. In fact, the checkpoints themselves are periodically attacked.
Deserts and Oases
In travel advisories issued by some countries, including the USA and Canada, the following places are cited as being places not to visit in Egypt
White Desert
Black Desert
Siwa Oasis
Western Desert [Bahariya, Bawati, Dakhla, and Farafra oases]
Because the above mentioned places are all really nice tourist attractions, the Egyptian government still allows tourists to visit them. However, in order to visit any of these areas legally, a permit must be obtained from the Egyptian Ministry of Interior Affairs. Those who plan on visiting any or all of the above mentioned areas are advised to consider the risks and to make arrangements for appropriate security.
Some tour operators continue to offer tours to these places, but a lot of tour operators have put their desert tours and oases tours on hold until the security situation improves. If you do find a tour operator willing to sell you tours to any of the places mentioned above, you should inquire about what sort of security they provide.
South Sinai Governorate
Egypt's South Sinai Governorate is also considered a risk area. It is one of the places not to visit in Egypt due to the threat of attack and because of ongoing military operations by the Egyptian armed forces. However, the very popular coastal resort town of Sharm El Sheikh is deemed to be safe, as are other areas within Sharm El Sheikh's perimeter barrier.
Security in this region has been significantly enhanced in order to safeguard tourism in the area.
In addition to Sharm El Sheikh, the following areas are also considered safe to visit: 
Sharm el Maya
Hadaba
Nabq
Naama Bay
Sharks Bay
North Sinai Governorate and the Israeli Border
North Sinai Governorate is definitely one of the places not to visit in Egypt. It is an even greater "risk area" than any of the other risk areas already mentioned. This is due to the frequency of attacks against the Egyptian security forces. The area surrounding Egypt's border with Israel and the Gaza Strip is particularly risky.
Because of frequent road blockades and continuing military operations, the government has declared a State of Emergency in the area which also includes a daily curfew. Under no circumstances should tourists attempt to travel in or through North Sinai. Attempting to do so is simply asking for trouble.
Other than for essential travel, all areas mentioned in this post should be seen as places not to visit in Egypt, and should therefore be avoided. Tourists can have an amazing time visiting Egypt's best and most cherished tourist sites without any need to visit risk areas.
At Egypt Tours Plus, we want every one of our clients to have an incredible time when they visit Egypt with us; a positive experience with lifelong memories. When you travel with us, you never have to worry about where not to visit in Egypt because we will never take you to any known risk areas.
Visit Egypt and Travel in Safety and Comfort
If you are ready for a truly incredible experience in Egypt, and one that includes your own private guides and drivers, check out our range of bespoke fully customizable Egypt travel packages today, or even create your dream trip to Egypt right now.