8 Day Merit Dahabiya from Luxor-Aswan-Luxor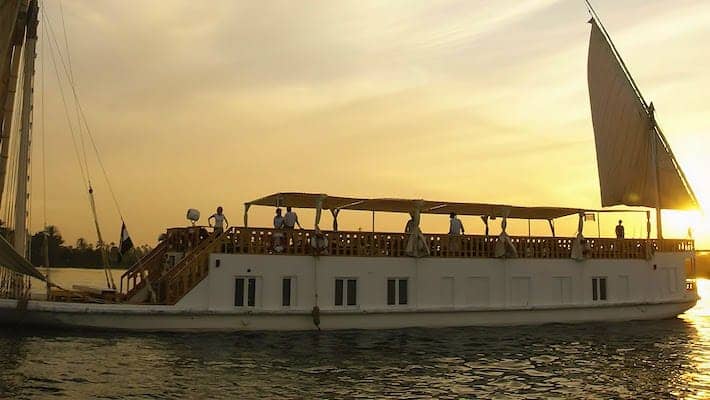 Enjoy 8 days of absolute bliss and tranquility with our luxury Merit Dahabiya Nile Cruise which departs from Luxor every Saturday. Join us as we visit an explore some of the Nile River Valley's most treasured ancient attractions. Crafted with passion and powered by the wind, a cruise on the Merit Dahabiya is truly Dahabiya Nile cruise experience like no other. With only a small number of people on board, you can expect a level of personal service which simply doesn't exist on larger cruise ships, and it really does make all the difference in the world.
Enjoy mouthwatering cuisine, lazy days in the sun, and silent nights alongside tiny islands where you can relax and unwind under star-studded skies. Enjoy the best of Egypt with our premium Nile cruises.
NOTE: Merit Dahabiya Nile Cruises Depart from Luxor every Saturday
Inquire
8 Day Merit Dahabiya Nile Cruise
Itinerary
DAY 1 – Arrival Luxor, Cruise Embarkation, and Luxor East Bank Tour
Your 8 days of blissful adventure and unwavering VIP service begins from the minute you arrive in Luxor for your Merit Dahabiya Nile Cruise. When you arrive at the airport or train station, you will be met by one of our tour managers who will then escort you in a modern air-conditioned vehicle to the docking port where you will board the luxurious 5-Start Merit Dahabiya river yacht. Shortly after embarkation you will be served your first good onboard lunch by the boat's highly experienced resident chef.
After you have enjoyed your first onboard meal, you will have some time to relax or to get settled into your cabin, and then you will have a relatively short tour of Luxor's East Bank. Your first stop will be at the beautifully preserved Luxor Temple, and then you will move on to see the massive Karnak Temple complex which was the subject of ongoing construction over a period of about 2,000 years. While most of the site has been destroyed, it is nonetheless one of the most visited ancient sites in the Nile River Valley.
Finally you will return to the Merit Dahabiya, with a bit of time to spare before dinner is served in the evening. Tonight you will spend your first night in the comfort of your cabin on the water in Luxor.
Meals Included: Lunch and Dinner
DAY 2 – Luxor West Bank Tour and Sail to Esna
Another fun filled day awaits you. Kick today off with a good wholesome breakfast on board the boat and then disembark for a morning you will never forget. After disembarking, you will be going to visit one of Egypt's mot valued ancient sites, the Valley of Kings. This is where Sir Howard Carter discovered the tomb of King Tutankhamen, complete with his mummy and a vast collection of treasure. However, more than 60 other tombs have also been unearthed at this site, including the tomb of Ramses VI.
After Valley of the Kings, your small group will then go to see another unforgettable ancient wonder, the majestic rock-cut Temple of Queen Hatshepsut, and then finally, you will enjoy a brief visit to the Colossi of Memnon. After your fascinating West Bank tour, you will return to the Merit in time for lunch, and then it will then start sailing to Esna.
Today you will enjoy your afternoon outside on the boats wonderfully spacious sun deck. In the early evening, while you are still sailing, another excellent dinner will be served. Rather than docking at Esna, your boat will tie up alongside a small island for the night. What an amazing opportunity to see more stars than you could possibly imagine.
Meals Included: Breakfast, Lunch, and Dinner
DAY 3 – Sail to Edfu, Edfu Excursion, and Overnight at Al Ramady Island
Day 3 of your Merit Dahabiya Nile cruise begins quite early, so you will be able to enjoy your breakfast at about the same time the Merit is moving through Esna Lock. Once through the Lock, it will then continue sailing to Edfu, with a good lunch being served along the way.
When you reach Edfu, you will be disembarking, and you will be taken to see the ancient Temple of Edfu. This is one of the biggest ancient temples in Egypt, and also by far and away, the best preserved temple. After enjoying ample time to explore this remarkable temple, you will then head back to the Merit, and it will set sail for Al Ramady Island. Enjoy another excellent dinner and a good night's rest on the water alongside this quiet little island in the Nile.
Meals Included: Breakfast, Lunch, and Dinner
DAY 4 – Sail to Aswan via el Sheikh Fadl Island
Your magical 8-day Merit Dahabiya Nile cruise sets out in the early morning, sailing in the general direction of Aswan. Today you will be enjoying both your breakfast and your lunch on the water, and you will have the entire morning for relaxing while you are sailing to el Sheikh Fadl Island.
On arrival at this gorgeous little island you will disembark, and you will have some time for exploring and strolling around. You will also be having your afternoon tea and your dinner on the island today, and then after dinner you will board the Merit again, and it will sail to Aswan where you will be spending the night on the water.
Meals Included: Breakfast, Lunch, and Dinner
DAY 5 – Sightseeing tour in Aswan
Wake up on the water and enjoy another scrumptious onboard breakfast and then you will enjoy a visit to the spectacular Aswan High Dam, followed by a visit to the remarkable Philae Temple.
Philae Temple is an extraordinary ancient relic with an extraordinary history dating back thousands of years. Be sure to ask your Expert guide about this astonishing attraction. After your visit to Philae, it will be time for you to enjoy another 5-Star lunch on board the Merit, and after that you will have the afternoon free to explore the fascinating Aswan market. As evening approaches, you will head back to the Merit in time for another first-class dinner. Tonight you will once again be sleeping on the water at Awan.
Meals Included: Breakfast, Lunch, and Dinner
DAY 6 – Optional Abu Simbel Tour and Kom Ombo Temple Visit
The 6th day of your Merit Dahabiya Nile cruise begins with another good breakfast, followed by an optional visit to the famous Abu Simbel temples. We highly recommend this outing, but you are also free to spend the morning relaxing on the boat.
Lunch will be served at the usual time, and then the Merit will sail to Kom Ombo where you will be taken to see the incredible ancient temple of Kom Ombo, a temple which was dedicated to two different gods. This is one of the most visited ancient attractions in Egypt, and a sight you are not likely to ever forget.
Rather than sailing back to Aswan today, the Merit will once again sail to Al Ramady Island where it will tie up for the night. Enjoy your dinner and have a wonderful sleep on the quiet waters alongside the island.
Meals Included: Breakfast, Lunch, and Dinner
DAY 7 – Sail Back to Luxor via Esna
The 7th day of your Merit Dahabiya Nile cruise is a day of undisturbed relaxation. Enjoy the entire day doing as you wish while the luxurious Merit river yacht silently sails back to Luxor where you will be spending the last night of your cruise on the water.
Meals Included: Breakfast, Lunch, and Dinner
DAY 8 – Merit Dahabiya Nile Cruise Ends and Final Departure
Unfortunately, your luxury Merit Dahabiya Nile Cruise has now come to an end, but before you say goodbye, first sit down to one last onboard breakfast. At the appropriate time, you will need to check out and disembark, and of course we will be there to take you to the airport or the railway station, depending on what your travel plans are.
We sincerely hope that your cruise has not only met your expectations, but exceeded them. We also thank you for choosing Egypt Tours Plus, and we wish you a safe and pleasant onward journey.
Meals Included: Breakfast
What is Included
What is
included

in your Merit Dahabiya Nile Cruise:
Meet and Greet Service – One of tour representatives will meet you on arrival in Luxor, and another one will be there to bid you farewell when you depart from Luxor.
Full Personal Assistance – Our team of tour professionals will be available to offer assistance throughout the duration of your Merit Dahabiya Nile Cruise in the unlikely event that something goes wrong.
All Transfers – All transfers are done in modern air-conditioned vehicles and are included in the price of your cruise.
Full Board – Merit Dahabiya Nile Cruise includes full board and lodging.
All Excursions – All excursions mentioned in the itinerary are included in the tour price.
Entrance Fees – Any and all entrance fees to the various sites visited are included.
English Speaking Guide – A fully certified English-speaking guide will accompany you on all excursions. Our guides are extremely knowledgeable, and visitors are encouraged to ask question during excursions.
All Service Charges and Taxes – The price of your cruise is inclusive of all taxes, services charges, and etc. With us, there are NO hidden charges along the way.
What is
not included

in your Merit Dahabiya Nile Cruise:
Pre-Arrival and Post-Departure Travel – Tour price does not include travel to or from Luxor.
Tipping – Tour price does not include money for tipping guides, waitresses, waiters, and etc. Tipping is not required or expected, but always appreciated if you feel it is well-deserved.
Price
Accommodation Plan
Merit or Nebyt Dahabiya River Yacht (5-Star)
| Price per 1 person | May to September | October to April |
| --- | --- | --- |
| Double Cabin | $1697 | $1795 |
| Double Suite | $2395 | $2495 |
| Single Cabin | $2897 | $2997 |
Prices are quoted per person in US$ and valid up until the 30th of September 2023, except during Easter and Christmas and New Year holidays.
Dahabiya Nile Cruises
Didn't find the Dahabiya Nile Cruise you were looking for? See Sonesta Amirat Dahabiya Nile Cruise alternatives below or 8-day Nile cruises here.
Design Your Custom Egypt Tour
Explore Egypt your way by selecting only the attractions you want to visit