5 Day MS Steigenberger Omar El Khayam Cruise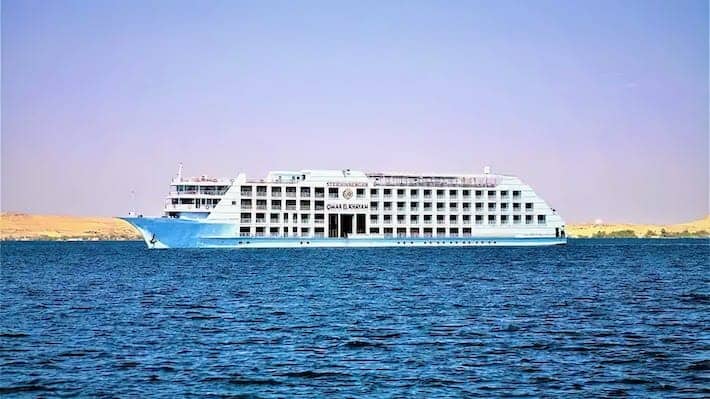 Board the MS Steigenberg Omar El Khayam Lake Nasser cruise operating between Aswan and Abu Simbel, and explore the many ancient attractions located on the shores of Lake Nasser. From an ancient rock-cut tomb that once belonged to the viceroy of Nubia, to the towering rock temples of Abu Simbel, our 5-Day Aswan to Abu Simbel lake cruise on board the 5-Star MS Steigenberger Omar El Khayam cruise ship is an experience you will cherish forever.
Enjoy non-stop sightseeing from beginning to end, and do it in a way you have never imagined. Wake up to superb onboard breakfasts; enjoy delicious midday meals, and finish your days with mouthwatering dinners on the tranquil waters of Lake Nasser. Whatever your taste and whatever your budget, our Nile cruises can make your travel dreams come true.
MS Steigenberger Omar El Khayam departs from Aswan every Monday.
Inquire
5 Day Aswan to Abu Simbel MS Steigenberger Omar El Khayam Cruise
Itinerary
Day 1 – Aswan Embarkation and Leisure Time
Arrive in Aswan with absolute peace of mind, knowing that we will have one of our friendly tour representatives standing by to meet you at the airport or railway station. They will assist you in any way they can, and they will escort you in a clean, modern, and comfortable air-conditioned vehicle to the place where you will be boarding the luxurious MS Steigenberger Omar El Khayam river cruise liner.
On arrival, you will board the ship for check-in and you will then have some time to get settled into your cabin. Shortly after boarding, you will also get to enjoy your first delicious onboard lunch which will be served in the ship's tastefully decorated dining area.
Today is essentially all about relaxation, so no excursions or other activities are planned for today. Instead, you can enjoy the remainder of the day doing as you wish onboard this very well-equipped vessel.
In the evening you will be served a delightful dinner, and then a little bit later there will be a very entertaining Nubian show on board. Tonight you will be sleeping on board, on the water in Aswan.
Meals Included: Lunch and Dinner
Day 2 – Aswan Sightseeing and Cruise to Wadi El Sebou
Wake up on the Nile in Aswan and enjoy a lovely onboard breakfast, and then prepare yourself for some incredible sightseeing.
Once everyone has finished eating, you will disembark, and you will go and visit a pair of ancient temples which are known as the Temples of Kalabsha. These remarkable structures were built in 30BC, but they were built elsewhere, and then moved to their current location at the time when the Aswan High Dam project was underway. Had they not been dismantled and moved, they would have vanished beneath the surface of Lake Nasser forever.
After the Temples of Kalabsha, you will then visit the Temple of Beit el-Wali. This is an ancient rock-cut temple that was constructed under the orders of Pharaoh Ramesses II, and just like the Temples of Kalabsha, it too has been moved from its original location, due to the flooding of Lake Nasser.
After your fascinating excursion, everyone will return to the MS Steigenberger Omar El Khayam river cruise liner, and it will then begin cruising to Wadi El Seboua. Enjoy another lovely onboard lunch, and have to rest of the afternoon to yourself to do as you wish.
In the evening, after having arrived at Wadi El Seboua, the crew will serve a delicious dinner, and then the rest of the evening is yours. You will spend the night here on board the ship in the comfort of your luxury cabin.
Meals Included: Breakfast, Lunch, and Dinner
Day 3 – Wadi El Sebou and Amada Sightseeing
Wake up on board the MS Steigenberger Omar El Khayam in Wadi El Sebou and enjoy another fabulous onboard breakfast before the sightseeing begins. Once everyone has finished enjoying their meal, you will all disembark for a fascinating excursion to two ancient sites.
First, you will visit the amazing Wadi El Seboua temples that were built under the orders of Pharaoh Ramesses II, and then you will get a chance to visit and explore the imposing Temple of Dakka that was built during the 3rd century BC. This is a remarkable Greco-Roman temple that was later converted into a temple fort by the early Romans, before eventually becoming a Christian place of worship. Today it stands deserted, and it forms a part of a UNESCO World Heritage Site that encompasses many ancient relics, stretching from Abu Simbel to Philae just outside of Aswan.
As with the other ancient sites you have visited on the second day of your Nile cruise vacation, these two historical sites have both been relocated from their original locations to save them from inevitable flooding following the construction of the Aswan High Dam.
Next, you will return to the cruise ship, and it will begin cruising to Amada while everyone enjoys a splendid onboard lunch along the way.
There are a number of ancient sites located at Amada, so you can expect another fascinating excursion on arrival. Perhaps the most significant of them all is the wonderful Temple of Amada. Although Pharaoh Thutmose III of the18th Dynasty is credited for building this ancient structure, other rulers also added to it during their reigns, including Pharaoh Ramesses II.
Finally, everyone will return to the ship, and you will have some time for relaxing before sitting down to a wholesome dinner. Tonight you will once again be sleeping in your luxuriously comfortable cabin, but this time it will be on the water at Amada.
Meals Included: Breakfast, Lunch, and Dinner
Day 4 – Cruise to Abu Simbel and Abu Simbel Sightseeing
Today you will come face to face with one of Egypt's most iconic ancient sites, but there's plenty to do before then. First, wake up and enjoy a wonderful breakfast while the Steigenberger Omar El Khayam is busy cruising to Kasr Ibrim, a historically significant relic of Ancient Egypt, but one which you will only be able to photograph from the ship's sundeck.
The Citadel of Kasr Ibrim is located on a tiny area of land protruding from the surface of Lake Nasser, and it simply isn't possible for the large cruise ships to get close enough to allow passengers to go ashore. The ship will, however, be close enough for some excellent sightseeing opportunities, and it will stay there for around 15 minutes before departing for Abu Simbel.
On arrival at Abu Simbel, everyone can enjoy a complimentary "Cocktail Reception" and then you will disembark for a visit to the iconic, rock-cut Abu Simbel Temples. This site is without question one of the most remarkable ancient sites in all of Egypt. Built by Pharaoh Rameses II, they were intended to serve as an everlasting monument to the pharaoh and his wife, the beautiful Queen Nefertari.
After visiting and exploring these incredible rock structures, everyone will return to the ship for a superb onboard dinner, and some quality relaxation time before retiring for the night, on board the ship, on the water at Abu Simbel.
Meals Included: Breakfast, Lunch, and Dinner
Day 5 – Disembarkation and Airport Transfer
Although today is not likely to be the happiest day of your cruise, considering that your experience of a lifetime has come to an end, you can still enjoy one last tasty breakfast onboard before check-out and disembarkation.
After final disembarkation, you will be met on the pier, and you will be escorted to Abu Simbel airport in a comfortable air-conditioned vehicle for your onward journey.
Meals Included: Breakfast
What is Included
What is
included

in your MS Steigenberger Omar El Khayam holiday:
Meet and Greet Service – One of tour representatives will meet you on arrival in Aswan, and another one will be there to bid you farewell when you depart from Abu Simbel.
Full Personal Assistance – Our team of tour professionals will be available to offer assistance throughout the duration of your cruise in the unlikely event that something goes wrong.
All Transfers – All transfers are done in modern air-conditioned vehicles and are included in the price of your cruise.
Full Board – Your 5 Day Aswan to Abu Simbel MS Steigenberger Omar El Khayam cruise includes full board and lodging on board the MS Steigenberger Omar El Khayam ship.
All Excursions – All excursions mentioned in the itinerary are included in the tour price.
Entrance Fees – Any and all entrance fees to the various sites visited are included.
English Speaking Guide – A fully certified English-speaking Expert guide will accompany you on all excursions. Our guides are extremely knowledgeable, and visitors are encouraged to ask question during excursions.
All Service Charges and Taxes – The price of your cruise is inclusive of all taxes, services charges, and etc. With us, there are NO hidden charges along the way.
What is
not included

in your MS Steigenberger Omar El Khayam holiday:
Pre-Arrival and Post-Departure Travel – Tour price does not include travel to Aswan or onward travel from Abu Simbel.
Tipping – Tour price does not include money for tipping guides, waitresses, waiters, and etc. Tipping is not required or expected, but always appreciated if you feel it is well-deserved.
Price
Accommodation Plan
MS Steigenberger Omar El Khayam Nile Cruise
| Price per 1 person | May to September | October to April |
| --- | --- | --- |
| Triple Cabin | $1210 | $1265 |
| Double Cabin | $1287 | $1337 |
| Single Cabin | $2025 | $2079 |
Prices are quoted per person in US$ and are valid until the 30th of April 2024, except during Christmas, New Year and Easter holidays.
Nile River Cruises
Didn't find the Lake Nasser Cruise you were looking for? See other amazing 5-day Nile cruises here or find MS Steigenberger Omar El Khayam Cruise alternative below.
Design Your Custom Egypt Tour
Explore Egypt your way by selecting only the attractions you want to visit