Egypt and Jordan Tours from Canada
Egypt and Jordan tours from Canada have proven to be immensely popular, and they are definitely something you should consider in you're planning on a trip to Egypt. Egypt Tours Plus has been organizing Egypt and Jordan tours for nearly six decades already, and during that time we've seen a steady growth in the number of Canadian tourists arriving each year. In fact, Canadians are second only to Americans in terms of tourist numbers.
Unlike lots of people who visit Egypt purely for its numerous historical attractions, many Canadians also visit in order to escape the cold winters back home in Canada. Great weather; awesome sights and a fascinating blend of cultures have all contributed to Egypt becoming one of the world's most loved travel destinations.
Design Your Custom Egypt Tour
Explore Egypt your way by selecting only the attractions you want to visit
Egypt And Jordan Tours From Canada –
Your Gateway to the World's Oldest and Most Fascinating Civilizations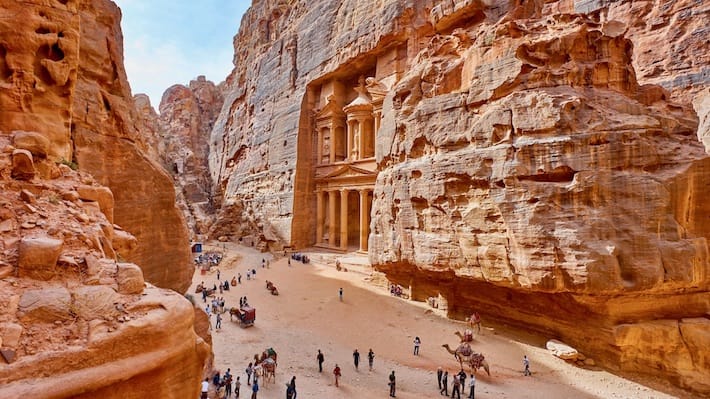 Because Cairo is home to Egypt's main airport, and also home to some of the country's most famous landmarks, including the Great Pyramids of Giza and the Sphinx, you'll find that all our Egypt and Jordan tours from Canada kick off in Cairo.
Most Egypt tour packages will include at least a night or two in a luxury hotel in Cairo. During your stay in the capital, you'll be taken to see all the very best attractions in and around the city, and of course you'll also have sufficient time to relax or explore the area on your own as well. Depending on which package tour you choose, you'll usually leave Cairo on day to or day three of you holiday.
If for example you chose our 10 Day Egypt Highlights Tour, you would leave Cairo at end of your second day. Your tour guide would then escort you to the airport or the station for your journey to Aswan or Luxor, where you'll be taken to see several fascinating sites before starting your Nile River cruise.
If your cruise starts in Aswan, you'll then start sailing to Luxor, stopping a number of times along the way for even more historical sightseeing. On arrival in Luxor, expect a real sightseeing overload as you visit several fantastic sites, including the largest temple complex ever built, and the indescribable Valley of the Kings, a collection of more than 60 ancient royal tombs.
You'll then typically fly to Sharm El Sheikh where you'll be met and transferred to Dahab where you'll spend the night before flying to Amman in Jordan.
What attractions you see in Jordan will depend largely on what tour package you've chosen, but you'll definitely get to see most of Amman and other historically significant sites such as the Rose City of Petra. A visit to this ancient rock carved city is included on virtually all Egypt and Jordan tours from Canada, and for good reason as well – words simply cannot describe this particular World Heritage Site.
Again, depending on your chosen tour, you'll either return to Cairo for your flight home, or else you'll fly home directly from Jordan.
As you can see, we have structured all our package tours in such a way so as to ensure our customers get the best possible value for their money. We also offer custom Egypt tours, so if you don't see a tour package you like, just let us know what your needs are and we'll tailor a tour just for you.
Passport and Visa Requirements for Canadian Citizens
If you book Egypt tours from Canada and you are going to be traveling on a Canadian passport, you can now apply online for an Egyptian e-Visa prior to traveling to Egypt. If you would like to apply for an e-Visa you will need to sign up for an account on the official Egypt e-Visa portal.
Canadians you can also get a visa on arrival at any international airport when they arrive in Egypt, or they can apply for visas at any Egyptian Embassy or Egyptian Consulate in Canada. The costs of the various Egyptian visas are as follows:
Single entry e-Visa – A single entry e-Visa costs $25.00 and it allows you to remain in the country for up to 60 days.
Multiple entry e-Visa – A multiple entry e-Visa costs $60.00 and allows you to remain in the country for up to 90 days.
Visa-on-arrival – A visa-on-arrival costs $25.00 and allows you to remain in the country for up to 30 days.
Single or multiple entry visa at an embassy or consulate – If you apply for your visa at an embassy or consular office prior to traveling to Egypt, it costs $20.00 for a single entry tourist visa and $32.00 for a multiple entry tourist visa, and allows you to remain in the country for up to 60 or 90 days depending on which visa you applied for.
Single entry business visa – $55.00
Multiple entry business visa – $75.00
As is the case with many countries, you will be refused entry if your passport is valid for less than six months as from the last day of your stay.
NOTE: People traveling on a Canadian passport can visit and stay at Sinai resorts for a period of up to 15 days without the need for a visa. If you only intend staying in one or more Sinai resorts, you can obtain a free Entry Permission stamp at Sharm el Sheikh, Saint Catherine and Taba airports. However, if you want to leave the area or stay for more than 15 days, you will have to go to one of these airports to obtain a visa.
For your stay in Jordan, Canadians can obtain a 30 visa-on-arrival when they land at the airport in Amman or they can get one if they enter the country via the Sheikh Hussein border crossing. If you will be entering via the King Hussein Bridge or the Wadi Araba (Aqaba) border crossing you will need to apply online for a visa or at any Jordanian embassy or consular office prior to your arrival. The costs for Jordan visas are as follows:
Single entry visa valid for 1 month – +/- $56.00
Double entry visa valid for 3 months – +/- $85
Multiple entry visa valid for 6 months – +/- $170.00
When is the Best time to Enjoy Egypt Tour Packages from Canada?
The best time to visit Egypt will depend on largely on which parts of the country you intend visiting. Most Canadians tend to find the high summer temperatures almost unbearable, regardless of where about in Egypt they are, with the Red Sea being the only exception.
The hottest months are from June to August, where daytime temperatures routinely reach 40 degrees Celsius or more. However, the weather does start to get cooler after this, and usually by October most visitors from colder climates get by without too much discomfort.
The coolest months are from December to February, and this is also the tourist high season. The downside to visiting in the high season is that everything costs more. To avoid the inflated costs, a lot of Canadians visit during the two months leading up to the high season (October and November) or during the two months that follow the high season (March and April)
Note: If you choose to visit during the cool high season, always make sure you have some warm clothes with you because the temperatures can drop quite dramatically at night. For example, night time temperatures in Cairo routinely drop to around 8 degrees Celsius at this time of the year.
Staying Safe While Visiting Egypt
Egypt is not only a spectacular destination, but also a very safe destination. Nonetheless, there is always a certain amount of risk, regardless of where about in the world you go. A few general safety precautions can spell the difference between a great holiday and a disastrous one. We personally recommend the following:
Keep valuables in the safes which are generally available in all major hotels
Avoid large gatherings and avoid walking around in quite unfamiliar places after dark
Always follow any and all safety advice offered by tour guides and/or our company representatives
Avoid confrontation
Avoid getting into discussions about politics and/or religion
Egypt Tours Plus – Egypt and Jordan tours from Canada Since 1955