Dreaming of 6 day Egypt tours? Visit the very best attractions in the ancient Land of the Pharaohs; stay in wonderful hotels and enjoy VIP treatment every step of the way with our 6 day tours in Egypt. High quality service, English speaking expert guide, free Wifi during transportation and much more. Find your dream Egypt tour package now!
Design Your Custom 6-Day Egypt Tour Itinerary
Explore Egypt your way by selecting only the attractions you want to visit
Learn more about our 6 day Egypt tours...
6 Day Egypt Tour Packages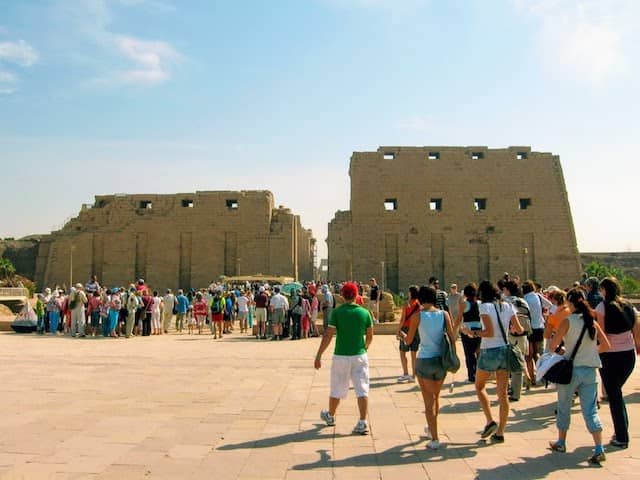 All our 6 day Egypt tours are private tours with an expert guide by your side, meaning that you will not be traveling as part of a group unless you actually book a tour for more than one person. Our Egypt tour packages can also be customized and tailored to meet your own exact needs, so no matter which vacation package you choose, you can be sure it will be a classical experience from beginning to end.
Egypt's Finest Ancient Egyptian Monuments
From the moment you arrive in Egypt for your tour, it will be apparent that you are about to embark on an incredible journey through history. Even though it is only going to last for six days, this is going to be a travel experience which you will be able to cherish forever.
Considering that there are literally hundreds, or even thousands of ancient Egyptian monuments and relics located throughout the country, we simply cannot show you them all in only six days, but you will definitely get to see several of the best ones. Exactly which ones you see will depend of which tour itinerary you choose.
Some of our six-day tours are entirely land based, while others are devoted entirely to a Nile cruise instead. If you choose a land based tour package, sightseeing will focus on monuments and attractions that are located in places like Cairo, Minya, Alexandria, or certain desert attractions. If you opt for one of our Nile cruise packages, sightseeing will focus on attractions in places like Aswan, Luxor, Edfu, Kom Ombo, Gebel Silsela, and etc.
Sightseeing in Cairo
What sites you get to visit during your stay in Cairo will once again depend on which of tour packages you have chosen. Some of our tours may only include one day of sightseeing in Cairo, while others might include two days.  Let's take a look at some of the attractions which you are most likely to visit with us during your trip:
The Giza Pyramids
– Nearly all sightseeing tours in Cairo begin with a trip to the most famous of all ancient Egyptian monuments, the legendary Giza Pyramids and the Sphinx which are located on the outskirts of Cairo. The size of this site is considerably bigger than it appears in photos, so most of our tours to the site usually last for the best part of a morning.
While our tours include admission fees for the site, they do not include admission fees for entering any of the pyramids. Visitors who want to actually go inside one or more of the pyramids can purchase tickets at the site. Be warned, there really is not a lot to see inside these ancient wonders other than empty chambers and lots of stairs.
Ticket prices for entering the pyramids vary from one pyramid to the next. If you feel you really want to enter one of them, we would recommend either buying the cheapest ticket, or buying the most expensive one which would allow you into the Great Pyramid. This is the largest of the three pyramids. It is also one of the 7 Wonders of the World, and the only one still standing.
The Egyptian Museum
The Museum of Egyptian Antiquities, also called the Egyptian Museum, is conveniently located right in the heart of Cairo. At the time of this post being written, this museum was home to the world's largest collection of ancient Egyptian artifacts, more than 100,000. However, many, if not most of these will be moved to the all-new Grand Egyptian Museum at Giza.
Relocated artifacts will almost certainly also include all those that were found in the tomb of King Tutankhamun when his tomb was discovered in the Valley of King near modern-day Luxor. At present, these artifacts are on display in their own room at the museum called the Treasures Room.
If the museum is featured in your chosen tour itinerary, an admission ticket for the museum will be included. This ticket will also allow you to see the Treasures Room, but it is not valid for the museum's Mummies Room. Some people consider the displaying of real mummies to be offensive so we typically don't include a ticket for this room in the cost of our tours. Tickets can however be purchased at the museum.
The Khan el Khalili Bazaar
The Khan el Khalili Bazaar is Egypt's biggest and oldest bazaar. It is also one of the biggest and oldest bazaars in the entire Middle East. Although it has been restored, renovated and altered several times during its history, the bazaar has essentially been around ever since the late 14th century.
Despite Cairo now having countless malls and supermarkets the Khan el Khalili bazaar is still the place where most everyday Egyptians go to do their daily shopping. As is customary in Egypt and in much of the Middle East, customers are expected to haggle in order to get the best possible price. The best way to do this is to be firm, but also with a bit of humor.
Many travelers who have never encountered haggling before tend to feel a bit intimidated and/or a bit put off by this, but after experiencing it for a few days they actually start enjoying it. Even if you have no intention of buying anything, the bazaar is a great place to stroll around or enjoy some people-watching.
The Step Pyramid
Your tour may also include a trip to Saqqara which is just a short drive from Cairo. A lot of archeological discoveries have been made in and around Saqqara but our tours typically only include a visit to the ancient royal necropolis to see the famous Step Pyramid of Pharaoh Djozer. Pharaoh Djozer ruled during the Old Kingdom era and his pyramid was the first Egyptian pyramid ever built.
The pyramid has just recently reopened to visitors following several years of restoration work. The number of visitors allowed in the pyramid each day tends to vary. As a result, we can't guarantee that you will be allowed inside if or when you visit. The price of tickets also fluctuates so we don't include an admission ticket for the pyramid in our tour packages. You can however purchase a ticket at the site if any are available.
Sightseeing in Alexandria
Many travels choose to visit Alexandria during their trip to Egypt. Quite often, they will visit the city by way of a day tour from Cairo. However, we would usually recommend spending at least one or two nights in the city. If you choose one of our 6-day tours that include a trip to Alexandria, you will typically spend one night in a hotel and then return to Cairo the following day.
Alexandria is a lot different to cities like Cairo, Luxor and Aswan. The pace of life in Alexandria just seems to be a lot slower. Tourists come here more for relaxing than they do for sightseeing. Although the city is certainly popular among tourists, it gets considerably less visitors than cities like Luxor or Aswan. Even the cost of living is lower in Alexandria.
While the city and surrounding area may not be home to all that many tourist attractions, there are still some really good attraction that are well worth a visit. If you visit Alexandria with us you can be certain that you will be taken to see all the very best sites before returning to Cairo.
5-Star Dahabiya Nile River Cruises
Generally speaking, cruises run between Luxor and Aswan. Some begin in Luxor and end in Aswan, while others begin in Aswan and end in Luxor. Some Dahabiya cruises might also begin or end at Esna. Because Dahabiyas are traditional river yachts that are considerably smaller than the much larger boats, they are able to access and dock in certain parts of the river which are off limits to the larger boats.
Dahabiyas also usually have no more than 6 to 10 berths. This means that you have a very small number of people on the boat with you. In fact, most Dahabiyas will sail providing that at least one or two cabins have been booked. It's not uncommon for a family to be the only people on board the vessel, along with the crew and an Expert tour guide.
If you book one of our six day tours that include a Dahabiya cruise, you won't spend any of those six days in Cairo. Instead, we will meet you at the airport in Luxor or Aswan and your will board your cruise on the day of your arrival.
Unforgettable Sightseeing during Your Cruise
Your cruise is as much about sightseeing as it is about enjoying relaxing days while sailing quietly along the river. The exact site you will visit during your cruise will again depend on which one of our 6-day Egypt tours you book. Having said that, certain ancient monuments are featured in nearly all of our tours and cruise packages. You will also have one of our Expert guides with during all tours and excursions. If we have any other clients on the same boat, then these tours will all be small group tours. Once we meet you at the airport in Aswan or Luxor, get ready for your journey through time:
Luxor East and West Banks
In Luxor your guide will typically accompany you on two tours: one on the East Bank and one on the West Bank. During your East Bank tour you will usually visit Luxor Temple and the huge Karnak Temple complex. Because several pharaohs contributed to the complex during their reigns, Karnak became more of a temple city rather than just a temple, and one which was created over a period of more than 2,500 years. Today Karnak is one of the most visited ancient sites in all of Egypt.
At night there is also a spectacular Sound and Lights Show at Luxor Temple. However, attending the show is optional, so tickets for the show are not including in our tour packages unless it is specifically mentioned in your chosen itinerary.
During your West Bank tour, you will usually visit the Valley of the Kings first. This is an ancient royal necropolis where pharaohs and other nobility were entombed during the New Kingdom years. More than 60 tombs were discovered in the valley, and all in close proximity to each other. Several of the tombs are open to visitors, including the tomb of King Tutankhamun.
Entrance to some of the tombs is included in our tour packages. However, several of the tombs have been designated as "special" tombs and to enter those a separate ticket has to be purchased at the site. For example, you would have to purchase a separate ticket if you want to enter the tomb of King Tutankhamun. This ticket would then also give you access to a number of other "special" tombs.
If you want to see inside Tutankhamun's tomb, we highly recommend that you arrive in Luxor a day or two before your tour is due to begin. This is because tickets for his tomb can only be purchased in person at the site, and they are in high demand. You really do need to arrive at the site very early in the morning if you are to stand any chance of getting a ticket.
Edfu
Most cruises stop at Edfu to allow passengers to visit Edfu Temple. Also known as the Temple of Horus, this is the best-preserved and also one of the biggest ancient cult temples ever discovered in the country. Its outstanding level of preservation is due to the fact that the temple was deserted in antiquity and eventually became buried under the desert sand. It then remained buried and hidden for more than 2,000 years.
Kom Ombo
If you tour includes a stop at Kom Ombo, your guide will then take you ashore to see Kom Ombo Temple. While this appears to be a single temple, it is in fact two identical temples in one. The reason why it was designed and built like this was because it was dedicated to two different gods. One half of the complex was dedicated to Sobek the crocodile god and the other half was dedicated to Horus the falcon-headed god. It is believed to have been the only twin temple ever built by the ancient Egyptians.
Aswan
In Aswan you will generally be taken to see three attractions: the Aswan High Dam, the giant Unfinished Obelisk, and the breathtaking ancient Temple of Philae. When the High Dam was being built and Lake Nasser began forming, Philae Temple was one of several monuments that were dismantled and then relocated to higher ground where they were then painstakingly reassembled.
Depending on which tour package you choose, you may also visit a number of other historical sites during your cruise. Regardless of where your cruise ends, you will be met by one of our tour representatives and a driver, and you will be driven to the airport for your flight home via Cairo.
Transport and Accommodation
All transport is carried out in modern and comfortable air-conditioned vehicles, regardless of whether you are being driven to or from the airport, or whether you are heading out into the mighty desert. All our Egypt tours place a great deal of emphasis on comfort and luxury, so you can be sure your trip will be as comfortable and as pleasant as possible from beginning to end.
Meals
Some meals are included, while others are not, so it is always advisable to read tour itineraries carefully before you make a booking, or if you have any concerns, feel free to discuss them with one of our tour representatives.
Total Flexibility – Need an Itinerary altered?
Because our 6 day Egypt tours are all private tours, we are able to customize them to fit your own individual needs. If you would like certain changes to be made, simply let us know, and we will be happy to work with you in order to ensure your Egypt vacation will be one which you will never forget. Contact us now and book your own epic 6-day tour package today.
FAQ: 6 day Egypt tours
How to Spend 6 Days in Egypt?
If you are only going to be in Egypt for 6 days, spend 2 or 3 days sightseeing in Cairo and perhaps 2 days sightseeing in Luxor. Alternatively, head to the coast for a relaxing seaside break.
What to Do In Egypt for 6 Days?
Enjoy a guided sightseeing tour in Cairo and perhaps a Nile River dinner cruise, and then head to Luxor and visit the areas many archaeological sites before heading back to the capital, Cairo.