2 Day Cairo Tour from Hurghada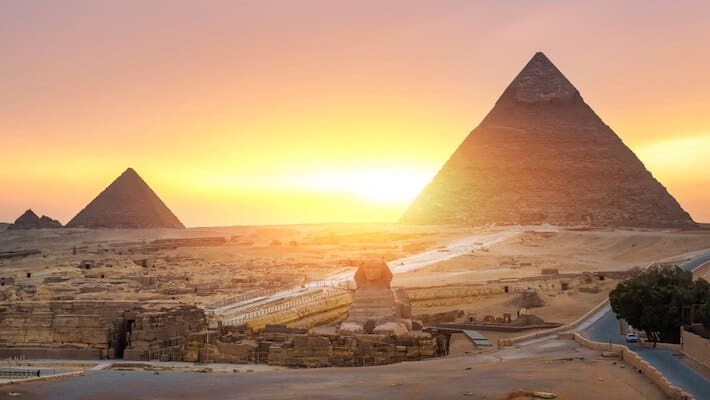 Enjoy a classic 2 Day Cairo Tour from Hurghada and make your Egypt vacation more memorable than ever. Spend your first day exploring the pyramids at Giza and Saqqara, and enjoy your second day in the city, Visit the Egyptian Museum; the old citadel; Khan el Khalili and more. With 5-Star hotel accommodation, and your own personal Expert guide and driver, this Hurghada to Cairo trip really does have it all.
Notes: Tours Run: Everyday / Type of Tour: Private / Duration: 2 Days / Departure Time: About 05h30
Itinerary
Day 1 – Transfer to Cairo and Egyptian Pyramids Tour
Our 2 day Cairo tour from Hurghada calls for an early start, so on the day your tour begins, one of our tour representatives will meet you at your hotel at about 05h30. You will then be transferred to the airport to board your short flight to Cairo. When you land in Cairo, your Expert guide and one of our drivers will be waiting for you at the airport.
From the airport, you will head towards the Giza Pyramids in one of our clean and modern air-conditioned vehicles. On arrival at Giza, you will visit the famous Pyramids of Cheops, Chephren and Mykerinus, also known as the Great Pyramids of Giza. You will also visit the Great Sphinx and the Valley Temple. You will also have the option of visiting Solar Boat Museum. However, tickets for the Solar Boat Museum are not included in the price of our 2 Day Cairo Tour from Hurghada, but a ticket can be purchased at the site.
After your Giza pyramids tour, you will be taken for some lunch at a good local restaurant. Enjoy your lunch at leisure, and then you will drive towards Memphis which was once the capital of the Old Kingdom. Along the way, you will stop the ancient Saqqara necropolis to see the stunning Step Pyramid of Pharaoh Djoser. This was the very first pyramid ever built by the Ancient Egyptians.
Once you are finished at Saqqara, you will then continue on to Memphis. Very little remains of the original city, but there is still lots to see. Enjoy some time exploring the area, and then you will start making your way back to Cairo. The first day of your 2 day Cairo tour from Hurghada is drawing to an end, so once you get back to Cairo you will be taken to check-in at the hotel where you will be staying for the night.
Meals Included: Lunch
Day 2 – Cairo Sightseeing Tour
Begin the second day of your 2 Day Cairo Tour from Hurghada with a good breakfast at you hotel. After breakfast, your guide and driver will arrive, and then it will be time for you to check-out from your hotel.
Once you have checked out, you will head to the Egyptian Museum. At the time of this itinerary being written, the Egyptian Museum houses the biggest and most valuable collection of Ancient Egyptian artifacts.
There are more than 250,000 artifacts and relics, which together represent more than 5,000 years of history. The museum is also home to two special areas called the Treasures Room and the Mummies Room. The Treasures Room displays all the gold, jewelry and other artifacts that were found in the tomb of King Tutankhamen which is located in the Valley of the Kings in Luxor. Visiting the Treasures Room is included in our 2 Day Cairo Tours from Hurghada.
In the Mummies Room, visitors can view real mummies which are kept in special display. Because some people might find this offensive, we do not include a ticket for this room in our 2 Day Cairo Tours from Hurghada. Tickets for the Mummies Room can be purchased at the museum though if you feel that you want to see these mummies.
Following your visit to the museum, you will then be taken to enjoy some lunch at a good local restaurant. After lunch, you will visit the historical Saladin Citadel, also sometimes called the Cairo Citadel. There is plenty to see at the citadel, but the biggest and best attraction is the beautiful Alabaster Mosque of Mohamed Ali.
The last stop of your 2 Day Cairo Tour from Hurghada will be at the timeless Khan el Khalili Bazaar. This bazaar has been around since the late 14th century, making it one of the oldest bazaars in the entire Middle East. It is also one of the biggest and most famous bazaars in the Middle East.
After spending some time at the bazaar, your 2 Day Cairo Tour from Hurghada will essentially be over, and your guide and driver will transfer you to the airport for your flight back to Hurghada.
On arrival at Hurghada, our tour representative and driver will meet you at the airport and then drop you off back at your hotel. Your 2 day Cairo tour from Hurghada is now officially over.
Meals Included: Breakfast and Lunch
What is Included
Inclusions – What is included in your 2 Day Cairo Tour from Hurghada:
Internal flight ticket (Hurghada – Cairo – Hurghada)
Pick up services from your hotel in Hurghada and return
Accommodation in Cairo at Le Meridien Pyramids Hotel and Spa with breakfast
All transfers by private air-conditioned vehicle
Private English speaking guide throughout tours
Entrance fees to all the sights in Cairo and Giza
Two Lunch during tours in Cairo
Shopping tours throughout Khan El Khalili bazaars
All services charges and taxes
Exclusions – What is not included in your 2 Day Cairo Tour from Hurghada:
Personal spending money
Optional extras that are not mentioned in the itinerary
Tipping
Price
| # of Persons | Price (US$) |
| --- | --- |
| Single Person | $850 |
| 2 Persons | $649 per Person |
| 3 Persons | $599 per Person |
| 4 Persons | $569 per Person |
| 5 Persons | $549 per Person |
| 6 Persons | $529 per Person |
Prices are quoted per person in US$ and are valid until the 30th of September 2022, except during the Christmas, New Year, and Easter holidays.
Hurghada Tours
Didn't find the Hurghada tour you were looking for? See 2 Day Cairo Tour from Hurghada alternatives below or customize your tour here.
Design Your Custom Egypt Tour
Explore Egypt your way by selecting only the attractions you want to visit