Cairo Vacation Packages – Making Your Dreams Come Alive
Cairo vacation packages offer travelers a convenient and affordable way to explore one of the world's most fascinating cities. Cairo is an amazing place with so much to offer. From ancient history to romantic Nile River sunset dinner cruises, Cairo has it all. Not surprisingly, you will see Cairo featured in just about all of our Egypt vacation packages.
Cairo Vacation Packages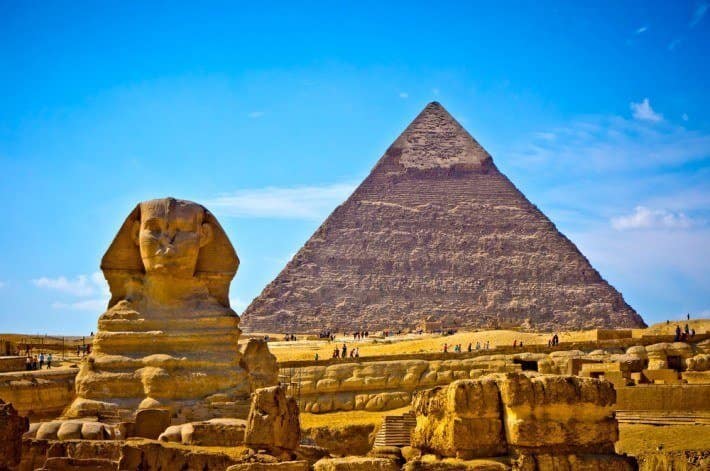 Millions of people visit the country of Egypt each year. They go to enjoy the amazing scenery, historical sights, museums, excellent cuisine and remarkable culture. Most make a point of visiting the city of Cairo, which is home to the Egyptian Museum and the infamous Giza Pyramids, the Sphinx and many other fascinating Cairo attractions. The city itself is the largest in the country and it's a remarkable place to explore. This is the reason why so many people continue to book Cairo tour packages every year.
At Egypt Tours Plus most Cairo vacation packages will include a Giza Pyramids tour, along with lots of other great sightseeing. The main city center attraction is the Egyptian Museum, home to many of the most well-known mummies and treasures, including that of Tutankhamen. It also houses the "cache" of royal mummies discovered by tomb robbers in the 1800s.
Many Cairo vacation packages will also include tours of the markets, such as the Khan el-Khalili, and many people who books these packages want to be sure that they will receive some guided assistance in this fabulous location. This is because those on vacations in Cairo intend to do some bargain shopping, and if not a native Arabic speaker, the traditional, and expected negotiation process can become even trickier!
There are many native and national crafts that are available in the markets, and a visitor should try to purchase Egyptian made goods when possible.
Design Your Custom Cairo Vacation
Explore Egypt your way by selecting only the attractions you want to visit
Accommodation In Cairo
People who book Cairo vacation packages have a range of accommodation options to choose from. These include many Egypt vacation rentals which range from apartments and condominiums to private homes. There are many hotels and resorts as well, and many will offer "all inclusive" arrangements that provide visitors with transportation, professional guide services, meals and some activities as well.
When searching for the best accommodations for Cairo vacations there are several factors to consider. The first, of course, is the budget. Many people look to save money by purchasing Egypt vacation packages that provide every service possible. Generally they will not cover the expense of air travel, but will usually deal with almost everything else.
Consider Including a Nile River Cruise
Our high quality Egypt tour packages are a great way to see most of the popular and most famous destinations in Egypt, and nearly all of them begin with Cairo tours that take in the city as well as the surrounding landscape. While many people plan a boat ride during their Cairo vacations, most Nile River cruises now begin in Luxor or Aswan. Due to the immense popularity of Nile cruises and Dahabiya Nile cruises, the majority of our tour packages include a cruise.
You Can Have the Cairo Vacation of Your Dreams
You can visit the museums, sail the Nile and marvel at pyramids. Nothing is out of your reach when you plan your vacation with us. Furthermore, all our Cairo vacation packages can be customized according to your own individual needs, and you'll find our consultants standing by 24/7 to offer assistance whenever the need arises.