Can UK citizens travel to Egypt?
UK citizens and British passport holder are welcome to travel to Egypt. In fact, UK citizens account for a large percentage of the foreign nationals who visit the Land of the Pharaohs each year.
So, if you are a British citizen and your travel plans include a visit to Egypt, you have absolutely nothing to worry about. All you need in order to visit Egypt is a valid passport, a valid visa, and a plane ticket.
Discover → The Best Egypt Tours from UK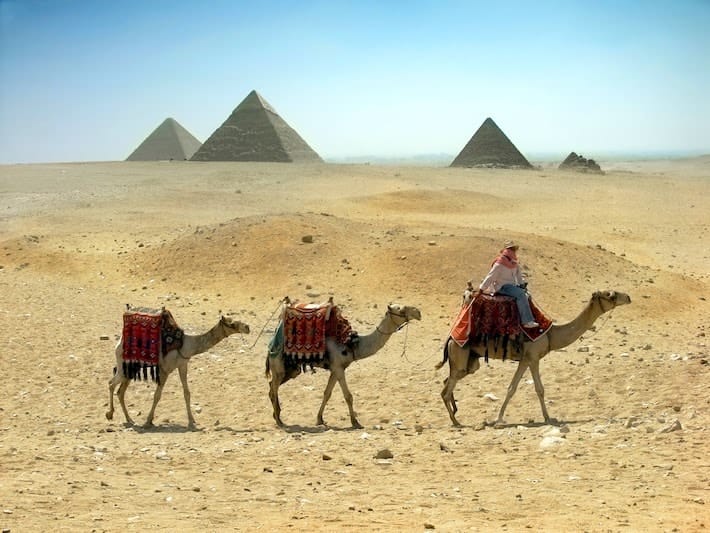 Design Your Custom Egypt Tour
Explore Egypt your way by selecting only the attractions you want to visit
Can UK Citizens Travel to Egypt and Get a Visa on Arrival?
Yes, as a UK citizen, or someone who will be traveling on a British passport, you can get a visa on arrival at any of Egypt's international airports, including Cairo International Airport, Sharm El-Sheikh International Airport, and Hurghada International Airport. For UK citizens, there are no special visa requirements. Other than a valid passport with at least six months validity remaining, UK citizens do need to provide any other travel documents. Your passport must also have at least one blank page.
A visa-on-arrival is a tourist visa which allows you to remain in the country for up to 30 days. To obtain your visa on arrival, simply join the queue at one of the bank kiosks in the arrivals hall at the airport, fill out a visa application form, and then pay the visa fee. As of the time of writing, the fee for a 30-day single entry tourist visa was US$25.
Consider Applying for an Egypt E-Visa
Egypt's E-Visa system is very streamlined, very efficient, and very convenient. Simply visit the Egyptian government's Egypt e-Visa Portal and set up an account. You will then receive an email notification asking you to confirm your account. Once you have confirmed your account, log in and then click on the "Apply Now" tab. Choose between a single-entry tourist visa and a multi-entry tourist visa. Follow the onscreen instructions, and then pay the visa fee using your credit card or debit card.
Travelers are advised to apply for their visa at least 10 days prior to their departure date, although the approval process usually takes anywhere from three to seven business days. Once your application has been approved, you will need to log back into your account so that you can download and print your visa which you will need to present to an immigration officer on arrival in Egypt.
As of the time of writing, 30-day single entry E-Visas cost US$25, while multi-entry E-Visas cost US$60. E-Visas are only issued for tourism purposes.
Applying for your Visa at an Egyptian Embassy
Like all foreign nationals, British nationals can also apply for a valid visitor visa at an Egyptian embassy. This is by far the least convenient option, and the approval process can take up to two weeks or longer. The visa fees are the same as they are for an E-Visa and a visa on arrival.
Covid-19 Entry Rules in Egypt
Like nearly every country in the world, the Egyptian government imposed strict entry requirements in order to try and curb the spread of Covid-19. Entry rules, included things like mandatory quarantine on arrival, a machine readable Covid test certificate, and proof of Covid-19 vaccination status. However, in June 2022, the Egyptian authorities removed the last remaining Covid-19 travel restrictions.
So, can UK citizens travel to Egypt now even if they have not had any Covid-19 vaccines? Yes, Egypt is once again 100% open for international travel, and visitors are no longer required to show proof of vaccination against Covid-19. Covid-19 tests are also no longer required, although visitors are advised to get tested if they experience any Covid-19 symptoms.
In-Depth: Do You Need Covid Vaccine to Travel to Egypt?
Medical insurance for Travel to Egypt
Can UK citizens travel to Egypt if they don't have medical insurance? Yes, mandatory health insurance is not a visa requirement, meaning you can visit Egypt regardless of whether you have medical insurance or not.
While insurance may not be mandatory, it is highly recommended that all travelers should have good medical insurance when visiting Egypt, or any other foreign country, for that matter. It is also recommended that you get cover that includes medical evacuation insurance.
In-depth: Do I Need Health Insurance to Travel to Egypt?
Can Same Gender Couples Travel to Egypt?
Can UK citizens travel to Egypt as a gay couple? Yes, but discretion is recommended. While Egypt has no laws prohibiting homosexuality, same gender relationships and same gender marriages are frowned up.
Egypt is a conservative Muslim-majority country where public displays of affection are viewed in a very negative light and even more so if it involves two people of the same sex. If you are in a same sex marriage, it is not going to prevent you from obtaining a valid visa, but once you are in the country, it is best not to publicize your sexuality.
In-Depth: Is it Safe for Gay Couples to Travel to Egypt?
Health Risks in Egypt
First and foremost, you should only ever drink bottled water while you are in Egypt because tap water is not safe to drink. Contaminated water can cause serious illness, and completely ruin what would otherwise have been an amazing vacation.
It is also worth noting that Hepatitis A is a very real health risk in Egypt. Hepatitis A is spread by contaminated water and contaminated food. Visitors can become infected regardless of where they eat and/or where they stay during their trip to Egypt. To this end, it is highly recommended that you get a Hepatitis A vaccine before you visit.
To be on the safe side, you should consider consulting a travel health professional to see which vaccines are recommended for travel to Egypt. Can UK citizens travel to Egypt if they haven't had any vaccines? Yes, but doing so is not without risk, and it is not something which we would recommend.
Booking a Dream Holiday to Egypt
As so many people have discovered, Egypt is the sort of country that is best explored with a professional guide by your side. Sure, you can travel through Egypt on your own and without a guide, but you will miss out on so much. The best way to experience the true magic of this fascinating country is by way of professionally designed Egypt tour packages.
So, can UK citizens travel to Egypt right now? Yes, and we believe that no other travel company is better equipped than we are to ensure that your trip to the Land of the Pharaohs will flawless and totally unforgettable, with lifelong memories guaranteed.
Check out our epic range of private guided Egypt tours now and book your dream trip to Egypt today.
Design Your Custom Egypt Tour
Explore Egypt and the Middle East your way by selecting only the attractions you want to visit