Is it Worth Visiting Egypt?
Egypt is absolutely a country worth visiting, regardless of your age, and regardless of whether you visit alone, with friends, or as a family, and private guided Egypt tours make a visit that much more rewarding.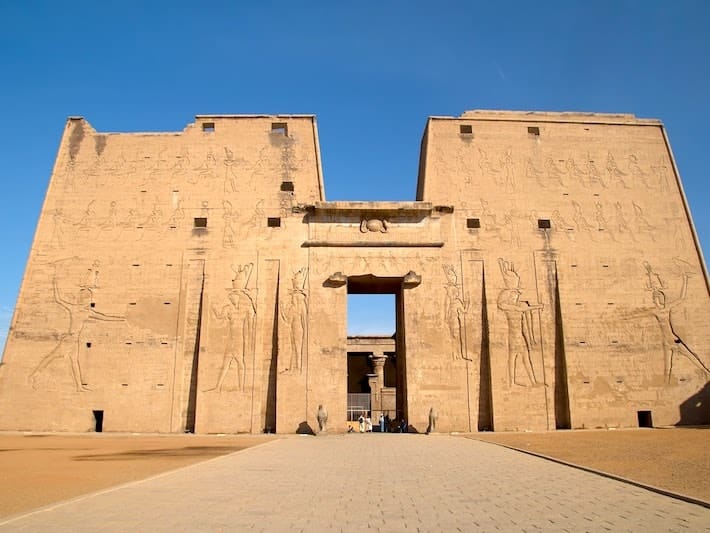 Is it Worth Visiting Egypt??
For many tourists, the biggest problem with Egypt is the fact that there is just so much to see in terms of ancient monuments. It is simply not possible to visit all of Egypt's ancient Egyptian relics in a one, two, or even a 3-week-long vacation.
So, is it worth visiting Egypt if you only have a week or two to spare? Absolutely, but in that case you should start planning your trip well in advance, or better still, you should consider booking a professionally designed Egypt tour package.
Tours that include your own private guide, driver, and vehicle are by far and away the best option for anyone who only has a limited amount of time to explore this amazing country.
Some people assume that it is far cheaper to travel around Egypt independently, and simply make use of taxis and public transport. However, this is not always the cheapest option, and definitely not the most convenient option. 
Let's take a closer look at this:
Visiting the Giza Pyramids from Cairo
If you are staying in a hotel in Cairo and you intend visiting the Pyramids of Giza independently, you basically have three options. You can get a taxi from your hotel to the site where the Giza pyramids are located, or you can catch a bus from Cairo to Giza, Egypt's second-largest city, and then get a taxi from the bus station to the pyramids. Alternatively, you can walk or get a taxi to the Metro station, take the Metro to Giza, and then a taxi to the pyramids.
The first option would be the most convenient, but also the most costly, while the second and third options can be very time consuming. The time spent waiting for buses and trains could instead be used for visiting another attraction, such as the famous Egyptian Museum.
Would it not be far better to have your own guide and driver meet you at your hotel, drive you directly to the Pyramids of Giza for a professional private guided tour, and then drive you back to your hotel, or to another popular tourist attraction? With your own guide and driver, you are looking at a 15 to 20 minute ride from your hotel in Cairo to the Pyramids of Giza.
When using public transport, the journey can easily take up to an hour, or even longer. This is just one small example of why you should consider making use of private guided tours if you are planning a trip to Egypt.
Suggested: Egypt Pyramids Tours
Recommended: Top 6 Best Egypt Tours
Egypt Travel Advisories
Some countries, such as the United States and Canada, have issued travel advisories in which they advise their citizen to reconsider travel to Egypt due to the risk of terrorist attacks. With this in mind, is Egypt worth visiting, is it worth the risk?
In reality, terrorist attacks can and do occur in many countries around the world, and in some cases, far more frequently than they do in Egypt. There have been no major incidents in Egypt for years now. You will also find that there is a heavy security presence at nearly all of Egypt's popular archaeological sites.
The Egyptian authorities have, and still are doing everything they possibly can in order to ensure the safety of tourists. Also, reputable tour operators will never take their clients to any of Egypt's "at risk" areas, such as North Sinai.
Suggested: Where NOT to Visit in Egypt
Southern South Sinai without a Visa
You may have heard that the citizens of many countries can visit South Sinai for up to 15 days without the need for a visa, and you may be wondering if it is worth visiting Egypt by this means.
If you only want a relaxing beach holiday, then this is a great opportunity. Just bear in mind that there are no major sites in the area, and if you enter Egypt by this means, you are not permitted to leave the Sinai Peninsula.
If you want to visit major sites like the Abu Simbel Temples, Valley of Kings, Karnak Temple and Hatshepsut Temple during your stay in Egypt, then you will need a valid tourist visa.
Suggested: Egypt Visa Requirements
Is it Worth Visiting Egypt in the Summer?
We believe it is, not least because this is when you are able to find the best deals in terms of prices, including hotel prices, Nile cruise prices and tour prices. With that having been said, the summer months (June, July & August) can be very hot in Egypt, and some people might find the heat almost unbearable, especially in places like Cairo and Luxor. At the end of the day, it all comes down to your personal travel style and your heat tolerance level.
Suggested: When is the Best Time to Visit Egypt?
5 Things that Might Surprise you During a Trip to Egypt
Is it worth visiting Egypt? If this is a question you are still asking yourself, then here are 5 more surprising things about Egypt that will give you even more reason to visit this amazing country:
Egyptian people, and especially the children, are fantastically friendly.
Egypt's ancient monuments are 100x better when you visit them in person.
Egypt is infinitely better when you have a professional tour guide by your side.
Egyptian street food and other Egyptian dishes are unique, delicious, and ridiculously affordable.
The term "chaos" does not even begin to describe Cairo, but it is a unique experience, and one which can be so much fun.
Making Dreams Come True
With its countless ancient Egyptian monuments, its incredibly friendly people, and its fascinating culture, Egypt is a tourist destination unlike any other. For many people, Egypt is their dream destination, and at Egypt Tours Plus, we can make such dreams come to life, just as we have done for more than 250,000 other happy travelers.
Whether you are longing for an extensive private guided tour of Egypt and a sightseeing cruise on the River Nile, or whether you only want to enjoy a short break in the Land of the Pharaohs, we can help. From bespoke Egypt vacation packages, to customized Egypt tailor-made tours, Egypt Tours Plus has something for everyone.
Contact us now to begin planning your perfect Egypt vacation, or to book your dream holiday today.
Design Your Custom Egypt Tour
Explore Egypt and the Middle East your way by selecting only the attractions you want to visit