Besides the pyramids, many of Egypt's most famous ancient sites are located in Upper Egypt between Aswan and Luxor, while the Red Sea coast is the perfect place for relaxing.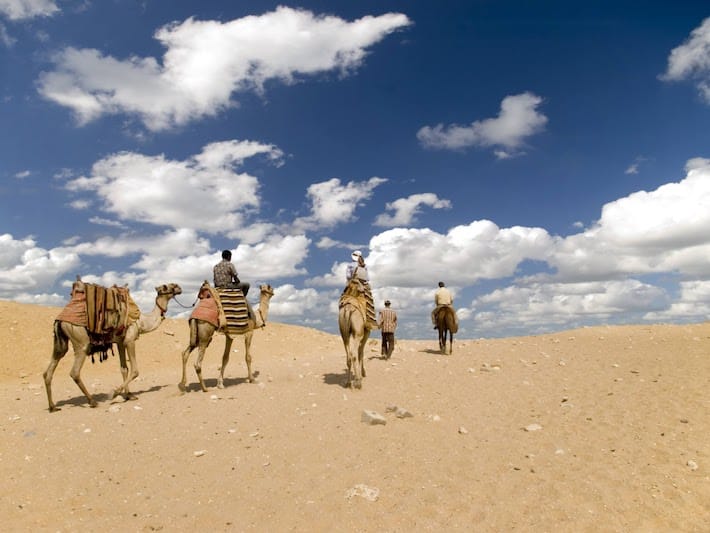 Where to Visit in Egypt?
In Cairo you have the legendary pyramids of Giza, and not far from Cairo, you have the Dashur Pyramids and the Great Step Pyramid of Pharaoh Djoser. You also have the world famous Egyptian Museum in Cairo and the newly opened Grand Egyptian Museum in Giza.
If you want to see more than just pyramids, you will need to head to Upper Egypt. Most of Egypt's most breathtaking ancient temples and tombs are located along the banks of the Nile from Aswan to Luxor. The best way to see these timeless relics is by way of a Nile River cruise
Alexandria is another popular Egyptian city which is well worth visiting. It cannot compete with Luxor in terms of ancient monuments, but the city has a special sort of charm. It's also one of the cheapest major cities in Egypt.
For those who have the time and resources, we would also recommend booking a Lake Nasser cruise. These cruises allow you see even more ancient sites, and some also include onshore excursions that allow you the opportunity to mix and mingle with the locals.
Where to visit in Egypt really depends on your travel style, your budget, and how much time you have.
Here are ten breathtaking attractions that should be at the top of your list of must-see places. 
1. Giza Pyramids and the Sphinx
The legendary Giza Pyramids and the Sphinx are quite literally the face of Ancient Egypt. Not surprisingly, the Giza necropolis, which is an ancient burial ground, is the most visited tourist attraction in Egypt, and one of the most visited tourist attraction in the entire world
The Great Pyramid which belonged to Pharaoh Khufu is the largest pyramid ever built in Egypt. It is also one of the Seven Wonders of the Ancient World, and the last one still standing and mostly still intact.
Visitors are even able to go inside the Pyramids of Giza if they want to. However, since all the pyramids were looted in antiquity, there is not much to see inside them apart from passageways, empty chambers and plenty of stairs. Still, if you are wondering where to visit in Egypt, the pyramids would be a perfect place the start. They also feature in nearly all of our Cairo tour packages.
2. Temples of Ramses II at Abu Simbel
The Abu Simbel Temples are two massive rock-hewn temples that were constructed during the reign of Ramses II. While both temples were dedicated to different gods, they were also built to serve as lasting monuments of Pharaoh Ramses the Great and his beloved wife, Queen Nefertari.
The Abu Simbel Temples are the second-most instantly recognizable historical attraction in Egypt, and one of the country's most visited archaeological sites. You will find this site featured in many Egypt tour packages, and also in many Nile River cruises and Lake Nasser cruises. In short, this site is one of the top places to visit in Egypt.
3.

Karnak Temple Complex

The ancient Karnak Temple complex is located on the east bank of the Nile River near modern-day Luxor. While only ruins remain, it was once a thriving ancient city of temples that was formed over a period of more than 2,000 years. It was/is the largest place of worship ever built throughout human history. It is also the second-most visited ancient attraction in Egypt. This is another site which is featured in most good quality Luxor tours and Nile River cruises.
4.

Mortuary Temple of Queen Hatshepsut

Hatshepsut Temple is a vast terraced temple complex that was constructed during the reign of Queen Hatshepsut, Ancient Egypt's only true Egyptian female ruler. It is one of Egypt's most famous temples and also one of the country's most visited historical sites. Located on the west bank of the Nile River near the modern city of Luxor, Hatshepsut's temple is considered to be one of the "Incomparable Monuments of Ancient Egypt."

If you are drawing up a bucket list of where to visit in Egypt, make sure you have Hatshepsut Temple on your list.
5. Valley of the Kings
The Valley of Kings is an ancient royal burial ground located on the west bank of the Nile River, just a short distance from the mortuary temple of Hatshepsut. It is home to more than 60 ancient tombs, and it is one of Egypt's best ancient sites.
While some of the tombs are no more than simple burial chambers, others are huge elaborate complexes. The tomb of King Tutankhamun and the tomb of Ramses VI are among the most famous tombs at the site.
Several, but not all of the tombs are open to the public. A general admission ticket typically includes entry to three or four tombs. However, for the "special" tombs, such as the tomb of Tutankhamun, additional tickets have to be purchased in person at the site.
As of the time of writing, Tutankhamun's mummy was still on display in a climate-controlled glass box inside his tomb in the Valley of Kings.
6. Luxor Temple
Luxor Temple is located on the east bank of the River Nile, just a short distance from the Karnak Temple complex. Unlike most of Egypt's ancient temples, Luxor temple was not built out of adoration for any gods. Instead, its primary purpose was for the "rejuvenation of kingship."
Luxor Temple, which is roughly 4,000 years old, is in a far better state of preservation than the nearby Karnak complex. These days' visitors can walk from one temple to the other via the newly reopened Avenue of the Sphinxes. If you are wondering where to visit in Egypt, be sure to add Luxor Temple to your list of places.
7. Temple of Isis and Hathor
This breathtaking ancient temple complex, which is also known as Philae Temple, is located in Upper Egypt near the modern-day Egyptian city of Aswan. Philae Temple was one of several ancient monuments that were moved in their entirety to higher ground. This was done to save them from being lost to the rising waters of Lake Nasser following the construction of the Aswan Dam.
Philae Temple is one of Egypt's most beautiful temples, and one of the last true Egyptian temples to be built.
8. Temple of Horus
Also known as Edfu Temple, the Temple of Horus is today Egypt's best-preserved ancient temple. After the ancient Egyptians, the temple was occupied by the Romans who later deserted it. Uninhabited and deserted, the complex was slowly but surely swallowed up by the surrounding desert until it was eventually completely buried. It remained buried for more than 2,000 years, which is the reason for its outstanding level of preservation.
The Temple of Horus is definitely one of the top places to visit in Egypt, and you will see it featured in nearly all Nile cruise itineraries.
9. Kom Ombo Temple
Kom Ombo Temple is essentially a double temple that was dedicated to two different gods. The complex consists of two identical halves. One was dedicated to Sobek the crocodile god, while the other was dedicated to Horus the falcon-headed god.
As with most of the ancient sites mentioned above, Kom Ombo Temple features in most good Nile cruise itineraries, and it is definitely one of the places to visit in Egypt.
10. Pharaoh Djozer's Step Pyramid
The Step Pyramid of Pharaoh Djozer is located in the ancient Saqqara necropolis, just a short drive from Cairo. The necropolis served as a royal burial ground during the Old Kingdom period. It is home to several ancient structures, but the Step Pyramid is the main attraction at the site. It was the very first pyramid ever built by the ancient Egyptian, and it is the oldest man-made major stone structure on the planet.
The pyramid sustained damage as a result of a strong earthquake but after a 14-year restoration project, it is once again open to the public. Most of the complex is underground, covering an area of more than 6 square kilometers. One could literally spend an entire day exploring this site, so be sure to add it to your list of must-see places to visit in Egypt.
More Things to Do and Places to Visit in Egypt
There is no better way to experience the very soul of Ancient Egypt than by way of a Nile River cruise from Aswan to Luxor or from Luxor to Aswan. Providing you book a decent cruise package, you will see nearly all of the sites which have been mentioned in this post. You will also see so much more while sailing slowly on the tranquil waters of the world's longest river.
If you are planning on staying in Cairo for a few days and you are wondering where to visit in Egypt, the famous Egyptian Museum near Tahrir Square in downtown Cairo is another must-see attraction. And, no trip to Cairo is complete without a visit to the centuries-old Khan el Khalili bazaar.
Sharm El-Sheikh
If you have had enough of sightseeing and you are wondering where to visit in Egypt for some fun in the sun and some quality relaxation, then we definitely recommend heading to Sharm El Sheikh. Sharm. El Sheikh is more geared up for tourism than any other city in Egypt. From cheap budget hotels to luxurious beach resorts, Sharm has it all, along with pristine beaches and a super-vibrant nightlife scene.
Hurghada
If you are a SCUBA diving or snorkeling enthusiast, you have probably already heard that Egypt is popular SCUBA diving destination. Well, if you are wondering where to visit in Egypt for the best diving opportunities, the answer would be Hurghada.
Egypt's Red Sea coastline is full of breathtaking dive sites where you can enjoy being surrounded by exotic fish and other aquatic life. However, Hurghada is the place to be if you are serious about SCUBA diving and/or snorkeling.
Explore the Best of Egypt Your Way!
No matter what your budget is and no matter what tastes you have, Egypt is a perfect holiday destination for people of all ages. Whether you want to immerse yourself in the country's ancient history, relax and unwind on the beach, or go diving in an underwater paradise, Egypt has it all.
If you are ready to visit one of the world's most fascinating countries, we can make it happen. Check out our range of bespoke Egypt tour packages today, or even create your dream trip in 3 easy steps right now.
Design Your Custom Egypt Tour
Explore Egypt your way by selecting only the attractions you want to visit