Luxor tour packages are a great choice for anyone interested in Egyptian history. These evergreen ancient Egypt tours packages are perfect if you only have limited time. The area is home to countless ancient attractions, including the Valley of Kings, home to the tomb of King Tutankhamen. It's also where you'll find the sprawling Karnak Temple complex and magnificent Luxor temple.
Design Your Custom Luxor Tour Package
Explore Egypt your way by selecting only the attractions you want to visit
Learn more about Luxor, Egypt tours here...
The Brief Guide To Luxor Tour Packages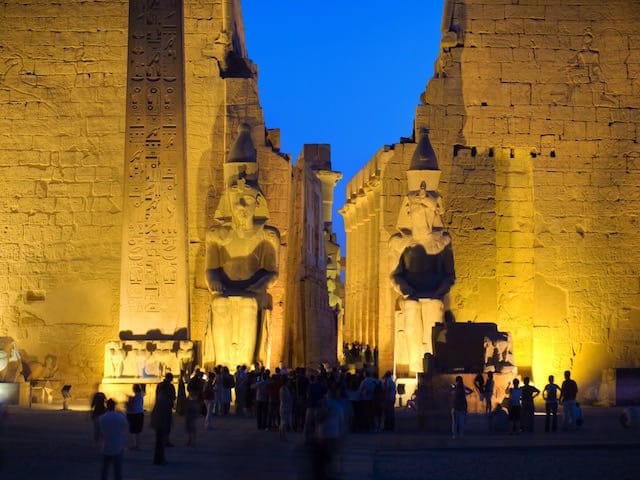 Luxor tours are a must. Luxor is a great place to relax and it is near some of the prominent temples. Located on the Nile, many Nile cruises depart and arrive here daily. Luxor is possibly the second most popular city in Egypt, though it is relatively small in terms of population. As you search through numerous Egypt guided tours and Nile cruise holidays, you will no doubt find many options that include exciting Luxor tours.
What To Look For When Booking Luxor Tours?
First realize that Luxor is divided by several districts that tend to "group" all of the attractions. It is very important to keep this in mind when booking your Luxor Egypt tour package.
First, there is the Luxor East Bank (which refers to the location from the Nile River). This area includes some major temples and museum sites as well as the town of Luxor. It is also where you'll find many hotels, restaurants and train stations. Next, there's the Luxor West Bank location, which offers visitors the chance to explore the ancient ruins of the city.
What To See On Luxor Vacations?
If you're on the East Bank section then you will find most Luxor tours will include visits to the Luxor Museum, as well as the Luxor Temple and Temple of Karnak. The latter is a particularly interesting attraction as it is a vast assemblage of various temples, chapels and pylons.
If you are traveling to the West Bank then you can see major ruin sites like the Valley of the Kings and the Valley of the Queens. The Valley of the Kings contains over 63 tombs and chambers dedicated to ancient Pharaohs of the past. Because of this, the West bank features very prominently in nearly all Luxor tour packages.
There are also other things to do on the best tours in Luxor, including more active features like biking around Ancient Thebes. It's great and fun exercise to walk the Valley of the Queens and Valley of the Kings, with a small desert in between them. You can also ride a felucca at sunset for a brief period of time, or take a felucca ride for a couple of days as you journey through the Nile River and up to Aswan.
Luxor Vacation Tour Packages
Is there anything else you should know about Luxor tour packages before going? Know that it is a safe area for vacationing, even if you're from Western parts. Upper Egypt is much safer than Middle Egypt, though the danger in even Middle Egypt has been exaggerated. Also remember that many merchants in Luxor are aggressive, if still friendly.
Luxor tours are very exciting and are a must-see for vacationers in Egypt and Luxor tour packages are highly recommended for anyone who wish to experience the what is also known as the world's largest open-air museum.