Morocco Tours from Australia
There are not many tour operators that can say they have been planning and arranging Morocco tours from Australia for several decades already. It is this vast amount of experience that really allows us to shine, and it is a reputation which we are incredibly proud. When you book you Morocco tours from Australia through us, you are booking them through a company that well and truly has stood the test of time.
→ Tell us about your dream trip and we will customize your itinerary to fit your exact needs and wants ←
Epic Morocco and Egypt Combination Tours from Australia
Customized Morocco Tours from Australia
No other tour operator that we know of offers a more extensive range of Morocco tours from Australia than we do. Even with such a huge variety of tours, we also appreciate the fact that our existing tour packages may not be perfect for everyone who is longing to visit this spectacular country.
In order to overcome this challenge, we also offer customizable Moroccan private tours. If, after looking through the various package tours we currently offer, you don't see one which you like, simply contact our customer service department, or follow the links which can be found on most of our website pages, and let us know exactly what you want.
Our highly motivated team of tour representatives will be happy to work with you in order to design a tour itinerary that fits your individual needs perfectly.
Weather in Morocco
Unlike people from many other countries, Australians are generally well accustomed to warm weather, so the weather in Morocco is typically not a major reason for concern. In fact, depending on where about in Morocco you are, you may even find that the weather is even more pleasant than it is in Australia.
Weather in Morocco's coastal regions, for example, is usually very mild and very pleasant all year round, with places like Rabat and Agadir having average daytime temperatures in the lower twenties throughout the year.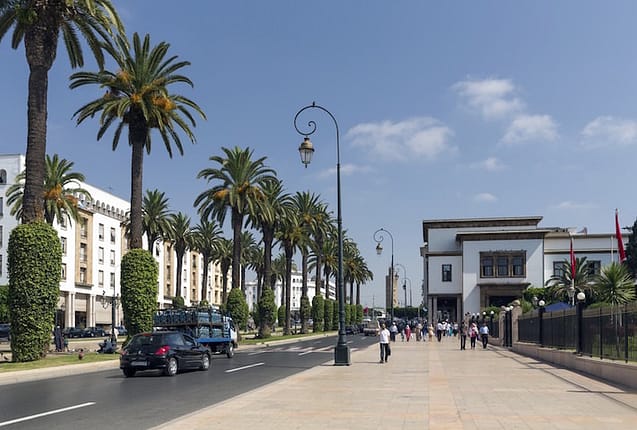 Marrakech is somewhat different due to it being an inland city. Here temperatures of around 38 degrees Celsius in summer are not uncommon. However, most people who visit Morocco only tend to spend two or three days in this fascinating city before moving on.
Of course, when you book Morocco tours from Australia through us, most of your time in Marrakech will be spent in air conditioned comfort, so even summer temperatures are not really much of an issue.
Visa Requirements for People Traveling on Australian Passports
If you are travelling to Morocco on an Australian passport you are allowed to enter the Kingdom of Morocco for a period not exceeding 90 days without a visa. If your stay is going to exceed 90 days, you will have to visit the police department which is closest to the area where you are staying, and then apply for a residency permit. These are generally not difficult to obtain, but you must apply before your original 90-day entry expires.
All visitors to Morocco must carry a passport that will remain valid for the duration of their stay in the country. Tourists in Australia who do not have an Australian passport cannot apply for a Moroccan visa in Australia. Instead, they need to apply in their country of residence. If there is no Moroccan embassy in their country of residence, then they need to apply for a visa in the closest country that has an embassy.
Staying Safe in Morocco
There are currently no international travel warnings in place for Morocco. The country has an outstanding safety record as far as tourists are concerned. You can enjoy Morocco tours from Australia without having to worry about personal safety, but travelers are still urged to remain vigilant, particularly in and around very popular tourist attractions.