1 Day Private Petra Tour from Sharm El Sheikh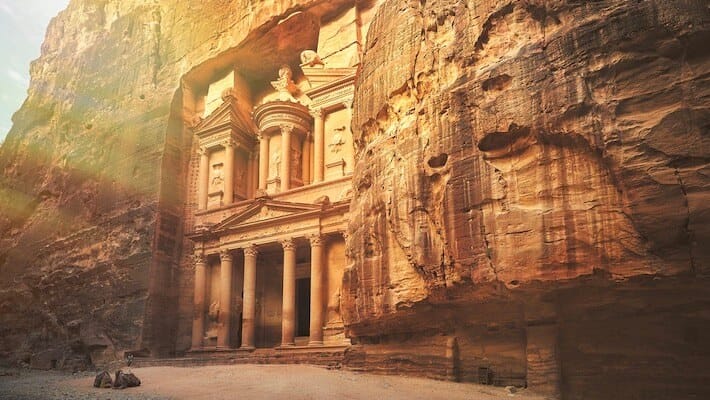 Our 1 Day Petra Tour from Sharm El Sheikh allows you to make your vacation in Sharm more memorable than anyone might imagine. Whether you visit via the Egypt/Jordan and Israel land border crossings, or whether you visit via a cruise, your Sharm El Sheikh to Petra Tour will be in comfort and style from beginning to end. Visit the amazing Lost City of Petra; a timeless wonder that no amount of words can accurately describe.
Notes: Tours Run: Everyday via Border except Tuesday and Friday via Cruise / Type of Tour: Private / Duration: 1 Day / Departure Time: About 3:00 AM
Inquire
Petra Tour from Sharm El Sheikh
Itinerary
Petra Tour from Sharm El Sheikh Itinerary
Your Petra Tour from Sharm El Sheikh calls for an early start. You will need to be ready to leave your hotel at about 3:00 AM.
If your Sharm el Sheik tour to Petra is on a Tuesday or Friday, then you will be driven to Taba in a deluxe air-conditioned vehicle, a drive which takes approximately 3.5 hours. On arrival at Taba, you will then board a boat that will take you directly to Petra for your tour of this magnificent, 2000+ year old rock-carved city.
If your Petra tour from Sharm El Sheikh takes place on any day other than a Tuesday or Friday, you will reach Petra via land border crossings rather than by boat. Your tour will actually begin at the Visitor Center because vehicles are not permitted beyond that point. The Siq (canyon entrance) is about 700 meters from the Visitor Center. Many, if not most visitors, cover this distance on foot. However, our Sharm el Sheik tour to Petra includes a horse ride from the Visitor Center to the Siq. This is not mandatory, so you can choose to walk instead if you wish to.
The site is a long, deep, and oftentimes narrow rock gorge. It is in this gorge or canyon that the Nabatean Arabs decided to create their city. Their entire city was carved out of the canyon walls. They also used an ingenious method to ensure they would have ample water all year round. This was an amazing accomplishment, considering that their city is located in a very inhospitable desert region.
Once you reach the Siq, you will then start walking along the canyon until you reach an opening which is about 1.2km from the Siq. The canyon is full of exquisite carvings of statues, idols and niches, but when you round the corner at the opening, you will see a sight that will stop you dead in your tracks. This is the Treasury, and arguably the most impressive feature of the city. You may have seen the Treasury in some Hollywood movies, and you may even have thought it was a stage prop. It is not; it is very real and looks far more impressive in real life.
After you have finished admiring the Treasury, you guide will then lead you along the Street of Facades to the Roman Theatre. Next, you will visit Royal Tombs, the Roman Colonnaded Street and Qasr al-Bent. It is impossible to see everything at Petra in a day. However, your Petra tour from Sharm el Sheikh will ensure that you get to see all the very best features of this timeless rock-carved city.
After your tour, you will then be taken for some lunch, and then you will be driven back to Aqaba Port. When you reach Aqaba Port, you will board your short cruise back to Taba, and then you will be driven back to your hotel in Sharm el Sheikh. Your Petra tour from Sharm el Sheik has now come to an end, but you can be certain that this will be a day you will never ever forget.
Note: If your tour involves land border crossings, the follow charges will apply: $20 Taba Entry Fee 20$ / $10 Taxi Fee / $64 Israeli Departure Tax / $15 Jordan Exit Fee. These fees are charged per person and are not included in the price of your Petra tour from Sharm el Sheikh. These fees do not apply if your tour is via a cruise on a Tuesdays or Fridays.
What is Included
Inclusions – What is included in your Petra Tour from Sharm El Sheikh:
Pick up service from your hotel in Sharm & return
All transfers by air-conditioned vehicle
Ferry boat tickets Taba – Aqaba – Taba
Entrance fees to Petra
Short horse ride Petra (700 meters, not mandatory)
English speaking spot guide in Petra (about 3 hrs)
Lunch at local restaurant in Petra
Free bottled water in vehicles
Entry visa to Jordan
All service charges & taxes
Exclusions – What is not included in your Petra Tour from Sharm El Sheikh:
Personal spending money
Optional extras that are not mentioned in the itinerary
Tipping
Price
| # of Persons | Price (US$) |
| --- | --- |
| Single Person | $899 |
| 2 Persons | $599 per Person |
| 3 Persons | $489 per Person |
| 4 Persons | $449 per Person |
| 5 Persons | $419 per Person |
| 6 Persons | $399 per Person |
Prices are quoted per person in US$ and are valid until the 30th of September 2022, except during the Christmas, New Year, and Easter holidays.
Sharm El Sheikh Tours
Didn't find the Sharm El Sheikh Tour you were looking for? See Petra Tour from Sharm El Sheikh alternatives below or customize your tour here.