14 Day Sahara Desert and Nile River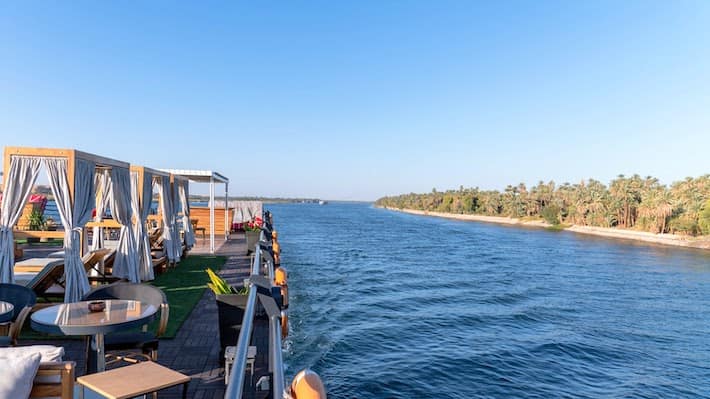 This action packed 14 Day Sahara Desert and Nile River tour package allows you to see and experience the country in a way you've never imagined. From the historical sites of Cairo, to the remnants of ancient civilizations found in Luxor; Edfu; Kom Ombo and Aswan this epic Egypt desert tour has it all.
Experience the thrill and the unspoiled beauty of the Sahara, and immerse yourself in the luxury and tranquility of a Nile River cruise with one of our unforgettable Egypt tour packages.
Inquire
Sahara Desert and Nile River
14 Day Egypt Desert Trip
Itinerary
Day 1: Arrive in Egypt for your Sahara Desert and Nile River Vacation
Your dream vacation is in good hands from the minute you arrive in Egypt, Land of the Pharaohs. It doesn't matter what time you arrive, there will be a tour consultant and a driver standing by to meet you when you pass through immigration. You will then be assisted with your luggage and driven in cool comfort to the classy Le Meridien Pyramids Hotel where you will be spending your first two nights.
Our consultant will assist with check-in and then he sit down with you to discuss your itinerary and to confirm collection times for your different tours. No activities are scheduled for the first day so once all the formalities have been taken care of, enjoy a free "Welcome drink and have the rest of the day to yourself. Enjoy a nap in your room; relax by the pool; go explore the city, or treat yourself to something special with a wonderful Nile cruise dinner.
Day 2: Cairo Sightseeing
You will enjoy breakfast at your hotel in Cairo. After breakfast you will be met by your personal guide who will accompany you to the Giza Plateau to visit one of the seven wonders of the ancient world; the Great Pyramids of Cheops, Chefren and Mykerinus, the famous Sphinx, and the Valley Temple facing the Sphinx. After your visit to the pyramids, you will then be taken to a nice local restaurant for lunch, and then you will transfer to explore the Egyptian Museum.
Following your visit to the museum, you will end this amazing day of sightseeing combining fascinating history with shopping in the vibrant Khan El Khalili Bazaar, which dates back to 1382. Back to hotel for your second night in Cairo.
Meals included: Breakfast and lunch
Day 3: Bahariya Oasis
After breakfast, check out from your hotel, and then you will travel in a modern air-conditioned vehicle for about 4 hours until you reach the Bahariya Oasis. Shortly after you reach your destination, you will enjoy a good lunch, and then a little bit later in the day you will join a camel caravan which lasts for about one hour.
After your camel caravan, you will have some free time for yourself, and possibly an opportunity to relax and unwind in a nearby hot spring before sitting down to a good dinner in the evening.
Meals included: Breakfast, lunch and Dinner
Day 4: White Desert and Black Desert
You will enjoy a trip into the White Desert, through the Black Desert and the Valley of El Haize. You will begin your day by visiting a number of sites, including Golden mummies, tombs of the Nobles from 26. Dynasty, Ain Muftillah Temple, and spring, Ain Bishmu. Next, you will be taken for a nice lunch, and then you'll head off to explore Crystal Mountain, as well as the volcanic wonder of the Valley of Agabat.
Finally, you will enjoy the sunset over the White Desert before settling down for a night under the stars in the midst of this sea of tranquility, complete with a delicious Bedouin dinner. If the weather is not suitable for camping, then you will spend this night of your tour at the Badawiya Hotel, Farafra.
Meals included: Breakfast, lunch and dinner
Day 5: Farafra & Dakhla
You will break camp and then travel to Farafra Oasis to enjoy the hot springs, as well as the palm groves. Badr's Museum in the village is well worth exploring, as well. Enjoy a trip to the Roman temple Deir El Hagar in its serene surroundings and the Roman burial ground Mezzawaqqah if it is open. Then pay a visit to Islamic Village of Al Qasr, about 35km from Mut, which houses the ruins of an Ayubid mosque. You will then move on to Dakhla Oasis and spend the night surrounded by the rose-colored cliffs for which the area is famed. Overnight in Dakhla.
Meals included: Breakfast, lunch and Dinner
Day 6: Kharga Oasis
After breakfast move onto Kharga Oasis to visit Qasr el Labkha – a Roman fortress on the old caravan route, and the oasis' ethnic museum. After that visit the Roman Temple of Hibis from outside as well as the early Christian cemetery with its chapels painted with murals at Bagawat, nearby. Move onto Nadora Temple and the Temple of Dush, dedicated to Isis and Serapis, and see Baris Oasis. Overnight camping in Kharga.
Meals included: Breakfast, lunch and dinner
Day 7: Arrive Luxor
Enjoy your breakfast in the desert and then you will be driven in a comfortable air-conditioned vehicle to Luxor, where you will check into a good hotel for the night.
Meals included: Breakfast
Day 8: Luxor & Karnak Temples
You will enjoy breakfast in your hotel and then transfer to board your 5-Star Nile River cruise. After you have checked in you will be served a good lunch on the vessel, and then you will go and explore the Temples of Karnak, as well as the Luxor Temple. After your tour you will return to the ship and you will have some free time for yourself before dinner is served in the evening. Enjoy the first night of your cruise on the water at Luxor.
Meals included: Breakfast, lunch and dinner
Day 9: Luxor West Bank and Sail to Edfu
You will start your day with breakfast aboard ship and then visit the Valley of the Kings, as well as the Temple of Hatshepsut, and the Colossi of Memnon. Lunch will be served aboard ship, as will afternoon tea while you sail to Edfu. Enjoy dinner and another good night's rest on the water, this time at Edfu.
Meals included: Breakfast, lunch and dinner
Day 10: Edfu and Kom Ombo
Breakfast will be served aboard ship and then you will visit the Temple of Horus at Edfu. You will board the ship once more and sail to Kom Ombo, where you will enjoy lunch, as well as visiting the Kom Ombo Temple, before continuing on to Aswan. You will stay aboard ship at Aswan for the night.
Meals included: Breakfast, lunch and dinner
Day 11: Aswan Sightseeing
In Aswan, you will visit the inspiring Aswan High Dam, as well as the massive Unfinished Obelisk and the incredible Philae Temple. You will once more dine and stay the night aboard ship.
Meals included: Breakfast, lunch and dinner
Day 12: Disembarkation. Abu Simbel (optional)
You will leave the ship after breakfast and have some leisure time in Aswan, or alternatively, enjoy an optional tour to visit the amazing Temples of Abu Simbel that were carved out of rock during the reign of Rammesses the Great. Later in the day you will depart Aswan aboard a sleeper train bound for Cairo.
Meals included: Breakfast and dinner
Day 13: Arrive in Cairo
One of our tour consultants will meet you at Giza train station when you arrive and then you'll be taken to your hotel where you will check-in for the night. There are no tours or excursions planned for this day so you can spend it as you wish, or alternatively, we can arrange optional excursions or outings if you would like us to.
Meals included: Breakfast
Day 14: Final Departure
You have enjoyed a wonderful desert adventure; an unforgettable cruise, and some indescribable sightseeing. Unfortunately, the last day of your vacation has dawned, and it is time for you to bid Egypt farewell.
Before you leave however; you can enjoy a nice wholesome breakfast at your hotel. One of our consultants will soon be there with a driver and they will take you to the airport for your flight home. Fasten your seat belt and soar off into the sunset with your memories eternal.
Tours begin every Friday, Saturday and Monday.
What is Included
Inclusions – What is included in your Sahara Desert and Nile River package tour:
Meet, greet and assist service with all arrivals and departures
Accommodation in Cairo for 3 nights at the Le Meridien Pyramids Hotel (includes breakfasts)
Accommodation in Bahariya at International Hot Spring Hotel for 1 night (half-board)
Accommodation in White Desert (camping) for 1 night (full board)
Accommodation in Dakhla at Desert Lodge Hotel for 1 night (half-board)
Accommodation in Kharga (camping) for 1 night (full board)
Accommodation in Luxor for 1 night (includes breakfast)
Accommodation on a Nile cruise ship for 4 nights (full board)
Accommodation on sleeper train from Aswan to Cairo for 1 night (includes private compartment and half-board)
All sightseeing tours as mentioned in the tour itinerary
All transfers in air-conditioned vehicles
All desert transfers in air-conditioned 4×4 vehicles
Entrance fees to all sites mentioned in the itinerary
Lunch during sightseeing tours.
Mineral water and soft drinks when camping in the desert
English speaking Expert guide for all tours
Portage when needed
Free mobile phone during your stay in Egypt. Includes approximately 30 minutes of free local calls, or 2 minutes of free international calls
All service charges and taxes
Exclusions – What is included in your Sahara Desert and Nile River package tour:
International flights
Egypt visa
Optional tours
Meals except where indicated
Personal expenses
Tips and gratuities
Price
Accommodation Plan
Campsite in Kharga Oasis
Campsite in White Desert
Desert Lodge Hotel Dakhla
International Hot Spring Hotel, Bahareya Oasis
Movenpick Media City Hotel, Cairo
Movenpick Royal Lily Nile Cruise Egypt
| Price per 1 person | October to April | May to September |
| --- | --- | --- |
| 2 Persons | $3380 | $3185 |
| 4 Persons | $2745 | $2635 |
Prices are quoted per person in US$ and are valid until the 30th of September 2023, except during the Christmas, New Year, and Easter holidays.
Egypt Desert Tours
Didn't find the Egypt desert tour you were looking for? See other 14 day Egypt tours here or find a Sahara Desert and Nile River cruise tour alternative below.
Design Your Custom Egypt Tour
Explore Egypt your way by selecting only the attractions you want to visit