What Can You See on Dahab Tours?
Dahab tours are truly unique. Incredible camel safaris and scuba diving adventures are accessible from this former fishing village, now a vacation hub for travelers around the world. Dahab is definitely worth including as part of your Egypt vacation.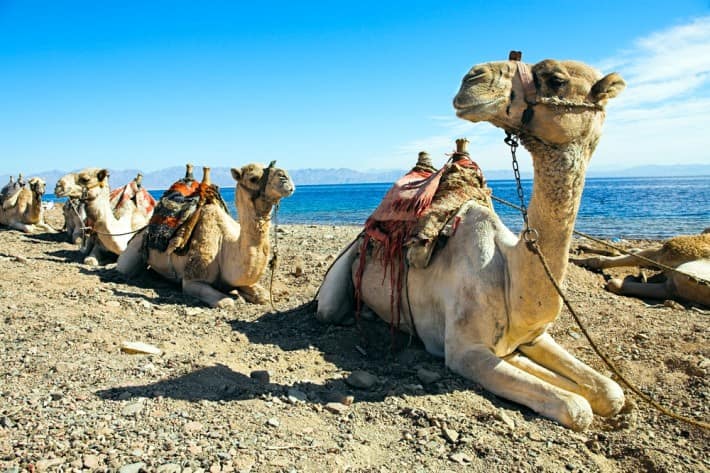 Dahab, Egypt
You may often see Dahab included in a number of private Egypt tours and if so, then choose one of those tours! Dahab is certainly worth seeing, as it combines the best of Egypt into one very attractive beach town near the southern tip of Sinai.
Like many other areas in Egypt, Dahab was once a boring and isolated coastal village. However, in recent years it has been transformed into a charming resort town. Dahab is extremely popular among divers. Despite this, Dahab has retained its delightful "small town" feel. It's also a wonderful place to visit after having enjoyed a Nile River cruise.
Design Your Custom Egypt Tour
Explore Egypt your way by selecting only the attractions you want to visit
Assalah Village and Dahab City
What kind of fun can you have in Dahab? First understand that in order to find all the Dahab hotspots you have to organize them into two sections: the northern part, which is the former Bedouin village of Assalah, and the southern part, which is Dahab City. The latter has more commercial features, such as banks, hotels and other money-grabbing distractions. The former has more natural pleasures to explore.
Scuba Diving in Dahab
Some of the most popular activities on Dahab tours include scuba diving. Dahab has some very good reefs at which you can dive, including Abu Helal, the Canyon, Eel Garden, Lighthouse, Gabr El Bint, Ras Abu Gallum and Three Pools. Bedouin divers also offer assistance with all diving activities, including PADI courses, camel dive safaris and boat dives.
Caution: The Blue Hole
A word of caution should be given about the Blue Hole dive site, the biggest dive site in the area. This "hole" measures 107 meters deep and has overwhelmed many novice and experienced divers alike who were foolish enough to test their.
In order to travel the Blue Hole you must pass technical dive training and visit the area using only the correct gases. You cannot rely on just air alone, as this has proven to be a fatal mistake for many divers in the past. Do not be persuaded by anyone offering to take you through the underwater tunnel that leads from the interior of the Blue Hole to the open sea unless you're a world-class diver who is ready to meet your ultimate challenge!
Dahab Tours
What else can you do during Dahab tours? You can have some fun in the sun by trad-climbing, bouldering and sports-climbing. However, experience is important here as temperatures can get very hot. A safer option, and possibly more fun, is to go on a desert safari deep into the Bedouin areas. These can be done on camels, quad bikes, or in modern air-conditioned vehicles.
Other popular past times in Dahab on private tours include Yoga retreats, windsurfing, kite-surfing, and kayaking.
There are not that many historical sites here, but there are many activities that you can enjoy. Remember too, you can always travel to nearby areas such as the Three Pools Oasis, St. Catherines and Mount Sinai without much effort.
Come to Dahab and experience Egypt's mellow side. At Egypt Tours Plus, all of our Egypt tour packages are fully customizable, so we can add a trip to Dahab to any and all of our existing travel packages.
Amazing Ancient Egypt Tours
Explore the best of Egypt. Find and book your dream trip today.
Design Your Custom Egypt Tour
Explore Egypt your way by selecting only the attractions you want to visit
Country Specific Egypt Tour Information
Looking for more information before you decide? We have a specific international guide covering the most important points you need to be aware of before traveling to Egypt.