Do not miss this. Scuba Diving in Dahab is an experience you will relish forever and likely come back to repeat. At Egypt Tours Plus, you will find a staggering number of high quality Egypt tour packages and bespoke Nile cruise holidays. Some also include SCUBA diving on Egypt's beautiful Red Sea coast, usually in or near places like Hurghada and/or Sharm El Sheikh.
So, if Dahab is such a great place for diving, why don't we include Dahab in our tours rather than Hurghada or Sharm? The reason for this is simply because Hurghada and Sharm have so much more than just world-class diving. Sharm, for example, is a bustling resort town which is perfect for all types of holiday makers. Dahab, on the other hand, more for people who are truly serious and passionate about SCUBA diving.
The following is a sampling of some of the most popular dive sites in the area. Getting together with one of the local dive tour operators will reveal even more great places for diving in Dahab.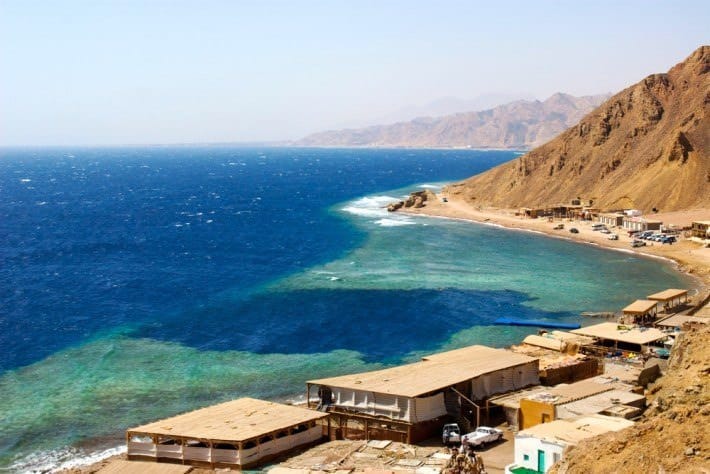 Design Your Custom Egypt Tour
Explore Egypt your way by selecting only the attractions you want to visit
Diving in Dahab – The Most Popular Sites
The Lighthouse
The Lighthouse is a dive site that gets its name from the actual lighthouse that sits on shore not far from the site. It is a wall dive, where you will see a variety of fish and coral.
The Southern Oasis
The Southern Oasis dive area gets its name from the gorgeous palm trees on the shore neat the site. You can find a sandy reef, plenty of beautiful coral, and a host of other surprises while exploring all that this site has to offer.
The Eel Garden
The Eel Garden is another site that has many great things to offer the adventure-loving diver. You can see a great many eels on the sandy sea floor, as well as the wreck of the South African ship called the Yolanda. This ship sank more than twenty years ago and offers another exciting place for divers to examine.
Another nearby wreck is that of the Dunraven, a British ship that sank in 1876 during a trip from Bombay to Newcastle.
You can likely also find a dive operator that will take you to one of the most popular wrecks in the Red Sea, the S.S. Thistlegorm.
The Canyon
One of the most popular sites for those diving in Dahab is called The Canyon. This site is located several miles north of Assalah, and can be reached by passing through a coral lagoon and then bear left as you reach the open sea. There you will come across The Canyon and its steep walls.
You can find a number of different types of marine life here as well as a place called the "Fish Tank," which is a coral area filled with small fish. Many of the tour operators on the island will be able to take you out to the canyon.
The Blue Hole
The Blue Hole is an infamous dive site, and one that is as dangerous as it is beautiful. Only those people who have had proper training and experience should attempt the Blue Hole, and they should only do so with qualified and fully certified guides.
The Blue Hole is a 120-meter-deep sinkhole. It is not the hole itself, or even the depth, that makes it dangerous. Instead, it's the deep underwater arches and tunnels that are so dangerous. More divers have died in Egypt's Blue Hole than at any other dive site in the world. In fact, it has been nicknamed the Divers' Cemetery.
With all of the wonderful places for SCUBA diving in Dahab, it is no wonder that it is such a hot spot for divers. If you are planning a trip to Egypt and you intend on enjoying a Nile River cruise while in the country, we would highly recommend a visit to Dahab. Even if you don't SCUBA dive, it's a fantastic area to enjoy some breathtaking snorkelling, or just to enjoy some peace and quiet.
→ Looking for amazing combined Egypt diving holidays and sightseeing tours? Click here…
Amazing Ancient Egypt Tours
Explore the best of Egypt. Find and book your dream trip today.
Design Your Custom Egypt Tour
Explore Egypt your way by selecting only the attractions you want to visit
Country Specific Egypt Tour Information
Looking for more information before you decide? We have a specific international guide covering the most important points you need to be aware of before traveling to Egypt.