Do Canadians Need a Visa to Visit Egypt?
Yes, Canadians or those traveling on a Canadian passport need to obtain a valid visa for entry into Egypt – which is very easy to get. However, Canadians can visit the Sinai Peninsula for up to 15 days without a visa.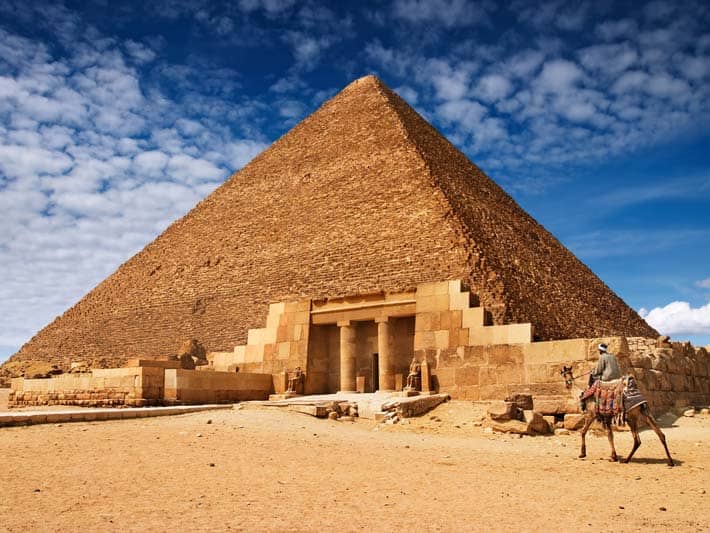 Do Canadians Need a Visa to Visit Egypt?
Egypt is one of the most fascinating destinations on the planet. In fact, many people believe that everyone should try to visit Egypt at least once in their lifetime. Unfortunately for some nationalities, obtaining a visitor visa for Egypt can prove to be quite a headache due to an excessively long list of entry requirements. However, this is definitely not the case for Canadian citizens or anyone else who happens to be traveling on a Canadian passport.
So, do Canadians need a visa to visit Egypt? Yes, Canadians do need a tourist visa in order to visit Egypt, but the process of obtaining one couldn't be any easier than it is.
If you're planning a trip to Egypt, the first thing you need to do is check the validity of your passport. As is the case with all other countries, Egypt only accepts and recognizes valid passports. Your passport must have at least six months validity remaining and at least one blank page.
Okay, now that we've cleared up the passport issue, let's take a look at Egypt's visa requirements and how to go about obtaining one:
Egypt Tourist Visa Requirements for Canadians
The citizens of numerous countries need to present a long list of travel documentation and may even have to attend a visa interview before being granted an entry visa for Egypt. For Canadians, however, this is not the case. As a Canadian citizen, or someone traveling on a Canadian passport, you only need a valid passport in order to apply for a visa.
Do Canadians need a visa to visit Egypt or can they get a get a visa when they arrive in the country? Canadians do not need to show proof of a valid visa before boarding a flight to Egypt because they can obtain a visa-on-arrival at any international airport in the country, including Cairo International Airport and Sharm El Sheikh International Airport.
A visa-on-arrival is a 30-day single-entry tourist visa. To obtain a visa at the airport, simply join the queue at one of the bank kiosks that you will pass on your way to the immigration counters. Once you have completed the visa application form and paid the visa fee, you will be given a sticker which you will then need to hand to an immigration officer, along with your passport.
Recommended: Top 6 Best Egypt Tours
Egypt E-Visa
Canadians can also apply for electronic visas online. The Egypt e-Visa is by far and away the most convenient means of obtaining a Visa for Egypt. Simply visit the official Egypt e-Visa Portal, set up an account, and select the sort of visa you wish to apply for, complete the application form, and pay the visa fee with credit card or debit card.
Once your application has been approved (typically 3 to 5 working days), you can then log back into your account to download and print your visa. When you arrive in Egypt, simply make your way directly to the immigration counters and hand them the printed version of your Visa.
Of course, Canadians can also apply for their visitor visa at an Egyptian embassy or consulate in Canada but this is the least convenient option and one which we wouldn't usually recommend.
Recommended: Nile Cruise Holidays
What if you have an Egyptian Spouse?
Do Canadians need a visa to visit Egypt if they are married to an Egyptian citizen? As far as the law is concerned, the answer is no, you do not need a visa if you are married to an Egyptian national. In reality, however, things are not quite as simple as they might seem. Unless you are planning on staying in Egypt for an extended period of time, we would strongly recommend getting a visa.
Family Visas for Egypt
Contrary to what some online sites proclaim, the Egyptian government does not issue family visas. If you are going to be visiting Egypt as a family, each family member, including minors, must have their own valid visitor visa.
Suggested Reading: Egypt Family Vacations
Can I Renew or Extend My Tourist Visa?
If you wish to stay in Egypt for more than 30 days, you will need to visit the Egypt Passport and Immigration Administration building in Cairo in person. While the process typically only takes one or two hours, you will need to visit the building on two occasions. A three-month extension is the norm, but you can also apply for a six-month extension.
In the past, you would have been issued with a 3 month or 6 month visa extension stamp which would have been placed in your passport. This is no longer the case. Instead, you will now be given a plastic "Foreign Resident Card" containing your photo, your date of birth, and your address in Egypt. As of the time of writing, the entire process cost 3,000 Egyptian Pounds.
Suggested Reading: Egypt Tours from Canada
Flawless, Unforgettable, and Totally Hassle-Free Vacations in Egypt
At Egypt Tours Plus, we don't only sell tours, we make dreams come to life and with nearly 500,000 tours already sold, you can book your dream vacation with absolute confidence and total peace of mind. In most instances, we can even obtain your 30-day single-entry e-Visa on your behalf, making a trip to Egypt even easier.
Contact us now to book one of our epic private Egypt tours, or to begin planning your once-in-a-lifetime holiday to the Land of the Pharaohs today.
Design Your Custom Egypt Tour
Explore Egypt your way by selecting only the attractions you want to visit