5 Day MS Mayfair Nile Cruise at Christmas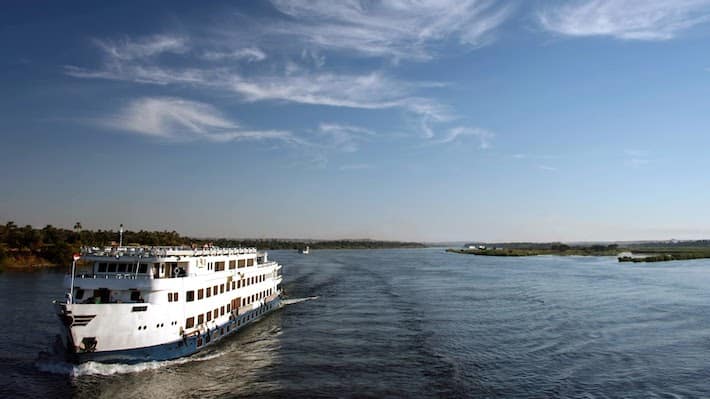 Say hello to the pharaohs this festive season with an unforgettable 5-day Nile cruise at Christmas on board the tastefully appointed MS Mayfair Nile River cruiser as it makes its way from Luxor to Aswan. From the ancient tombs in the Valley of the Kings at Luxor, to the ancient Temple of Philae at Aswan, our 5-day Egypt Christmas holidays will keep you enthralled from beginning to end.
Enjoy daily excursions to some of the world's most valued ancient monuments, and end your days surrounded by tranquility under a star filled sky. With 5-star accommodation and world class amenities, your time aboard the MS Mayfair as it sails along the Nile will be a time you will never forget. Celebrate the festive season with one of our Nile River cruises that are affordable and flawless.
Our 5 Day New Year cruise at Christmas runs on the 27th of December 2022.
Inquire
5 Day MS Mayfair Nile Cruise Christmas Package
Itinerary
Day 1 – Embarkation and Sightseeing in Luxor
When you arrive at Luxor airport or Luxor train station, we will have one our tour representatives there to meet and greet you, and to escort you in a comfortable air-conditioned vehicle to the port where you will be boarding the 5-Star MS Mayfair or the 5-Star Esplanade river cruiser for your Nile Cruise at Christmas. Once you have boarded and you have checked in, you will be served a delightful onboard lunch, and then you will disembark with your English speaking guide for some sightseeing on Luxor's East Bank.
Your Luxor East Bank tour will see you visiting Karnak Temple, a vast ancient site which was home to a multitude of temples that were built over a period of around 2,000 years. After Karnak Temple, you will head to see Luxor Temple, another one of Egypt's ancient relics that features in most Nile cruise itineraries.
After your East Bank tour, you will return to the MS Mayfair in time for some afternoon tea and the opportunity to watch an authentic Egyptian Belly Dancing show. Later in the evening a fine onboard dinner will be served, and at night there will be a disco for those who want to dance the night away. Tonight will be spent on the quiet waters in Luxor.
Meals Included: Lunch, Afternoon Tea, and Dinner
Day 2 – Luxor West Bank Tour and Transit to Esna
Wake up to a lovely onboard breakfast, and then you will disembark for an unforgettable trip to visit three of the best ancient attractions located on Luxor's West Bank. First you will visit an ancient royal necropolis know as Valley of the Kings. More than 60 royal tombs dating back to the New Kingdom era have been unearthed here over the years, including the tomb of King Tutankhamen which was discovered and excavated by Sir Howard Carter.
After Valley of the Kings you will head off to visit another breathtaking archeological site, the rock-cut Temple of Queen Hatshepsut, after which you will visit the Colossi of Memnon before finally boarding the boat again in time for a delicious onboard lunch as it begins sailing towards Esna.
Enjoy afternoon tea along the way, along with a Captain's "Welcome Cocktail" party. In the evening you will be served a fine dinner and you'll once again have the choice of enjoying a quiet relaxing night, or dancing away the hours in the boats lively disco. You will spend this night of your Nile cruise at Christmas on the water in Esna.
Meals Included: Breakfast, Lunch, Afternoon Tea, and Dinner
Day 3 – Edfu Temple and Kom Ombo Temple
The cruise ship will make an early start today, with breakfast being served as it makes its way to Edfu. On arrival in Edfu it will make a relatively brief stop, at which point you will disembark for a fascinating visit to Edfu Temple. You will then board the boat again and lunch will be served during transit to Kom Ombo.
Later, after you have enjoyed lunch and some afternoon tea on board, you will disembark again, this time for a visit another famous Egyptian relic, the Kom Ombo Temple. After visiting the temple you will return to the ship and it will then set sail for Aswan. You will have dinner and spend this night of your Nile cruise Christmas package on the water at Aswan.
Meals Included: Breakfast, Lunch, Afternoon Tea, and Dinner
Day 4 – Aswan Sightseeing Tour
Enjoy breakfast as usual and then you will enjoy a sightseeing excursion in Aswan before lunch. This excursion will see you visiting the Aswan High Dam; the famous Unfinished Obelisk, and the indescribable Philae Temple which is a definite "must-see" for anyone who is passionate about the history of Ancient Egypt.
After your sightseeing tour you will return to the boat where you will be served another wonderful onboard lunch, along with afternoon tea. Enjoy this afternoon as you wish. After another fine onboard dinner in the evening, there will be a traditional Nubian folkloric show for all to enjoy. Spend the last night of your 5-Day Nile cruise at Xmas on the water at Aswan.
Meals Included: Breakfast, Lunch, Afternoon Tea, and Dinner
Day 5 – Disembarkation in Aswan and Departure
Unfortunately, all good things eventually come to an end, and today is the end of your amazing Nile cruise at Christmas. Enjoy a final onboard breakfast as you reflect on that which you have experienced during the last few days, and then sadly, it will be time for you to check-out and disembark.
Once again, one of our friendly tour representatives will be there to escort you in a comfortable air-conditioned vehicle to Aswan airport or railway station for your onward travel.
Meals Included: Breakfast
What is Included
Inclusions – What is included in your Nile Cruise at Christmas:
Meet and assist service for at arrival and departure
Customer Service assistance throughout your Nile Cruise at Christmas
All transfers and tours in clean and modern air-conditioned vehicles
Accommodation for 4 nights on 5-Star Nile Cruise with full board
Meals as specified in the itinerary
All tours during Nile Cruise (small group tours with maximum of 10 people)
Admission tickets for all attractions mentioned in the itinerary
English speaking guides for all tours
All service charges and taxes
Exclusions – What is not included in your Nile Cruise at Christmas:
International airfare
Entry visa for Egypt
Optional tours mentioned or not mentioned in the itinerary
Personal expenses such as extra meals, beverages, laundry and etc.
Tipping kitty.
Price
Accommodation Plan
MS Mayfair Nile Cruise (5-Star)
Esplanade Nile Cruise (5-Star)
| Price per 1 person | Christmas / New Year |
| --- | --- |
| 3 Sharing | $1,099 |
| 2 Sharing | $1,199 |
| Solo | $1,695 |
Prices for our 5 Day MS Mayfair or Esplanade Nile Cruise at Christmas are quoted per person in US$ and valid for the 2022 Christmas and New Year holiday period.
Egypt Christmas Holidays
Didn't find the Egypt Christmas Holiday you were looking for? You can find more 5-day Nile cruises here or see Egypt Christmas Nile Cruise alternatives below.