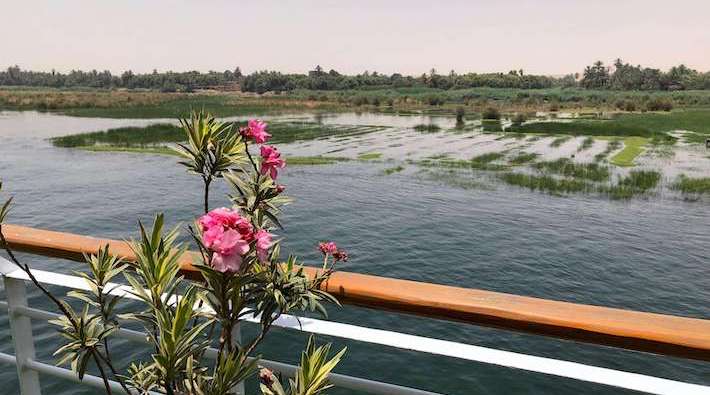 Enjoy a wonderfully affordable Egypt Easter Break on board ever-popular 5-Star MS Mayfair Nile River cruise liner. Cruise the Nile in style and trace the footsteps of the great pharaohs as your cruise liner navigates its way through the heart of the Nile River Valley, beginning in Aswan and ending in Luxor.
Explore some of Ancient Egypt's most iconic monuments, including Valley of the Kings; the rock-cut temple of Queen Hatshepsut; Luxor Temple, Karnak; the Temple of Philae and more. You can enjoy complete peace of mind from beginning to end, because when you book through us, you are booking a holiday with people who have been in the business for more than 60 years.
NOTE: Cruises depart from Aswan on the 10th of April 2020.
Itinerary
DAY 1 – Aswan Arrival, Cruise Embarkation, and Aswan Tour
We want your Egypt Easter break to be as enjoyable and as memorable as possible, so when you arrive at Aswan Airport or Aswan Train Station, your tour manager will be there waiting for you. After introducing himself and greeting you, he will then escort you to the area where you will board the wonderful 5-Star MS Mayfair Nile River cruise liner.
Once on board the vessel, you will get checked in, and then you will be able to sit down in the ship's beautifully decorated dining and enjoy your first good lunch on board. Shortly after lunch, you will leave the boat, and you will be taken to see three of Aswan's most popular attractions: the Aswan High Dam; the Unfinished Obelisk, and the amazing Temple of Philae.
When the Aswan High Dam was constructed, it essentially allowed the people of Egypt to control the water of the Nile River so that it can be used for agriculture and for drinking water throughout the year. It also generates enough hydroelectric power to supply half of the country with clean and renewable electricity, up to 10 billion kilowatts per hour.
The dam is also responsible for the formation of Lake Nasser. On the downside, as many as 90,000 local Nubians had to be relocated to make way for the dam, and a number of ancient monuments where lost when Lake Nasser formed upon completion of the dam. Fortunately, several ancient monuments were saved by moving them to higher ground.
After your stop at the dam, you will then visit the area's ancient stone quarries to see the Unfinished Obelisk. This is the biggest ancient Egyptian obelisk ever discovered, and it was made on the orders of Queen Hatshepsut. It is believed that it would eventually have been moved to the Karnak temple complex at Luxor. However, a major crack appeared before it was complete, and the project was subsequently abandoned.
Your third and final stop for the day will be a visit to the fantastic Temple of Philae, one of the ancient monuments which were moved to higher ground in order to save it from the rising waters of Lake Nasser when the dam was built. This really is an incredible monument, and the world can be glad that it was saved from destruction.
Finally, after having enjoyed a wonderful afternoon, you will head back to the vessel. After boarding, you will have some free time for yourself, and then it will be time for you to sit down and enjoy a delicious dinner. Tonight you will be sleeping in your luxury cabin on the water at Aswan.
Meals Included: Lunch and Dinner
DAY 2 – Day Cruise to Luxor with Stop at Kom Ombo and Edfu
The 2nd day of your Egypt Easter break is going to be a relaxing one, but also quite a busy one, so you cruise liner will be leaving Aswan early in the morning, and you will enjoy your breakfast while it is sailing to Kom Ombo.
Upon reaching Kom Ombo, you will enjoy your first excursion of the day, this time to see the Temple of Sobek. Technically speaking, this is actually two temples in one, with one having been dedicated to Sobek the crocodile god, and the other having been dedicated to Horus the falcon-headed god. You won't spend too much time at this amazing site, but you will have ample time to look around and take some incredible photos.
After Kom Ombo Temple, you will board the boat and it will then set sail for Edfu. While sailing to Edfu you will have some time for yourself, and you will once again be served another good lunch on board the boat. When you reach Edfu, you and your small group will then disembark again, and you will be taken to see another fantastic ancient monument, Horus Temple.
Also known as Edfu Temple, this amazing site was abandoned by the Romans, and it was slowly consumed by the desert sands beneath which it lay buried and hidden for more than 2,000 years. Because of this, it is now by far Egypt's best-preserved Ptolemaic Temple in Egypt.
Following your visit to the temple, you will return to the cruise liner, and it will begin sailing to Luxor where it will arrive in the evening. Enjoy another fine dinner on this luxurious boat, and enjoy another good night's rest in your cabin on the water at Luxor.
Meals Included: Breakfast, Lunch and Dinner
DAY 3 – Luxor West Bank and East Bank Tours
Day 3 of your Egypt Easter Break is going to be a busy one, so be sure to have a good hearty breakfast before the fun begins. Shortly after you have finished eating, you will leave the boat, and you will be taken to see 3 of the top attractions on the West Bank.
Your first stop will be at Valley of the Kings, an ancient necropolis that once served as the final resting place for royals and nobles. More than 60 tombs have been discovered here, including the most famous tomb of all, that of the boy king, Tutankhamen. Some of the lesser tombs here consist of nothing more than a single chamber, while others consist of a complex network of chambers and passageways.
Moving on from here, you will then pay a visit to the indescribable mortuary temple of Queen Hatshepsut. This entire temple was carved out of the surrounding rock, and today it is one of Egypt's most visited ancient sites. It is big, it is spectacular, and it is a place which every visitor to Egypt should see.
Next, while you are making your way make to the ship, you will also enjoy a brief visit to the famous Colossi of Memnon. From here you will return to the boat and then lunch will be served. After lunch you will head out again, this time to explore two great monuments on Luxor's East Bank.
First you will be visiting the temple complex of Amon-Ra first, and then the famous Luxor Temple which was built during the 28th Dynasty. The temple complex of Amon-Ra is mostly known as Karnak Temple, and it was in fact a temple city that grew over a period of more than 2,000 years, with numerous rulers of Egypt expanding it during their reigns.
Luxor Temple is likewise a vast complex, although nowhere nearly as vast as Karnak. It is however a much more well-preserved monument and it is a wonderful site to visit. Once you are finished exploring this site, you will then head back to the ship
Enjoy a little bit of free time, and then it will once again be time for you to enjoy another fine on-board dinner. Enjoy the remainder of the evening as you wish, and enjoy the last night of your Egypt Easter break on the water at Luxor
Meals Included: Breakfast, Lunch and Dinner
DAY 4 – Egypt Easter Break Ends and Disembarkation
Sadly, your magical 4-Day Egypt Easter Break has now come to an end, but before you say goodbye to any friends you have made along the way, first sit down for one last good onboard breakfast which you can enjoy at leisure.
After breakfast when you disembark from the beautiful MS Mayfair for the last time, we will once again have one of our friendly tour representatives standing by to meet and greet you, and to assist you in any way they can. They will then escort you to the airport or to the railway station in a modern air-conditioned vehicle, and then it will be time for everyone to say goodbye. You will no doubt be leaving with a heavy heart, but you will have many glorious memories of a cruise you will never forget.
Meals Included: Breakfast
What is Included
Inclusions – What is included in our 4-Day Egypt Easter Break:
Meet and assist service at arrival and departure
Customer Service assistance throughout our 4-Day Egypt Easter break
All transfers and tours in clean and modern air-conditioned vehicles
Hotel accommodation for 3 nights on board the MS Mayfair Nile cruise liner
Free bottled water during tours
All tours mentioned in the Egypt Easter Break itinerary
Admission tickets for all attractions mentioned in the itinerary
English speaking guides for all tours
All service charges and taxes
Loan of free mobile phone or SIM card loaded with limited free call time
Exclusions – What is not included in your 4-Day Egypt Easter Break:
Travel to Aswan and onward travel from Luxor
Entry visas for Egypt
Optional tours mentioned or not mentioned in our 4-Day Egypt Easter Break
itinerary
Personal expenses
Tipping kitty.
Price
Accommodation Plan
MS Mayfair Nile Cruise Liner (5-Star)
| Price per 1 person | Valid Specified Dates |
| --- | --- |
| Triple – 3 Sharing | $859 |
| Double – 2 Sharing | $885 |
| Solo | $1295 |
Prices for our 4-Day Egypt Easter Break with MS Mayfair Nile cruise are quoted per person in US$ and are valid for our cruise which departs from Aswan on the 10th of April 2020.
Easter Holidays in Egypt
Didn't find the Easter Holiday in Egypt you were looking for? See alternatives below or customize your private guided Egypt dream tour here.