Egypt Tours from Edmonton
If you are looking to get away from Edmonton to escape the cold, Egypt tours from Edmonton are one option which you might want to consider. With year-round warm weather and an almost endless number of things to see and do, it is hardly surprising that Egypt has long since been one of the world's favorite holiday destinations.
Whether you want to spend your days exploring ancient sites; enjoy a luxurious Nile River cruise; conquer the mighty Sahara, or go diving in the Red Sea, a trip to Egypt will leave you with lifelong memories. Join us as we take a look at some of the most common questions people have about booking and enjoying Egypt tours from Canada.
Top 6 Egypt Tours from Edmonton
FREQUENTLY ASKED QUESTIONS
What to See In Egypt?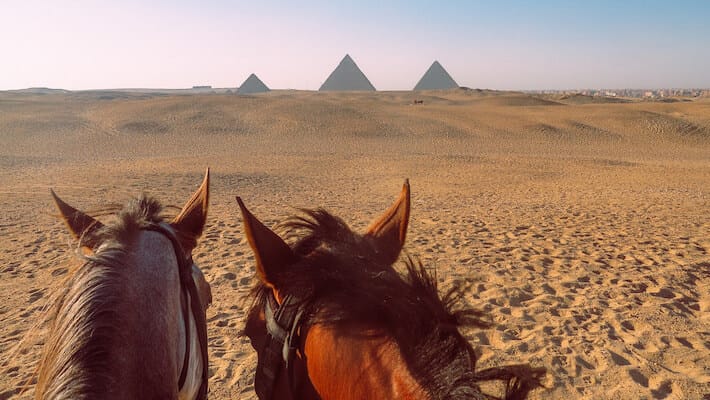 When people think about Egypt tourist attractions, they will more often than not think about the country's many ancient pyramids, temples and tombs. Of course, monuments like the Giza Pyramids and Sphinx are magnificent, as are many other historical sites such as the rock-cut temples of Pharaoh Ramses the Great and his wife, Queen Nefertari, or the vast Karnak Temple complex in Luxor. And, who wouldn't want to see the first pyramid ever built, or see the tomb where King Tutankhamen was buried?
However, there is so much more to see in Egypt as well, including places like the White Desert and the Black Desert. Egypt's Red Sea coast is also home to some of the world's best dive sites. SCUBA divers from around the globe come to enjoy the extremely beautiful coral reefs that are literally teaming with aquatic life. The truth is, a trip to Egypt can be whatever you want it to be.
Top 5 Attractions to See in Egypt
What to Pack for Egypt?
People can enjoy Egypt tours from Edmonton without having to worry too much about what to pack for Egypt. However, there are a few items which we feel are essential. These include a comfortable pair of shoes; a wide-brimmed hat; sunglasses; sunscreen lotion, and a few lightweight cotton tops.
We also recommend packing at least one pair of trousers and a warm top because certain regions can get quite cool in the evenings. This is especially true in the case of Egypt and Jordan tours from Canada because temperatures in Jordan can drop considerably at night.
Distance and Flight Time from Edmonton to Egypt
The shortest flight from Edmonton International Airport to Cairo International Airport in Egypt is approximately 10,163 kilometers, with an estimated flight time of approximately 12 hours and 27 minutes. These figures are for direct non-stop flights between the two cities.
How to Obtain a Tourist Visa for Egypt?
Canadian passport holders who want to book and enjoy Egypt tours from Edmonton do not need to visit an Egyptian embassy or consulate to obtain an Egypt tourist visa. They apply online for an Egypt e-Visa before traveling to Egypt or they can get a Visa-on-Arrival at any international airport in Egypt.
Is It Safe To Visit Egypt?
Yes, Egypt is a very safe destination for tourists. Still, we do recommend that visitors should remain alert and aware of their surroundings, particularly in very busy touristy areas. Also, female travelers and people traveling on their own should try to avoid being out on foot in very quiet and/or poorly lit areas at night.
If you have any concerns about the current situation in Egypt, your can check the latest Egypt Travel Advisory issued by the Canadian government prior to booking any Egypt tours from Edmonton.
Tailor Made Egypt Vacations from Edmonton, Canada
Explore Egypt your way by selecting only your favorite attractions. Click here to design your personal Egypt tour package from Edmonton.