Our range of Morocco Group Tours are designed to thrill and excite anyone who is looking for an unforgettable holiday experience in Morocco, one of Africa's most enchanting countries. Whether you want to spend your time exploring Morocco's fascinating imperial cities, or whether you want to enjoy the country's almost infinite natural beauty, you can be sure we have just the right Morocco tour package for you.
Our Morocco group tours represent excellent value for money, and they offer you an ideal opportunity to explore this magical destination while traveling in the company of other like-minded people; people with similar dreams. Enjoy non-stop adventure from the moment you arrive, to the moment you leave.
Make your dreams come true right now with a flawless 15 Day Small Group Tour of Spain, Portugal and Morocco; two weeks of your life you will cherish forever.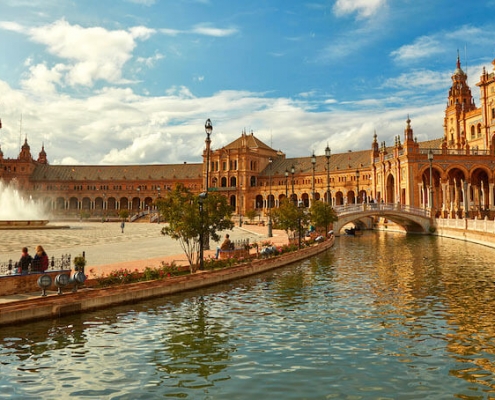 Nourish your inner explorer with an incredible 14Day Small Group Tour of Spain and Morocco; an affordable travel adventure you will never forget.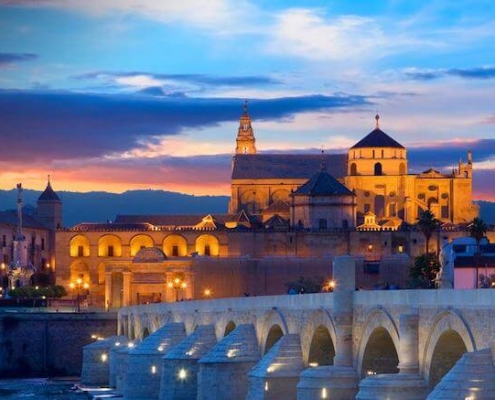 Enjoy a dream holiday with an affordable high quality 12 day Spain and Morocco vacation package; a travel experience that really does bring dreams to life.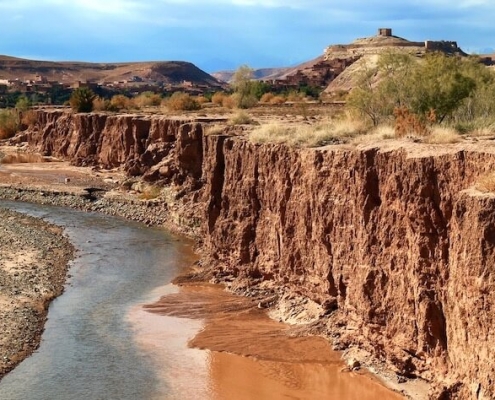 Enjoy a bespoke 10 day Morocco tour; a trip which offers a perfect blend of sightseeing; adventure; incredible natural beauty; comfort and affordability.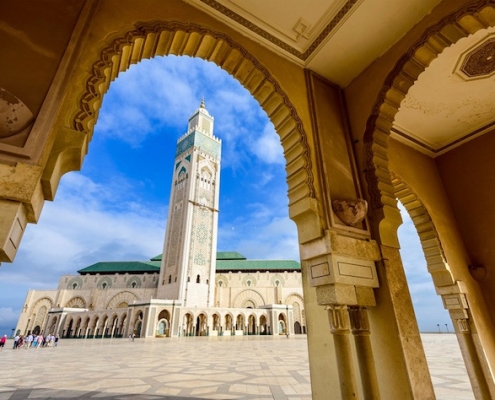 Enjoy a special break with a high quality 7 Day Morocco Tour; a small group tour offering a perfect blend of sightseeing and relaxation in the gem of Africa.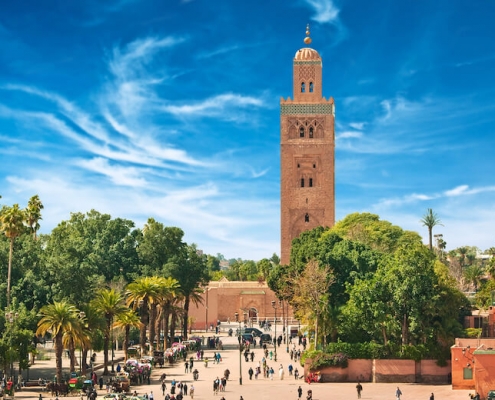 Avoid the chaos of Morocco's cities, and instead, join us for a magical 5 Day Morocco Tour showcasing the country's true unspoiled natural beauty.
Why Enjoy Morocco Group Tours?
If there is one country that inspires more visions of exotic beauty, rich landscapes and mysterious destinations than Morocco, it would be difficult to name. Located along the coast of Northern Africa, it is a land that is home to such enchanting places as Casablanca, Marrakech, the Atlas Mountains and the Sahara Desert.
It is a world of souks and markets, palaces and mosques, and a blend of cultures that have passed through over the many centuries. Each city is unique and offers a traveler a host of unforgettable opportunities, and it is why Morocco group tours are such a great choice.
Why small group tours to Morocco? There are many excellent reasons to consider them:
1. Flexibility
One of the main reasons that so many travelers might hesitate to experience in the very finest small group tours to Morocco is the common perception of group tours as fixed and limited.
However, with a smaller size comes the option to adjust plans "on the fly". Maybe everyone wants to spend more time in a particular part of a city or stay longer in one specific garden? Perhaps no one wants to visit a particular restaurant and would rather head to another?
With smaller groups, these issues are able to be discussed and changes implemented.
2. Limited Group Size
The finest Morocco group tours keep their numbers small, with the very best at 15 participants or less. While this automatically means your tour guides can supply you with their full attention, there is more to it than that.
For example, the best small group tours in Morocco are of such a comfortable size that many experiences often closed to groups are actually still an option. From visits to smaller museums and restaurants to trips to markets or mosques, it is only the smaller groups that are so readily welcome.
Naturally, smaller groups also mean that everyone in the group is likely to become friends, sharing thoughts, ideas, suggestions and experiences, which will only enhance boost the value of the tour.
3. Access
The best Morocco group tours assure all of their participants that they will never miss out on the finest opportunities.
For instance, if you are not fluent in Arabic or French, having a knowledgeable guide is going to allow you to still engage in everything from bargaining in the markets to visiting and asking questions at specific attractions or destinations. You need never fear getting lost, missing relevant but lesser known sites, or being unable to access certain areas because of your lack of familiarity. The best Morocco group tours also enable you to obtain entry passes, skip waiting lines, book private tours or even enter facilities otherwise closed to the public.
While most tours ensure you get the highlights of an area, the best include access via knowledgeable guides who only enhance the overall value of the journey.
Additional Benefits of Small Group Tours to Morocco
Naturally, it goes without saying that there are additional or further benefits to choosing the finest Morocco group tours. For example, there is always the affordability factor of group tours. Even those more eager for luxurious experiences will enjoy quite a bit of savings if they book the right Morocco group tours as these often offer up options for discounts on everything from tickets and entry fees to meals and accommodations.
There is also the matter of safety, and rather than being at risk for getting lost, behaving in a way that is inappropriate to the culture or inadvertently offending someone, the best Morocco group tours ensure that you are never at risk. As an example of this, just how often are you comfortable driving and navigating in a country in which you may only have a passing understanding of the language? The best Morocco group tours erase that issue and let you sit back in relaxation, luxury and comfort while being transported to every key location.
Finally, it is also a rather obvious issue, but premium Morocco group tours actually give you a great deal more time to enjoy your visit. This is seen in manifold ways. For instance, you never get lost, waste time at a less than ideal destination or even find yourself limited for time when sightseeing, shopping or dining. The best tours are planned to ensure plenty of time to savor all of the sights.
Obviously, that is far more than three good reasons to book Morocco group tours, but each is as important as the next. Naturally, you need to know what you can see or do on the finest Morocco group tours, and the answer is – a great deal!
What You Can Do and See on the Best Morocco Group Tours
If you take a quick look at a map of Morocco, you see that it is far more diverse and populated with appealing cities than many imagine. The finest Morocco group tours strive to give visitors a nice sampling of the cultures of the unique cities and destinations throughout this gorgeous land. A realistic visit should include stops in the following areas:
Casablanca – Famous for the 1940s film, the name is synonymous with a cosmopolitan chic blended with the totally exotic allure of Northern Africa. The city does not disappoint, and many participants on luxury Morocco group tours actually arrive in the country at Casablanca's airport. A visit will usually include stops at the famous Central Market or medina. Visits to the Royal Palace, the Hassan II Mosque (third largest in the world), and the picturesque Habous District can also be part of your explorations of the city. Be sure to pay a visit to the enormous Mohamed V square and the historic area of the city known as Anfa, which is thought to be the original settlement that became modern Casablanca.
Keep in mind that the entire city of Casablanca is noted for being a "hotbed" of architecture, and features an array of styles. There is a huge amount of Art Deco to enjoy, but there are also entire districts now labeled as UNESCO World Heritage Sites for the beauty, artistry and history of their buildings. For example, the Hassan II Mosque required more than seven years to complete and is the result of the work of more than 10,000 artisans. Yet, there is also the charming Mahkama du Pacha in Habous, which is relatively new but a gorgeous example of modern Moroccan design. You can even visit Rick's Café if you want the ultimate in pop culture.
Rabat – Only a short drive from Casablanca, it too is a must see city in Morocco. The best of the Morocco group tours are going to include it at some point in the journey. Stops in this famed Imperial city should include such spots as the amazing Quadayas Garden and Kasbah, the walled medina is just steps from the Kasbah, the world famous Hassan Tower, the stunning Mechouar Palac and the mausoleum of Mohammed V. The ruins of Chellah are on the outskirts of Rabat, and you may find it just as appealing as any other destination. The city has a stunning waterfront and you should try to enjoy a sunset at the Kasbah to get the best views.
Meknes – The top Morocco group tours should include a visit to this city of ramparts. Home to more than 40km of them, it also has many other famous sites and attractions. In fact, it has some of the finest historic sites in all of Morocco, and is a perfect spot for the walking enthusiast. Many come to pay a visit to Bab Mansour, which is the gate that marks the entryway into the old area of the city. Pass through fortified walls and marvel at the gorgeous hues of the mosaics, then make your way to Place Hedim. This is the main square as you head to the Dar Jamai museum at the far end of the Place Hedim. A stunningly beautiful structure, it is a wonderful spot for photos.
If you have time, a visit to the mausoleum of Moulay Ismail is sure to delight as it is one of the most beautiful buildings in the city. The Habs Qara prison is close by, and may be of interest to many enjoy the best Morocco group tours. You will also want to make stops at the Royal Stables and the famed Jewish Quarter.
Fez – The city of Fez is another of those must see destinations on a Moroccan tour. It is described as the nation's spiritual capital, but is also home to some fascinating attractions in both the new and old areas of the city. The sites you will want to take in include Bab Boujloud (the famous blue gate), the holy shrine of Zaouia Moulay Idriss II, the world famous Kairouine Mosque is famed for its beauty and one of the oldest madrasas in the world. You should also visit the Nejjarine Fountain, the Tanners' Quarter, the Royal Palace, and the stunning medieval medina.
Marrakech – One of the world's more famous cities, it sits in the southern area of Morocco and offers a long list of amazing sites and attractions. There is the stunning Bahia Palace, its amazing souks selling everything from fabrics to carpets and more, the Djemaa el-Fna which is also the heart of the city and one of the best spots for entertainment and food. The Museum of Marrakech is simply amazing, but so too are Saadian Tombs and the utterly enchanting Menara Gardens. Majorelle Gardens are found here, too, and are absolutely stunning (they are owned by Yves St. Laurent) and spread over more than 12 acres. The Medina of Marrakech may be among the most famous in the country and are protected as a UNESCO Heritage Site.
Of course, the very best of Morocco group tours will ensure that you don't just fly from city to city but also cross the stunning landscape that is such a key part of any visit to Morocco. For example, making your way to Marrakech from Fez might mean time spent in Berber villages like Ifrane, and stops at holy cities such as Beni Mellal.
Your group travels in Morocco can also mean time spent in destinations like Zagora in the Draa River Valley and which takes its name from the mountain that stands above it. Making your way across Morocco can also mean a visit to destinations like Ait Ben-Haddour, a classic mud brick city that is yet another of Morocco's UNESCO sites. A visit here would also mean a dizzying journey through the Tizi N'tichka Pass more than 2,000 meters above sea level.
Your visit might take you through Tamgroute with its famed library, past the Berber villages in the areas around Nkob, Alnif and Rissani, and into Tazzarine. Destinations like Erfoud are popular as they offer luxurious accommodations high in the mountains and surrounded by the natural beauty of Morocco. Here you might book time out in the desert or even meet local Bedouins!
The Todra Canyons, the Road of 1000 Kasbahs, the Valley of Roses and the famed village of Skoura can also be part of your travel plans when part of a group. Along the way, you may enjoy meals of all kinds, including classic Berber dishes, Bedouin meals, and modern Moroccan fare. Savor views of palm and citrus groves, mountain scenery and desert views, and all along the way wonder at the diversity of architecture spreading out before you.
Come Explore the Best of Morocco
Morocco is one of the most amazing places to visit, and rather than take any chances on missing even one of its amazing sites, you will want to book a spot on a Morocco group tour. Offering you a comprehensive itinerary and the many benefits of smaller group travel, it is the ultimate way to enjoy a visit.
Whether you are in Morocco for a week or longer, you are sure to be inspired to return many times over to savor its stunning beauty and many wonderful cities and destinations.