Marrakech Attractions – An Essential Guide for Travelers
Those who have ever paid a visit to Morocco will tell you that a journey there is incomplete without having explored the countless Marrakech attractions. This city is often viewed as the very heart of tourism in Morocco. It is described as "intense" for its scenery, its exotic aromas, its pace, its many museums and tourist spots, its blend of cultures, and its amazing Medina (market).
Our expertly designed and structured Egypt and Morocco Tours bring the very best of two fascinating countries together in flawless harmony to provide vacations that are simply unforgettable.
Marrakech Tourist Attractions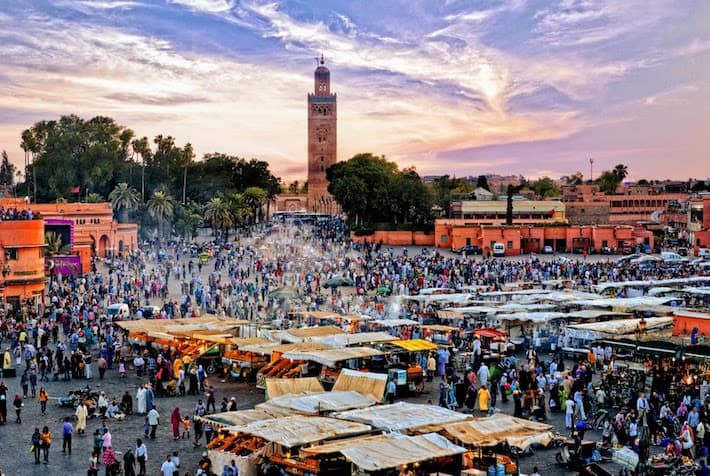 Because of the intensity of a visit to any attraction in Marrakech, it is always a good idea to consider planning your time in the city well ahead of arrival. Of course, you can also prearrange for a tour of the many Marrakech attractions, and one way to enjoy the most of it is to book one of our amazing Egypt and Morocco tour packages.
You even can enjoy a customized journey into Marrakech, including prearranged visits to top Marrakech attractions and sites.
Welcome to Marrakech, the Red City of Morocco
Marrakech is referred to as the Red City for its many sandstone structures, and it was also once known as a hot spot for "hippies" during the 1960s. However, at the same time that this was going on, celebrities such as designer Yves Saint Laurent relocated to the city and made an impression on the culture.
Today, it is a place of stunning beauty with its amazing architecture, magical courtyards with  fountains, and clusters of palm trees, olive trees, and orange trees. It is also a place of modernity with the typical urban hustle and bustle. Fortunately, the best Marrakech attractions also include a blend of peaceful and quiet places in addition to the thriving and energetic spots.
Let's begin with the most familiar and famous of all of the Marrakech attractions:
Djemma El Fna Your Gateway to the Old City
Djemma El Fna is a huge square that is at the entry of the Medina or Old City. This is something that can easily confuse a traveler just learning about the top Marrakech attractions. There is the Medina, and inside of it are many souks or small markets.
The Djemma El Fna, is more than just a market. During the day, the square is a hub of activity that seems like something straight out of a storybook.
Snake charmers, storytellers, magicians, and vendors pack into the square. Horse-drawn wagons, carpet vendors, and colorful stalls full of fruits, spices and vegetables are everywhere.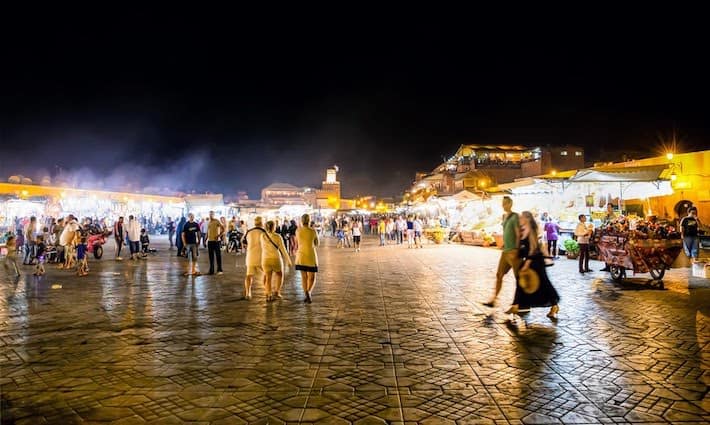 At night, the scent of cooking food fills the air and floods the senses, and you can find many rooftop cafes and restaurants that provide you with a peaceful way to watch this colorful parade of humanity.
While you will want to pay several visits to the Djemma El Fna, make sure you visit during the day and also in the evening. You'll find that there are a few Marrakech tourist attractions that are great to visit in the evenings as well during the day, and the square is one of them.
Making your way through the square, though, takes you into the Old City. Here you have many different markets or souks that should also be part of your travel plans!
The Famous Souks of Marrakech
Marrakech is a famous destination for enthusiastic shoppers. However, it is not those who wish to buy designer labels. Instead, it is for those who want their shopping to be an experience of scents, colors, sounds, and scenery.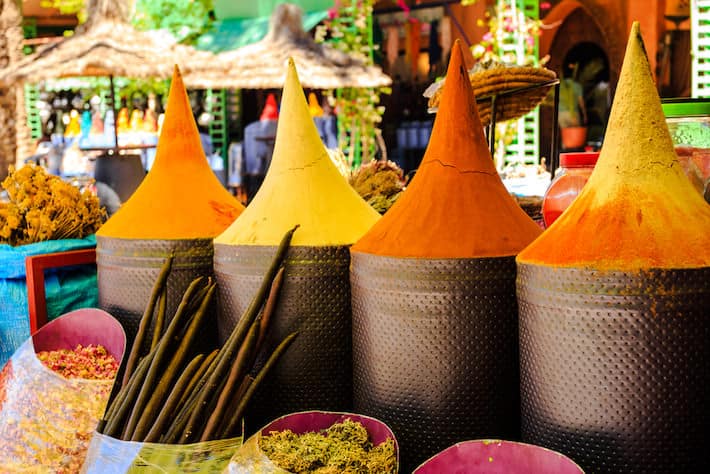 There are several souks dedicated to specific goods, such as the Babouche Souk that only sells shoes, the El-Attarine Souk selling spices, and the Cherratine Souk that sells leather. You can also find a tannery at the end of the Rue Bab Debbagh. If your nose can take the smell, you will be treated to one of the most fascinating scenes imaginable! There is a very good reason why the Medina is considered to be one of the very best Marrakech attractions.
In almost any part of the city, you can see another of the more famous Marrakech attractions. This is because it is a tall minaret that belongs to one of the oldest mosques.
Koutoubia Mosque and its Astonishing Minaret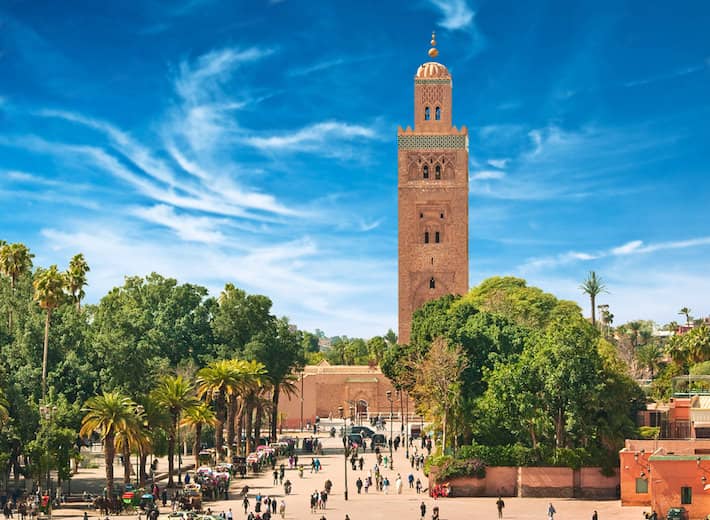 If historical Marrakech attractions are your cup of tea, the spectacular Koutoubia Mosque is really going to captivate you. Dating back to the 1100s, this Almohad era mosque has a minaret that stands an astonishing 70 meters in height.
This imposing mosque is viewable for miles in all directions and offers a truly stunning example of architecture from this period. The prayer hall is not open to visits from non-Muslims, but the exterior is well worth a visit to the building.
Medersa Ben Youssef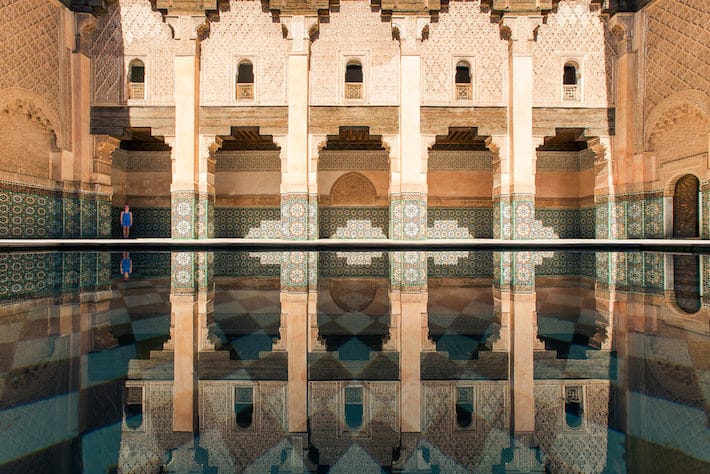 Another astonishing example of architecture that numbers among the Marrakech attractions is the Medersa Ben Youssef.
Medersa Ben Youssef is a "madrassa" or Islamic school of learning. It was built in the middle 1500s and is still the largest theological school in all the whole of Morocco. The building features some of the most impressive zellige tiles, carvings, inscriptions, and courtyards that you can see. It is a must see destination.
If you are even more interested in the Saadian period in Marrakech history, you will want to be sure and visit the tombs of the dynasty.
The Fascinating Saadian Tombs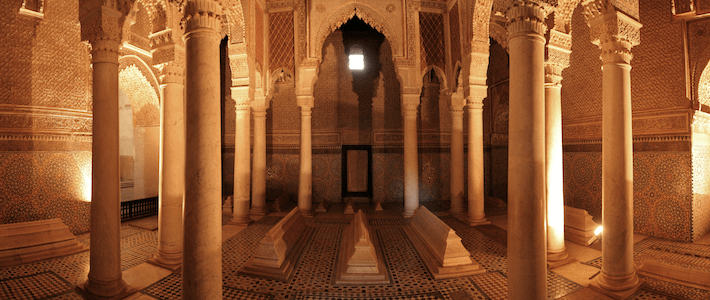 The Saadian Tombs may be a series of mausoleums in a relatively run-down garden, but they are astonishing works of sculpture, mosaic, carving and architecture. There is even a prayer niche that dates to the middle 1600s.
If your appetite for architecture is not satisfied by the previous sites, it is time to consider a visit to the Bahia Palace.
The Striking Bahia Palace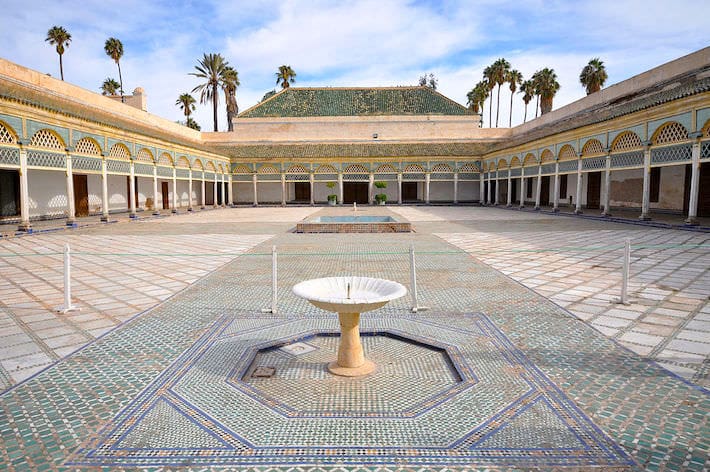 The Bahia Palace is described in many ways. Words like beautiful, astonishing, flawless and even a "magnificent peacock" are perfect for this building. It is loaded with painted ceilings, zellige tile work, wrought iron, courtyards and fountains, and elaborate gardens. It is from the 1800s, but it has the feel of an enchanted place of the long-distant past.
Almoravid Koubba – Morocco's Oldest Monument
If monumental architecture inspires you, then another of the Marrakech attractions to add to your list is the Almoravid Koubba.
The city's oldest monument, the purpose of Almoravid Koubba remains a mystery. Believed to be a place for ablutions to a no longer existent mosque, it has a simple exterior and a stunningly beautiful interior. Painted ceilings, carvings, and motifs familiar to the 1100s, it is one of the few structures that lasted beyond the arrival of the Almohad.
Architecture in Marrakech is closely tied to gardens and water features. This is why the Manara Gardens is a must see among the Marrakech attractions.
Botanical Gardens – Marrakech Attractions for Weary Travelers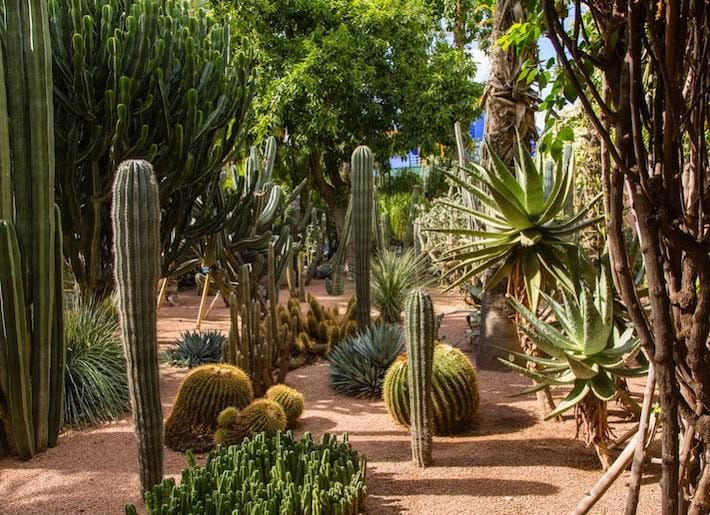 The Menara Gardens offer an island of peace in the midst of the busy city. There is an enormous reflecting pool near the pavilion, and though it is an 1800s creation, it is likely to sweep visitors away to a long-ago era.
If you are looking for a more authentic garden out of the city's past, you must head to the Royal Palace.
Agdal Orchards are just behind the palace and cover more than 400 hectares. They were created in the 1100s and include mature groves of figs, pomegranates, olives, and oranges. It is a rare treat to visit this quiet spot.
Pamarie is outside of the city, but only just. It is a perfect place for those who visit during the summer months, as it is a shady retreat. Visitors are allowed to take horse and cart rides along the many paths, and enjoy the shade of the date and palm groves they will find here.
Another of the places to visit in Marrakech that is not as well known among travelers, but which should be considered among the must see Marrakech attractions is the Jardin Majorelle or Marjorelle Gardens.
The JardinMajorelle is an enormous botanical garden; it is also home to an archeological museum. It was created in the 1920s and 30s and is a perfect example of Art Deco design. It was owned by famous fashion designer Yves Saint-Laurent until his death, and it remains part of his legacy. It is open to the public and is also where the Islamic Art Museum of the city is found.
If a visit to the gardens stimulated an interest in more museums in the city, there are several other spots that are considered top Marrakech attractions.
Museums – Marrakech Attractions You Must See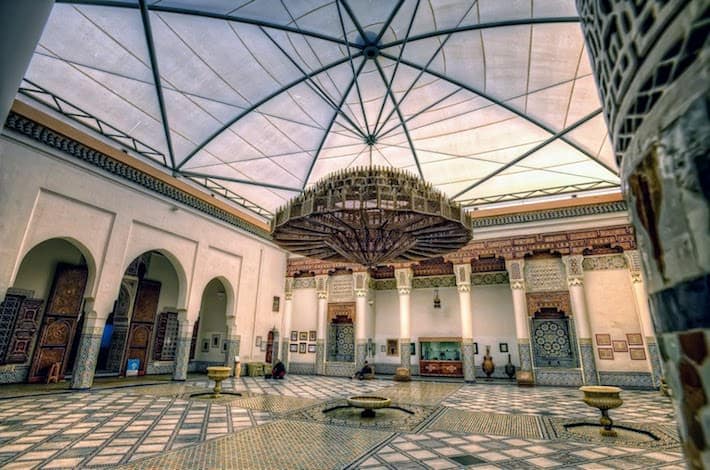 The Marrakech Museum is described by most visitors as a bit eclectic, and that is a fair description. It includes a dizzying range of displays but encapsulates an experience of Marrakech in general. You can learn about textiles and ceramics, but also see everything from historic copies of the Quran to the many coins used throughout the city's different eras.
Dar Me'nabhi is the building that houses the Marrakesh Museum and is also among the finest attractions in Marrakech. It was built in the early 1900s and is described as an ideal blend of the Portuguese and local influences in the architecture of the time. It has one of the most beautiful courtyards in the city.
This museum may have simply whetted your appetite for more information, and you can find even more displays and details at the Dar Si Said Museum of Moroccan Arts and Crafts.
Housed in an old palace, the Dar Si Said Museum of Moroccan Arts and Crafts has one of the top collections of Berber antiquities. It includes carpets, carpentry, carvings, and pottery. It is the perfect destination for anyone who wanted to see the many Marrakech attractions because of their design and appearance.
The Maison Tiskiwine is but a short distance from the Dar Si Said Museum of Moroccan Arts and Crafts. It is home to a huge array of garments, textiles, jewelry, musical instruments, furnishings, and arms that reflect the Saharan cultures over the ages. If you wanted to see the costumes, the beautiful woven rugs, and even the weapons used by people from Morocco's past…this is the spot!
When your time in Marrakech proper is done, it is not the end of the important Marrakech attractions. You can still take in several more on your way to other areas of Morocco.
Tizi-n'Test Pass – A Dizzying Experience
Tizi-n'Test Pass is described as dizzying by some and sublime by other. It is one of the most exciting road trip options simply because of its seemingly impossible twists and turns. It takes you south out of Marrakech and features high overlooks, switchbacks, and simply breathtaking scenery.
Heading south out of the city can mean a visit to Toubkal National Park. This is home to Djebel Toubkal, the highest mountain the country. You can hike and explore many paths here, and you can follow what is known as the "Aremd circuit" of villages that will give you an authentic experience of modern Moroccan village life.
One such village is Imlil. It is actually where many begin their visit of the parklands and is one of the friendliest places imaginable. It is peaceful and quiet, and yet you can tour the fully restored kasbah in the town and enjoy the welcoming hospitality.
→ Explore All Morocco Tourist Attractions Here
Explore Marrakech Your Way!
As you can see, visiting the best Marrakech attractions can take you from Morocco's ancient past, all the way through to a modern wonder. You can stick to the quiet of the gardens and museums; you can focus almost entirely on architecture or shopping, or you can enjoy a wonderful blend of all the amazing options available.Whether you dedicate days to gardens or spice markets, it is going to be an unforgettable adventure.
It is important to remember that it can be even more enjoyable if you have a knowledgeable guide and/or driver with you during your visit. They can take care of the commuting while you take in the scenery. They can do the haggling in the markets and you can enjoy the goods you buy at the best prices. They really can help you to experience Marrakech and Morocco in a way that is unavailable to many travelers.
If you are ready to embark on a splendid journey of discovery in Morocco, visit EgyptToursPlus.com today and we will work with you to ensure that you have a holiday of a lifetime.Having been in this business for decades already, we offer Moroccan travel experiences that are far superior to anything you'll find elsewhere. With private guides and drivers to make your stay in Morocco even more enjoyable, any sort of vacation is possible.
Whether you only want to book a Morocco's one-day tour; a short break, or even a much longer vacation, we make everything possible. Explore our breathtaking Egypt and Morocco Tour Packages or simply fill out the form below and we can begin creating your perfect tour featuring all the top Marrakech attractions.