9 Day SS MISR Nile Steamer Cruise & Tour Package from Cairo to Aswan and Luxor
Leave the world as you know it behind you with an epic 9 day SS MISR Nile steamer ship cruise that will take you through the heart of the Nile River Valley, tracing the footsteps of Ancient Egypt's many pharaohs. Explore the best historical Egypt attractions in Cairo, Aswan, Luxor, and so much more; enjoy world-class dining, 5-Star accommodation, and unrivaled hospitality every step of the way.
Built in 1918, the SS MISR Nile steamer, with its luxurious cabins and suites, promises a luxury Nile cruise experience which is like nothing you have ever imagined, a journey that will see you coming face to face with an era that will never be forgotten.
9 and 10 Day SS MISR Steam Ship Cruises run in both directions, with departures being on Tuesdays, Wednesdays, Fridays and Saturdays.
Luxury Nile Cruises
Didn't find the Luxury Nile Cruise you were looking for? See SS MISR Steamer Cruise alternatives below or customize your trip here.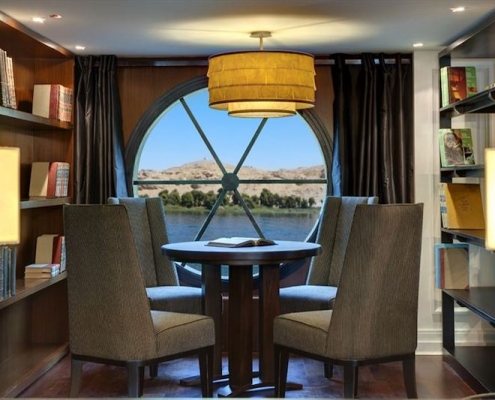 https://www.egypttoursplus.com/wp-content/uploads/2019/03/MS-Esplanade-Plaisir-Lounge.jpg
533
710
Amar Mahallati
https://www.egypttoursplus.com/wp-content/uploads/2019/06/egypt-tours-plus.png
Amar Mahallati
2019-12-23 06:07:48
2021-02-08 09:09:26
4 Day MS Esplanade Nile Cruise from Aswan to Luxor
https://www.egypttoursplus.com/wp-content/uploads/2016/11/Oberoi-Zahra-Cruise-Sundeck-2.png
466
710
Amar Mahallati
https://www.egypttoursplus.com/wp-content/uploads/2019/06/egypt-tours-plus.png
Amar Mahallati
2019-12-19 09:07:40
2021-02-08 09:09:37
4 Day Oberoi Zahra Nile Cruise from Aswan to Luxor
https://www.egypttoursplus.com/wp-content/uploads/2016/11/The-Oberoi-Philae-Luxury-Nile-Cruiser.png
396
710
Amar Mahallati
https://www.egypttoursplus.com/wp-content/uploads/2019/06/egypt-tours-plus.png
Amar Mahallati
2019-11-27 11:19:06
2021-02-08 09:17:18
5 Day Oberoi Philae Nile Cruise from Luxor to Aswan
https://www.egypttoursplus.com/wp-content/uploads/2016/11/Oberoi-Philae-Nile-Cruise-Pool-2.png
396
710
Amar Mahallati
https://www.egypttoursplus.com/wp-content/uploads/2019/06/egypt-tours-plus.png
Amar Mahallati
2019-11-20 16:27:59
2021-02-08 09:10:32
5 Day Oberoi Philae Nile Cruise From Aswan to Luxor
https://www.egypttoursplus.com/wp-content/uploads/2016/11/The-Oberoi-Zahra-2.png
439
710
Amar Mahallati
https://www.egypttoursplus.com/wp-content/uploads/2019/06/egypt-tours-plus.png
Amar Mahallati
2019-11-16 19:30:27
2021-02-08 09:18:02
5 Day Oberoi Zahra Nile Cruise from Luxor to Aswan
https://www.egypttoursplus.com/wp-content/uploads/2017/06/SS-Misr-Nile-Steamer-Cruise.jpg
471
710
Amar Mahallati
https://www.egypttoursplus.com/wp-content/uploads/2019/06/egypt-tours-plus.png
Amar Mahallati
2019-08-03 08:44:37
2020-11-22 19:24:47
9 Day SS MISR Nile Steamer Cruise from Cairo to Aswan and Luxor