What is the Most Luxurious Nile Cruise?
The magnificent Oberoi Zahra Nile cruiser is widely seen as being the most luxurious cruise ship currently operating on the Nile, and is often described as being akin to a floating palace.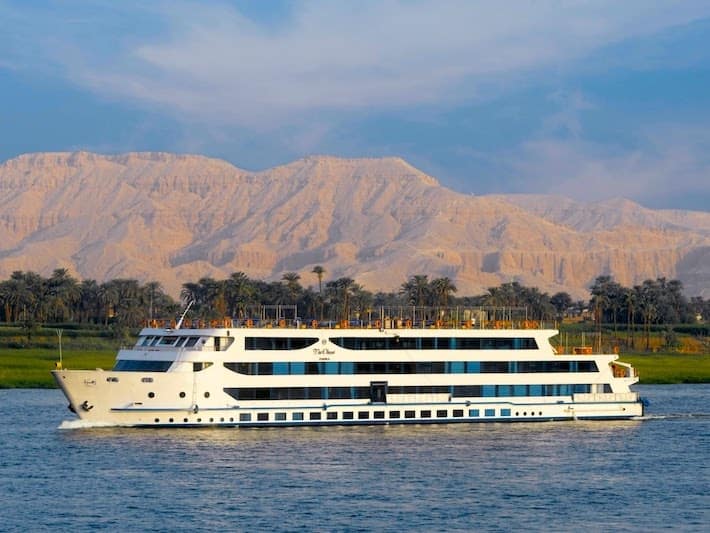 What is the Most Luxurious Nile Cruise?
Based on our own experience, and real life reviews that have been left on many popular travel-related websites, the Oberoi Zahra is hands-down the most luxurious Nile river cruise boat. If you want a full-blown luxury Nile cruise experience, the Oberoi Zahra will certainly not disappoint you.
As is to be expected, a cruise on this fantastic river cruiser is going to cost you, but you can be sure that it will be a Nile cruise experience unlike any other.
Nile Cruise Duration
The shortest cruise on this amazing vessel is a 4-day / 3-night cruise from Aswan to Luxor. There is also a 5-day / 4-night cruise from Luxor to Aswan. With these cruises, you will have time for relaxation, but maybe not as much as what one would expect. With so little time available, and with so many ancient sites to visit, these cruises follow a very tight schedule. Every day begins early, and a lot of your time is spent sightseeing.
In our opinion, a luxury cruise should also include plenty of time for quality relaxation and leisure, along with lots of sightseeing. If you can afford to pay a bit more, then we would recommend that you book a somewhat longer cruise, such as our 8-day Oberoi Zahra Luxury Cruise from Aswan to Luxor. This allows for relaxation time, and more time for enjoying the ship's excellent amenities, such as the rooftop infinity swimming pool and personalized spa treatments. If you are paying extra for a high level of luxury, you want to be able to enjoy that luxury.
The cost of your cruise should include accommodation, three meals a day, and access to a number of the ship's amenities. Your Nile River cruise should also include admission tickets for several historical sites that are located along the banks of the Nile River in Upper Egypt.
Some of the historical sites which you will most likely visit during your shore excursions include places such as Karnak Temple, Luxor Temple, Hatshepsut Temple, Philae Temple, the Unfinished Obelisk, Valley of Kings, and etc. Some Nile cruise will also include a half-day trip to Abu Simbel to see the rock-hewn temples of Ramses II. All shore excursions are led by professional expert guides, thereby guaranteeing an even more amazing experience.
As a general rule, the price of your cruise will not include things like spa treatments, beauty treatments, laundry, and etc. Even though these services are not included in the price of your luxury Nile River cruise, it is nonetheless good to know that they are available, and if you book the longer 8-day Nile cruise, you should have ample time for some pampering and self-indulgence.
Oberoi Zahra Cruise Itineraries
What to Expect During Meal Times
What is the most luxurious Nile Cruise in terms of meals? The Oberoi Zahra and the Oberoi Philae win hands down. With that having been said, you will enjoy delicious cuisine on nearly all luxury Nile cruises. Food tends to be excellent on all 5-Star cruises, but on the Oberoi Zahra, fine dining is taken to a whole new level. Passengers can enjoy both international food as well as Egyptian food during their Nile cruise. 
Both the Oberoi Zahra and the Oberoi Philae also offer 24-hour room service so that passengers can also enjoy their meals in the comfort of their cabins or suites if they so wish.
Luxurious Accommodation
What is the most luxurious Nile cruise in terms of accommodation? Once again, we believe that the Oberoi Zahra wins hands down in the accommodation category. There are a total of 27 luxury cabins and suites on board this vessel.
The luxury cabins measure 26.4 square meters, while the luxury suites measure 115 square meters which includes a private dining area, along with a private outdoor area with its own private whirlpool.
All cabins are tastefully and elegantly decorated with natural colors and natural fabrics, and all have large windows that allow plenty of natural light in while at the same time providing unobstructed views of the River Nile. Both the cabins and the suites have high-speed internet, and as one would expect, large spacious bathrooms with glass paneled showers.
Final Summary
As one would expect, there are other luxury cruise ships on the Nile River as well, but none of them offer the same level of luxury that you can expect on board the magnificent Oberoi Zahra.
With a large and spacious sun deck, a tantalizing outdoor swimming pool, a well-equipped fitness center, and spa and beauty treatment facilities, a cruise on board the majestic Oberoi Zahra is so much more than just an opportunity to see some of Egypt's most cherished historical sites. It is also an opportunity to rejuvenate your mind, body, and soul. This is why we believe that if your budget allows for it, you should skip the four or five day itinerary and choose the eight day itinerary instead.
Book your Luxury Nile River Cruise with Confidence
Visit some of the most breathtaking wonders of ancient Egypt while at the same time enjoying an unforgettable journey along the Nile in the lap of luxury.
At Egypt Tours Plus, we don't only sell Egypt private tour and Nile cruise holidays – we make dreams come true, with lifelong memories guaranteed!
Contact us now to begin planning your trip to Egypt, or to book your luxury Nile River cruise today.
Design Your Custom Egypt Tour
Explore Egypt your way by selecting only the attractions you want to visit