Can You Cruise the Nile River?
Absolutely! Nile River cruises are one of the biggest tourist attractions in Egypt, and all things considered, they are far more affordable than what many people might imagine.
Can You Cruise the Nile River?
At roughly 6,600 km, Nile River is one of the world's longest rivers. It essentially begins in the rivers that feed Lake Victoria, and eventually empties into the Mediterranean Sea on Egypt's northern coast. It has been the lifeblood of Egypt for millennia.
Originally, Nile cruise holidays was reserved for the rich and wealthy only, but as international air travel became more affordable, that all changed. Today, Nile cruise ships are very often fully booked, particularly during the peak tourist season which runs from December to February.
Most Nile River cruises follow the same route in Upper Egypt, beginning in Aswan and ending in Luxor, or beginning in Luxor and ending in Aswan. It is often said that there is no better way to experience the soul of Ancient Egypt than by way of a Nile River cruise, and it is very true indeed.
Recommended: Nile Cruise Holiday Packages
Can You Cruise the Nile River Year Round?
Prior to the Aswan High Dam being built, year round river cruises were not possible, at least not for the larger cruise ships. Once the High Dam was built, the flow of the Nile could be controlled, and this in turn paved the way for year-round cruises. Needless to say, this led to a significant increase in tourism revenue because now tourists could enjoy a Nile River cruise regardless of when in the year they chose to visit the country.
Suggested Reading: When is the Best Time to Visit Egypt?
Why Book an Egypt Nile Cruise?
Most of Egypt's legendary temples and tombs are located along the banks of the River Nile between the modern-day cities of Aswan and Luxor. With a good quality Nile cruise, you get the opportunity to visit several of these breathtaking archaeological sites.
Since most mainstream Nile cruises follow the same route, they also tend to stop at the same major attractions. Some of the archaeological sites which you can expect to visit during your cruise include the following:
Depending on what sort of Nile cruise you book, you may very also visit a few other historic temples, including places like Abydos Temple. 
Cruising from Cairo to Aswan or Luxor
Can you cruise the Nile River from Cairo to Luxor or Aswan? Yes, you most definitely can, but these cruises are not as popular as the Aswan/Luxor Nile cruises. This is in part due to the considerably higher price, and the fact that you are more or less confined to your cruise ship for at least 12 to 14 days. Many tourists simply cannot afford to spend this amount of time out on the river.
If you can afford it and if you think you will enjoy spending this amount of time on board a cruise ship, then it is certainly an option worthy of consideration. With these Nile cruises, you will see all the same fabulous temples and ancient tombs that you would with a regular Aswan/Luxor cruise, but you will also get to see several other iconic sites located between Cairo and Luxor.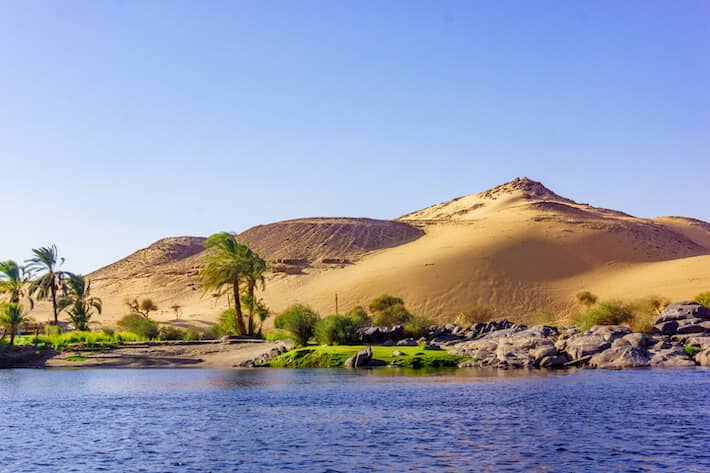 What to Know about Felucca Cruises
While felucca rides on the Nile are certainly a wonderful experience, especially on the river at Aswan, felucca cruises don't live up to the expectations of many travelers, other than backpackers and those traveling on a very tight budget. Don't expect any creature comforts, and be prepared to sleep out on deck in a sleeping bag which you have to supply yourself. Meals are also very basic at best.
Suggested Reading: Felucca Nile Cruises
What to Know about Dahabiya Nile River Cruises
Dahabiyas are traditional river yachts that are instantly recognizable by their two sails, one at the rear and one at the front. Dahabiyas, or at least the original version, have been used for navigating the Nile ever since ancient times. Their basic design has never changed, and the same applies to the modern Dahabiyas that cater for tourists. 
Most cruise Dahabiyas only have a very limited number of cabins, ranging anywhere from 6 to 12. Because they are far smaller than the larger ships, don't expect a wide variety of amenities. However, you can expect a far more private and a far more personalized Nile cruise or Lake Nasser cruise experience. Powered by the wind, a Dahabiya Nile River cruise also provides a far superior sense of tranquility compared to a cruise on the largest ships
Providing you book a good quality cruise you will also get to visit many of the same historical sites that you would visit during a regular Nile River cruise on one of the bigger boats. Because of their smaller size, they do not have the same sort of amenities that you can expect on the bigger ships, but they do have everything you need, including a sun deck, a shaded outdoor area, a Jacuzzi, Wi-Fi access, and etc.
Meals are typically very excellent, freshly prepared by a professional resident chef. Last but not least, you will also have a professional Egyptologist guide to accompany you to all the famous sites which you visit during your cruise.
On the downside, Dahabiya Nile cruises and Lake Nasser cruises tend to cost slightly more than a cruise on one of the regular cruise ships. With that having been said, most people who have experienced one of these cruises believe that it was more than worth the extra cost. If you want a truly relaxing experience on the Nile, and you can afford the somewhat higher price, then we would highly recommend Dahabiya cruises.
Cruising the Nile with Children
Can you cruise the Nile River with children? Absolutely, most of the regular 5-star Nile River cruise boats are child-friendly. However, children below the age of 7 are not permitted on some of the luxury cruises, with one example being the Oberoi Philae Nile cruise.
Even on the most child-friendly of boats, parents are advised to keep a close eye on their kids at all times.
Suggested Reading: Traveling with Children in Egypt
What to Expect from a Typical Nile River Cruise
A great deal depends on which cruise boat you are booked on to and/or which tour operator you book your cruise through. Nearly all of the modern 5-star Nile cruise ships are literally the same as high quality floating hotels. Expect a wide range of amenities, including things like a fitness center, health and spa center, and even a discotheque.
Cabins are usually beautifully appointed and very comfortable, complete with things such as a mini-bar, a hair dryer, independently adjusted air-conditioning, multi-channel television, and etc. Many of the cruise ships also put on entertainment in the evenings in the form of things like belly dance shows and Nubian folkloric shows. You can also expect daily excursions with an Egyptologist guide to many of the most famous ancient sites in Upper Egypt.
In short, a good Nile River cruise is simply a magnificent and very magical experience, and we have never come across anyone who has regretted going on such a cruise.
Recommended: Luxury Nile Cruises
Nourish Your Mind, Body, and Soul
There are very few things in life that are capable of nourishing your mind, body, and soul in the same way that a Nile River cruise can. If you are longing and ready for an unforgettable cruise on the majestic River Nile, be sure to check out our fantastic range of Nile cruise and stay holidays or stand-alone 5-star Nile River cruises that will bring you face-to-face with ancient Egypt in a way which is almost impossible to imagine.
At Egypt Tours Plus, we don't only sell unforgettable Egypt vacation packages, we make dreams come true. And, with nearly half a million tours already sold, you can book your vacation in Egypt with 100% peace of mind.
Contact us now to begin planning your trip to Egypt or to book a once-in-a-lifetime vacation today.
Design Your Custom Egypt Tour
Explore Egypt your way by selecting only the attractions you want to visit