Nile River cruises are one of the most popular attractions in Egypt and are considered to be very safe thanks to the high level of security provided by the Egyptian authorities.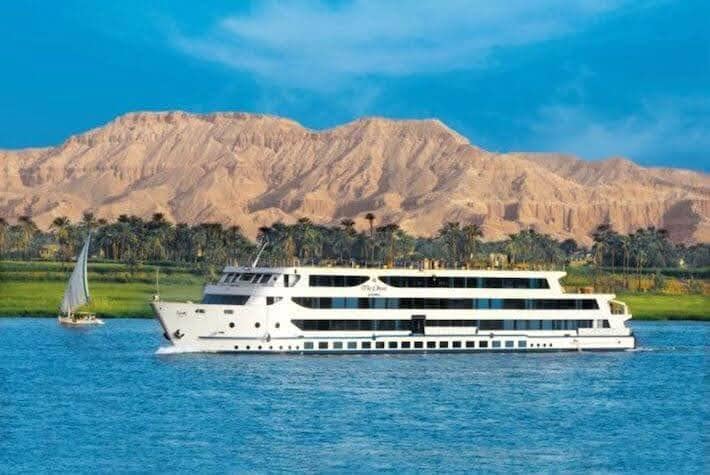 Are Nile Cruises Safe?
In ancient times, sailing on the Nile River was the primary means of travel and transport, and as a result, many of Egypt's pharaohs built their temples and tombs in close proximity to the river. Many of these ancient temples and tombs were built on the banks of the Nile River in a region which is now known as Upper Egypt.
Today, Nile River cruises allow tourists from around the world to visit and explore some of ancient Egypt's most impressive and most breathtaking ancient structures, including monuments such as Karnak Temple, Philae Temple, Luxor Temple, Hatshepsut Temple, and many other breathtaking tourist attractions.
In short, there is no better way to experience the magic of Ancient Egypt than by way of a Nile River cruise, but are Nile cruises safe?
Safety Equipment and Features aboard Your Nile Cruise
Most modern Nile River cruise boats meet, or come very close to meeting international safety standards, and are equipped with the usual safety features, including things like smoke alarms, fire detectors, life jackets and etc. Life jackets are typically stowed under your bunk in your cabin.
Nile cruise operators face very stiff penalties if they are caught breaching the country's safety regulations. Nonetheless, anyone who books a Nile River cruise should take some time to familiarize themselves with the ship's layout and available safety equipment, including things such as the location of life jackets, emergency exits, and etc.
A Formidable Security Presence
If you are wondering, are Nile cruises safe in terms of security, we can assure you that there is ample security (usually armed personnel) stationed at all the major tourist attractions, hotels, and areas where the cruise boats tie up at night.
There is a heavy security presence everywhere, but not to the point where it becomes obstructive for tourists. 
Many of the better quality Nile River cruises will also have armed security guards on board, although these guards tend to be very discreet. You are also likely to see armed guards patrolling the areas where Nile cruise ships tie up for the night.
In addition to a security presence on board the Nile cruise ships and the docking areas, there are also usually checkpoints set up around major historical attractions such Queen Hatshepsut Temple, Karnak Temple, Valley of the Kings, the Abu Simbel Temples complex, and etc. These checkpoints are typically manned by armed military units.
It is worth noting that these safety precautions and the heavy security presence are not in place solely as a response to crime, but instead, they are in place to prevent crime. Let us just say that it is very obvious just how serious the Egyptian government is about the safety of tourists.
So, are Nile cruises safe? We have been offering private guided Egypt tours and five-star Nile cruise holidays for decades already, and in our opinion, Nile cruises are very safe. They also make for a truly amazing experience.
Dahabiya Nile River Cruises
Dahabiya Nile cruise boats are considerably smaller than the regular tourist boats and generally do not have security guards on board. However, your Egyptologist guide aboard the boat may well be armed, and there will also be a notable security presence at the various docking areas, and at the various attractions that you visit during your Dahabiya cruise.
Cruising the Nile River with Children
Are Nile cruises safe for children? Yes, Nile River cruises are generally very safe for children. Thousands upon thousands of families who have children enjoy Nile River cruises without any problems. With that having been said, a bit of common sense is recommended.
Parents of very young children should be aware of the fact that child-proof fencing around swimming pools is not a requirement in Egypt. Most modern Nile cruise ships have on-board swimming pools, and none that we know of have child-proof fencing around them.
While most Nile cruise ships are child-friendly, and while Nile cruises are typically very safe for children, parents are advised to keep a close eye on their kids at all times.
Suggested Reading: Traveling Egypt with Kids
Nile River Cruises and Covid-19
Are Nile cruises safe in terms of COVID-19? The risk of contracting COVID-19 during a Nile cruise is no greater than the risk of contracting COVID-19 at a shopping mall, or anywhere else for that matter. 
Egypt is 100% open for foreign travelers regardless of the COVID-19 vaccination status, and this includes Nile River cruises. The wearing of facial masks on board the cruise ships is also not mandatory, and neither is social distancing. Like most other countries, Egypt has chosen to move on from Covid-19.
Again, the risk of contracting COVID-19 is no greater on a Nile River cruise than it is in any other circumstances, such as on board your flight to Egypt.
Final Summary
Are Nile cruises safe? Yes, Nile cruises are very safe, and the Egyptian government continues to do everything they can in order to keep it this way. Providing you book your Nile River cruise through a reputable travel agency, you can look forward to a truly awesome experience which is both very safe and totally unforgettable.
A Dream Cruise on the River Nile
Are you longing to visit the Land of the Pharaohs and experience the soul of Ancient Egypt in comfort and style? If you have just answered yes, be sure to check out our incredible range of guided Egypt tour packages. Also check out our epic variety of 5-Star Nile River cruises that include guided daily onshore excursions to many of Egypt most cherished ancient monuments located along the banks of the Nile River in Upper Egypt. 
When you travel to Egypt with us, an amazing trip and lifelong memories are guaranteed, so contact us now to begin planning your once-in-a-lifetime vacation or to book your dream holiday in Egypt today.
Design Your Custom Egypt Tour
Explore Egypt your way by selecting only the attractions you want to visit