What to Expect on a Nile Cruise?
Expect a truly unforgettable experience with ample time for relaxing, and sightseeing tours which are beyond words. Accommodation and meals also tend to be excellent on most cruise ships.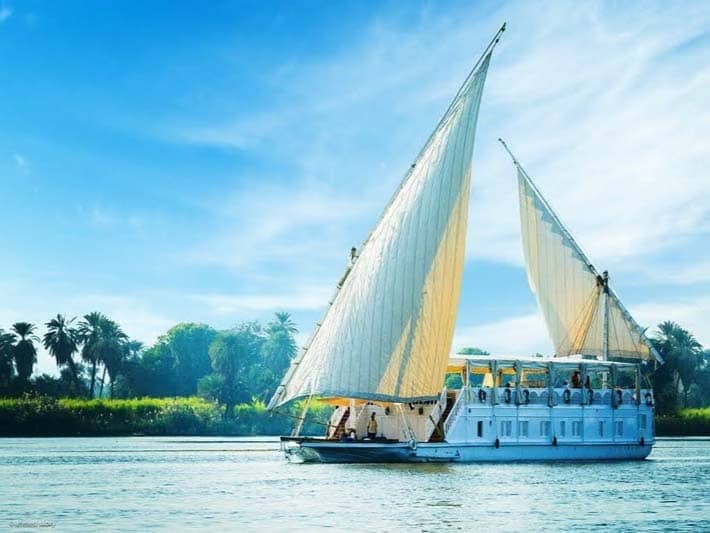 What to Expect on a Nile Cruise?
The ancient temples and tombs which line the banks of the Nile River in Upper Egypt have attracted explorers, adventurers, and wealthy tourists for more than a century already. In fact, one of the first boats to carry passengers up and down the Nile River is still in operation today. 
If you want to enjoy the same sort of cruise experience that was a afforded to the wealthy tourists in the early 1920s, then be sure to book a cruise on the beautiful SS MISR. The SS MISR is the vessel was the inspiration for the famous novel by Agatha Christie, Death on the Nile. A cruise aboard this timeless side-wheel paddle steamer is the most authentic Nile cruise experience money can buy.
Today, most Nile River cruise ships are a far cry from the old paddle steamers. Expect modern vessels that have the same sort of amenities and creature comforts that one would expect to find at any good hotel. 
Sightseeing Excursions
If you are wondering what to expect on a Nile Cruise in terms of onshore excursions, continue reading.
With the vast majority of Nile cruise itineraries; there are no sightseeing excursions on the final day of your Nile cruise. Instead, you will have a bit of free time after breakfast, and then you will need to disembark.
So, if you book a 3-night / 4-day Nile Cruise, all sightseeing excursions will take place on your first, second, and third day. If you book a 4-night / 5-day Nile Cruise instead, you will also enjoy daily excursions but with more free time in between for relaxing aboard your cruise boat.
Nile cruises with a duration of 6 to 8 days will usually include one or two free days, during which there are no sightseeing excursions. As is to be expected, these longer Nile cruises make for a far more relaxing experience compared to the shorter cruises.
Recommended: Nile Cruise Tour Packages
Indescribable Sightseeing
During ancient times, sailing up and down the Nile River was the primary means of transport. As a result, the ancient pharaohs chose to build many of their temples and tombs on the banks of the Nile River so that they could have quick and easy access.
Many of these historical sites, or at least their ruins, are still standing to this day. It is the best of these that feature in good quality Nile cruises. So, if you are wondering what to expect on a Nile cruise in terms of sightseeing, we can assure you that you will not be disappointed. 
Most days begin with morning sightseeing or an early morning departure. This all depends on which cruise your book, and where the ship has been tied up for the night.
In places like Aswan, you will typically visit the Aswan High Dam, the Unfinished Obelisk, and the ancient Philae Temple.
Most good Niles cruise packages also include a stop at Kom Ombo and Edfu where you will be taken to see two more ancient temples: the twin Temple of Kom Ombo and the Temple of Horus at Edfu which is Egypt best-preserved temple.
Luxor is one of the best places to visit in Egypt to see ancient sites, so this part of your cruise is going to be fantastic, to say the very least. While in Luxor, you will typically visit five different ancient attractions: Luxor Temple, Karnak Temple, Hatshepsut Temple, Valley of Kings, and the Colossi of Memnon.
Bear in mind that not all Nile River cruise itineraries are 100% identical. Some cruise itineraries may include fewer sites, while others may include additional sites. For this reason, it is important that you study your preferred cruise itinerary carefully before you make your booking.
Meals on a Nile Cruise
No one will blame you if you are wondering what to expect on a Nile cruise in terms of meals. Budget travelers who book a felucca cruise should expect the most basic of meals. However, food on board the large 5-Star passenger boats is typically excellent.
On some cruise ships you can expect generous buffet meals, while on other cruise ships you can expect set menus, or even a combination of both. Most cruise ship operators try to ensure that their passages get the chance to eat authentic Egyptian food as well as international cuisine.
If you happen to book a five-star Dahabiya cruise, you may also get to enjoy a barbecue dinner on a small island next to the ruins of an ancient temple. Again, food on a Nile River cruise tends to be excellent.
On some cruise ships, but not all, passengers can also choose to enjoy their meals in their cabins. Many of the cruise ships also have a food service which allows passengers to order room service outside of meal times.
While some cruise boats can and do cater for various diets, if you follow a vegetarian or vegan diet, this is something you may want to mention to your travel agent when you are ready to book cruise.
Things like tea, coffee, fresh juice, or a soft drink are typically included with all meals throughout your cruise.
Alcoholic and Non-alcoholic Beverages
Refreshments, both alcoholic and non-alcoholic, are typically not included in the price of a Nile River cruise.
If you are the sort of person who likes to have a few drinks, you should be aware of the fact that alcoholic beverages are quite expensive on most cruise ships. This is particularly true when it comes to spirits, which more often than not are locally produced and not of the same quality as those produced in places like Europe.
If this is a concern for you, then we would recommend that you buy some alcohol at a duty-free shop when you arrive in Egypt for your Nile river cruise.
PS: Depending on which company your book your Nile cruise through, you may also be given free bottled water to drink during all onshore excursions.
Tipping
Tipping is not mandatory in Egypt but it is very much appreciated, and the same applies to Nile River cruises. The easiest and most convenient way to leave tips for the crew is to leave a lump sum at the end of your cruise which can then be divided among the staff. This method is in fact recommended on many Nile cruise ships.
Some online sources recommend giving a $4 or $5 tip per/person per day which can then be placed in an envelope and left with reception when the time comes for you to disembark. So, if you are traveling as a couple, your combined tipping for the day would be $8 to $10.
Other online sources recommend giving a tip of around $10 per person per day for the ship's crew, and a $10 tip per person per day for your tour guide. We think that this amount is appropriate considering the level of service you are likely to receive from the ship's crew as well as from your tour guide.
Dressing for a Cruise on the Nile
If you are wondering what to expect on a Nile Cruise in terms of dress etiquette and/or dress code, you are certainly not alone. This is something which many people inquire about.
The good news is that there is generally no dress code on board the Nile cruise ships. For the most part you are free to dress as you wish. However, it is more or less expected of you to dress somewhat smarter when you go for your dinner in the evenings.
Suggested Reading: What to Wear on a Nile Cruise?
Summary
Hopefully this short post has given you a better understanding of what to expect on a Nile Cruise. We have said it before and we will say it again, a Nile River cruise is hands-down the best way to see a fantastic collection of Egypt's breathtaking ancient sites.
Excellent accommodation, mouth-watering cuisine, unforgettable sightseeing, and quality relaxation time all come together to make a cruise on the River Nile an experience never to be forgotten.
Book Your Own Nile Cruise Today and Enjoy Egypt in the Lap of Luxury
There is no better time than the present to book your Five-Star cruise on the River Nile, a journey that will see you following in the footsteps of the Pharaohs.
At Egypt Tours Plus, we have a truly fantastic range of Nile River cruises to suit all tastes and budgets. If you want an even more immersive and more rewarding experience, be sure to check out our epic range of Nile Cruise and Stay Packages that can be customized to fit your needs exactly.
Contact us now to begin planning your Egyptian adventure or to book your dream vacation today.
Design Your Custom Egypt Tour
Explore Egypt your way by selecting only the attractions you want to visit