Merzouga Tours – Enjoying Morocco's Wilderness
Anyone who is familiar with Morocco, and particularly anyone who is familiar with Merzouga tours, will almost certainly have heard about a place called Erg Chebbi. You will need to forgive these people if they begin to talk over-enthusiastically about this place because it really is a spectacular desert locale.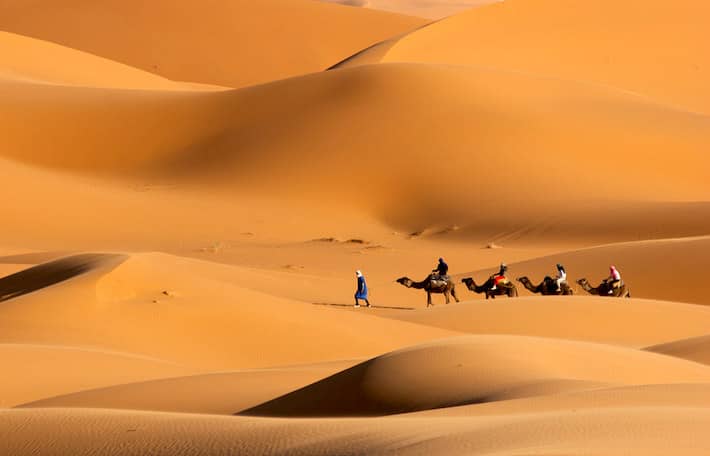 Erg Chebbi – Possibly the Most Impressive Dunes in the World
Erg Chebbi is located in the eastern region of Morocco and it forms part of the mighty Sahara. It is a place where people can visit not only massive sand dunes, buy also breathtakingly beautiful sand dunes that reach unimaginable heights in some places. However, there is also so much more to the area than just the dunes alone.
Close to Erg Chebbi is the village of Merzouga, and it is actually within the Sahara! Merzouga tours are a wonderful chance to experience the many sights of this majestic and splendid destination.
Merzouga tours – An Experience You Don't Want to Miss
A Merzouga tour is likely going to begin with a drive through the Atlas Mountains and then a beautifully scenic drive through the Ouarzazate or the Alnif-Rissani areas, which are desert places without any villages.
The roads are paved, so there is little worry about traveling to this region. Traveling along this route is wonderfully unique experience and a real eye-opener even for the most seasoned traveller.
Exploring the Desert Your Way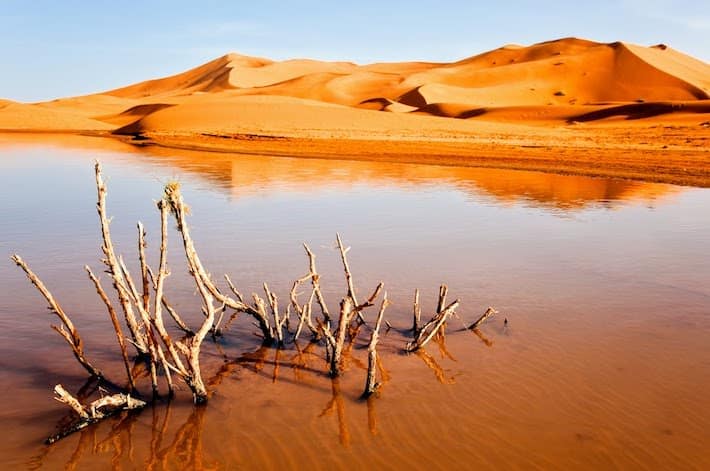 Most of the treks into the desert begin from the town. You will see camels as well as ATVs awaiting travelers who wish to explore the Moroccan desert sands. The brilliant orange hues of the sand often surprise those on Merzouga tours, and the good news is that the town itself can be explored easily on foot.
If you don't fancy taking to the desert on the back of a camel or one an ATV, you can also book a variety of vehicles, including comfortable air conditioned vehicles, to provide you with plenty of fun-filled time out on the sands.
While a Merzouga tours and Erg Chebbi desert trips are the most likely reason why you are in the region, remember that the DayetSrji Salt Lake is also nearby and well worth a visit. The best Merzouga tour packages will ensure that travelers pay a visit to this truly unique feature.
Here you can see any number of birds, both native and migrating. You may even see some of the fascinating mammals and reptiles of the desert around this area. A knowledgeable Merzouga tour guide might even know how to recognize certain animal tracks,  in which case they will know exactly where to go so that you get a chance to see them in the wild.
If your Merzouga trip includes some time in the sand dunes, remember that it is at sunrise and sunset that the stunning light is seen. You may want to book a Merzouga tour that includes opportunities for photography at the best times. Even on a day trip you should be able to arrange for some time around dusk or dawn for taking photos.
Using Guides and Drivers
The area around the town is well developed with many accommodations. There are many Merzouga tours, but to truly make the most out of your time there, you would definitely benefit from hiring a private guide or driver. They can handle all of the driving, and you can handle all of the photography and sightseeing.
If find the idea of adventurous Merzouga tours to be appealing, let us turn your dream into reality.
With decades worth of experience behind us, nobody else can offer a more superior experience of Morocco than we can. With experienced private guides and drivers to look after you every step of the way, you can enjoy the most unforgettable tour package imaginable.
Explore the Best of Egypt and Morocco – And Beyond