Trekking In Morocco – A Handy Guide for Outdoor Enthusiasts
Do your plans for a visit to Morocco include trekking in Morocco too? Does the idea of camping beneath a canopy of stars or gazing out at an impossible panorama of stepped and terraced gardens in a Berber village appeal to you? If so, you will want to consider Morocco trekking tours. However, before you sign up for a generic tour with an itinerary that someone else has chosen, consider a private Morocco trek instead.
→ Tell us about your dream trip and we will customize your itinerary to fit your exact needs and wants ←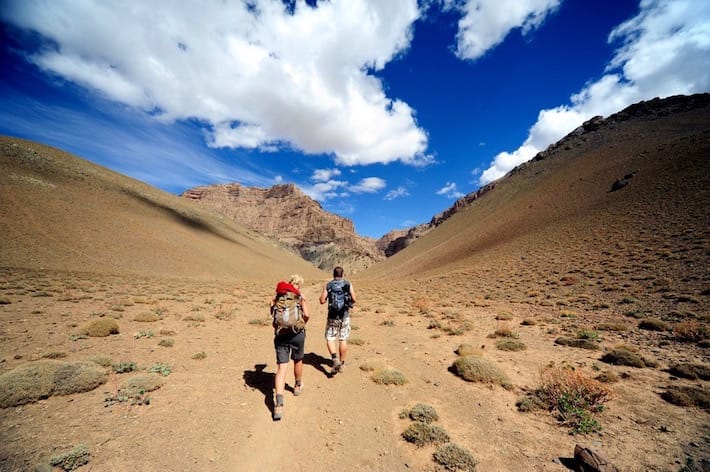 More Than One Type of Morocco Trekking
Of course, you have to begin making any plans for trekking in Morocco by figuring out just what kinds of treks appeal to you. Generally, there are two very common options – Morocco trekking in the Sahara Desert or in the Atlas Mountains. As these are two incredibly different sorts of trekking, you need to be sure that your guides are knowledgeable and experienced, and really understand what it is you want to do during your days of hiking, walking, camel riding, or 4×4 driving.
You also need to consider the length of the trek and what sort of accommodations will be made. As already mentioned, if you dream of experiencing the desert at night, sunrise, sunset, and throughout the day, be sure that you find an arrangement that includes these amenities. That can be more complex than it might seem, and it is another reason to work with a private tour provider to ensure your dream adventure is all you want it to be.
Once you have the ideal trekking trip in mind, it is time to begin planning! That too is more complex than many realize. While there are the two most common kinds of treks, they can occur in a large number of places.
Morocco Camel Trekking
We should begin with a look at the most popular type of trekking – Morocco camel trekking. After all, it is not just a ride on a camel into a desert-like setting that travelers will enjoy. It is actually riding a camel into the true and authentic Sahara Desert. The border area of Morocco and Algeria is where the two famous ergs of Morocco are found.
Ergs are "large, relatively flat areas of desert covered with shifting windswept sand…" (Websters) In the case of Erg Chebbi, there is more than just some windswept sand. It is a long stretch of brilliant orange and rose-colored sand that can stand in dunes more than 100 meters in height. There is also Erg Chigaga, which is even larger but more difficult to reach. Fortunately, camel trekking in Morocco makes it entirely possible to reach this wilder dune in the Sahara.
Even more exciting is the fact that your Morocco camel trek does not have to be basic and without comforts. The popularity of this activity has allowed it to become much easier than ever before to enjoy complete desert camping treks. This would allow you to book your trekking in Morocco with a company that equipped you, prepared meals, offered transport, and perhaps even more. The key would be to work with a private guide in order to choose the proper Morocco trek and camping provider.
If you are uninterested in riding a camel into the desert, you can also find Morocco tours and treks that are done entirely on foot or supported by a 4×4 vehicle. There are also options for trekking in Morocco that are done entirely via 4×4 vehicles, and some even take you close to the routes used by the world-famous Paris to Dakar racers!
Where You Will Do Desert Trekking in Morocco
You won't just wander into the desert from any point of access or even from just anywhere along one of the ergs. Instead, the trekking in Morocco will mean that you begin the tour or trek through an established passage. For instance, some guides use areas of Iriqui National Park or the village of M'hamid El Ghezlane to begin the journey. Some Morocco desert trek experiences follow established river valleys, such as the Draa River valley that enables easier navigation and movement.
You may also find yourself being led among the amazing dunes in order to take in the unprecedented landscapes. You may also begin at the more famous Erg Chebbi town known as Merzouga. Here, many travelers come to enjoy simpler day trips into the sands, crossing the black hammada on foot, on 4x4s or on camels, but returning the next day or even later that same day.
Close by to Erg Chebbi, many people enjoying trekking in Morocco actually come in from the Foum Zguid (a natural gorge) and pass by the great salt lake known as Dayet Srji Salt Lake. Periodically, this is an actual lake where many migratory and native birds, reptiles and mammals can be seen. Travelers trekking along this route also get to see the fossil beds, may catch glimpses of large herds of freely roaming camels, and more.
A Blend of Transportation or Roadway Options
Trekking in Morocco can mean a blend of transportation or roadway options. For example, some of the best experiences mix on-road and off-road journeys. You might find yourself off road for several hours during a day, and because of that, a Morocco trek offers something extremely unusual – the chance to meet native, nomadic peoples. There are many still living in the Sahara and they have some established settlements that welcome visitors.
You may even experience an actual souq created by nomads, and where you may purchase some of their wares, and you might even see their animals.
Another surprise for those who enjoy trekking in Morocco desert areas is the fact that it is not as desert-like in every location. Though shaped by wind and heat, the desert can actually be an astonishingly green location with tamarisk, palms, and acacia in abundance.
This is particularly true of those who plan a Morocco trek a bit inland from the deserts. For example, many travelers depart Marakkech and head through the mountains (by vehicle) to Ouarzazate. Though not a classic trek, it still brings you into the foothills of the mountains and allows you to traverse the famous Route of the 1,000 Kasbahs and even pay a visit at Ait Ben Haddou.
Those trekking in Morocco according to this route will reach Southern Morocca and the Dades Valley. They will then be able to enjoy stops in places like Skoura palm grove, Todra Gorge and the city of Tingehir. It is in Toudra Gorge where many trekkers come to hike and even climb the sheer faces of this impressive site.
Once you leave the river valley, you will enter Draa Valley. This is a region that stretches almost 200km to the south. It is a path of different oases that seem support date groves. If you continue along this route, you reach M'Hamid, another spot from which people begin a Morocco camel safari into the Sahara. You can explore the dunes of Tinfou, or you can proceed farther along a western route in order to reach the Erg Chigaga.
Begin Your Trek in Marrakech or Fez
Trekking in Morocco does not always mean beginning in Marrakesh. You can also depart from Fez. This will take you through the Middle Atlas Mountains. Typically, this type of Morocco trek leads from Fez to Ifrane and then onward to the Ziz Valley. From there, travelers will reach Erg Chebbi and then spend at least a day exploring the desert – by camel, foot or 4×4.
If you are trekking in Morocco for a longer period, you may want to arrange a tour that includes a departure from Fez and into the Middle Atlas Mountains to the city of Imilchil. Many mountain treks can depart from this area, but if you are heading to the desert, you will move on to the Toudra Gorge and the Ait Hani Valley.
The journey will take another day to reach Merzouga from this point, and many spend time trekking in the Toudra Gorge or exploring Arfoud. A sunset ride into the desert may be the perfect way to begin trekking in Morocco, but you can also wake for a sunrise viewing over the dunes, and then head to the desert.
As you can see, there are so many ways to explore and experience a Morocco trek that has the desert as its final destination. The rides into the and around the desert are a visual delight, and you will want experienced guides to guarantee the best results.
Mountain Trekking in Morocco
There are also the Atlas Mountains for trekking in Morocco. Here too, you need to work with experienced guides. Just as the desert can present risks and challenges, including easily becoming lost, so too can the vast Atlas Mountains. The good news is that an experienced private guide can help you make plans for climbing the highest peaks in North Africa, meeting authentic Berber villagers, or even trekking from the mountains and down to the desert.
Common Routes
What are some of the more common routes that people use while trekking in Morocco and the Atlas Mountains? One of the safest and most scenic routes has to be an ascent of Mt. Toubkal. As is the case with many Morocco trek adventures, this would begin in Marrakech. You would travel to one of the higher villages, such as Imi Ouglhad or Tinzert. This provides you with a chance to acclimate and take in the scenery of the Ourigan Valley.
You would then begin more serious trekking in Morocco by heading through the Azzaden Valley, and reaching Tamsoult by sunset. There will be a chance to see the biggest waterfall in Toubkal, and then some of the most challenging mountain trekking in Morocco begins when passing into the Aguelzim Pass. A final day can allow you to reach the top of Mt. Toubkal before a descent to the charms of the village of Imlil and a return to the city. Some also use a reverse route, entering the parklands from Imlil and making an ascent and descent accordingly.
If your trekking in Morocco is limited to a single day, you can visit Imlil and then arrange for a guided trek into the park. Many excellent and breathtakingly scenic paths can be easily done in a day. If you wish to meet Berber villagers, you can even schedule a trek to accommodate such a wish.
Another popular way of trekking in Morocco is to trek through the Three Valleys. These are the Imnan, Ait Mizan and Azzaden Valleys. Most begin at Imlil and then head down into Toubkal National Park, completing a circular route that lasts roughly three days and provides some astonishing scenery.
These are but a few examples of the ways that you can enjoy trekking in Morocco. When you create your own itinerary, there are really no limits to what is possible.
Booking with a bespoke or custom tour provider guarantees that you pick and choose only those sites and destinations you wish most to see. As we already said, it is also entirely possible to roll desert and mountain trekking into one adventure. You can depart from Fez or Marrakesh, hike and trek in the mountains and then continue down to the desert. You can ride camels, camp beneath the velvet skies, and gaze at the ever changing colors of the sands at sunrise. You can then return to the excitement, buzz and hustle of the city or move on to another peaceful spot such as the smaller villages dotting the coast!
Explore the Best of Egypt and Morocco – And Beyond