Morocco Travel Tips – Make the Most of Your Adventure
When you begin telling your friends that you are considering a vacation in Morocco, most of them will be excited for you and a few may have some reservations, but they'll likely all start trying to give you Morocco travel advice even though they have never been there. You'll do best if instead of listening to potentially bad advice, you consider the useful Morocco travel tips in this guide that you need to have answers to so that you can best enjoy your vacation. These FAQs are just what you need to know before embarking on an adventure to Morocco.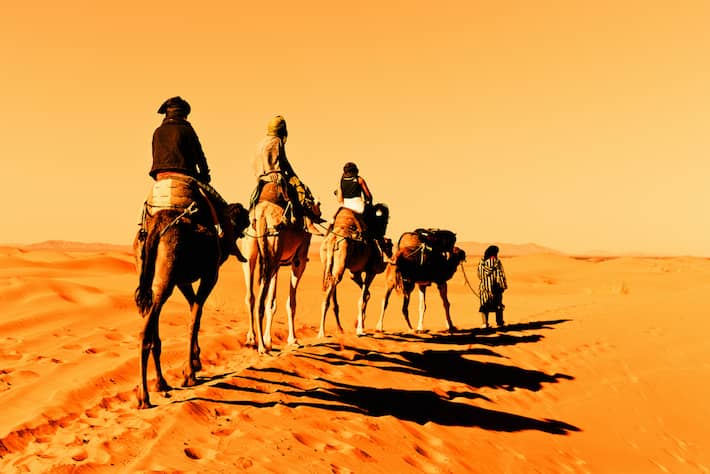 Are There Any Current Travel Warnings?
A number of countries list travel warnings on embassy and other websites so that you can be kept apprised of where they do not recommend that you travel. They let you know of current conditions, so it is important to check these just prior to travel as situations often change.
Traveling from New Zealand
The New Zealand Safe Travel website (https://www.safetravel.govt.nz/morocco) is one example. Their last report dated August 21, 2015 was deemed current as of January 13, 2016. In it they advise against travel to the Western Sahara. They also note that there is a general threat of terrorism, although there hasn't been an attack since 2011. In general, they state that if you respect the religious and social traditions, you should be fine traveling to other areas in Morocco.
Traveling from Canada
The Government of Canada last updated their Morocco travel advisory (https://travel.gc.ca/destinations/morocco) on November 6, 2015 and notes it is valid as of January 12, 2016. In it they state they do not have a nationwide advisory in effect but that you should exercise a high degree of caution due to the threat of terrorism. This site is also a good reference location for laws & culture, security, entry/exit requirements, health and more information.
Traveling from USA and Other Countries
Other countries have similar travel warnings in effect for travel to Morocco, while some, such as the United States, do not have any warnings or alerts in place at this time. Your tour guide should also be privy to any travel warnings going on and should be able to provide you with Morocco travel tips for avoiding problem areas.
Detailed Guides:
Is It Safe To Travel To Morocco?
The majority of sources indicate that it is relatively safe to travel to Morocco provided you observe the laws and culture while vacationing there. You are subject to all local laws as well and can risk arrest and detention even though your actions would not be illegal in your home country.
As far as safety from physical harm when traveling in Morocco, it is the same as being anywhere, including at home. If you take steps not to put yourself in harm's way, you will be less likely to become a victim. Furthermore, consider that many areas in Morocco have an economy that is dependent upon tourism, so it is in their best interest to treat tourists well. As is the case in most tourist areas, however, petty crimes such as pickpocketing and other thefts can happen if you are not alert.
Of the most common hazards, the one you are most likely to encounter is a traffic mishaps. Morocco roads are in fair condition, but traffic regulations are sketchy in places. Traveling is best done with a tour guide driver rather than risking it yourself.
As with most international travel, if you exercise common sense and listen to the advice of your tour guide, you should be able to take home only happy memories from your time in Morocco.
Further details: Morocco Travel Safety [Guide]
Are There Any Tourist Visa Requirements?
Morocco does not currently require a tourist visa for stays of less than 90 days. This is also true for a business visa or a student visa. If you plan to extend your stay past 90 days, you must obtain proper authorization. It is the prerogative of Moroccan authorities to change this requirement at any time, so you should check before making your final travel arrangements.
You should also check with your own country about what you will need to re-enter. Most countries require you to have a passport or some other identification. The most important of all Morocco travel advice is making sure you can go home again.
Further details: Morocco Tourist Visa [Guide]
What to Bring When Traveling to Morocco?
While it might seem necessary to bring everything and the kitchen sink when you are traveling to Morocco, keep in mind that it isn't the tent-laden, camels and nomads scene that you are used to seeing in movies. You'll find all the typical amenities at the hotels, particularly those chosen by tour companies for their customers. If you headed out for a remote excursion, you may want to take a few sheets of toilet paper with you, but you needn't pack them in your suitcase for the flight there.
The next consideration is electronics. Do you want them, need them or will they even work are all questions you may have. As for wanting and needing, that depends on what you want to do on your vacation. Some travelers want to have the ability to do all the things they do at home – read eBooks, listen to music, watch streamed content, surf the Internet and more. Others look forward to unplugging and getting away from all that. For them, the only electronics necessary are cameras for still shots and videos.
The next question is whether they will work. If you are staying in a larger hotel, such as one in Marrakech, you will find that they likely offer Wi-Fi. However, this will not be the case in more remote locations. As for your cell phone, you will need to determine whether your provider provides global access or not, and at what price. It may be so costly that the only time you'll want to turn it on is when you get back to the airport at home and need to call for a ride to your house.
One of the trickiest concerns about what to bring is clothing. Unless you live in an area that experiences huge temperature fluctuations, you may be unprepared for just how fast the temperatures can change. This is true when staying in one area as well as for when traveling throughout Morocco. The diverse ecosystems in Morocco means that a day trip can take you from 115°F desert daytime temperatures, to breezing 80's on the coastline or freezing temperatures in the Atlas Mountains.
The key to surviving these extreme temperature changes is through layering. Having one layer be lightweight for those hot conditions, and then add a light sweater and finally a heavier one as temperatures drop and you will be ready for anything. You can also ask your tour guide for Morocco travel advice in this area so you pack enough but don't pack too much.
Women traveling to Morocco should consider the local culture and bring modest clothing. It is not advisable to wear extremely short skirts or shorts, nor sleeveless tops. Conservative bathing suits are also recommended.
Some other items you may want to bring include quality sunglasses capable of handling the intense sunlight of the desert, comfortable shoes for hiking, a great Morocco travel guide for whatever areas in Morocco you are planning to visit, and the essential extra suitcase for taking home all the great bargains you will find at the adorable markets throughout the country.
Do I Need To Bring A Travel Adapter?
Whether you need a travel adapter will depend on where you are coming from. The outlets in Morocco can be one of two types of European standard electrical socket, either the Type C Europlug or the Type E or F Schuko. Hence, if you are coming from Europe, you may be okay, but if you are coming from North America or elsewhere, you should bring a travel adapter with you.
Keep in mind that a travel adapter only makes the plug fit the outlet. There are also voltage differences so investigate those items you plan to bring to find out if they will work safely even with the adapter. Many items are built to withstand slightly higher voltages but there are some critical ones that are not. There is nothing worse that lugging along an appliance you can't use or damaging it because you tried. A little homework will help you avoid this problem. Your tour guide is a great source for Morocco travel advice and can help you locate a travel adapter if you happen to forget yours or bring the wrong type.
What Time Of Year Is The Best Time To Visit Morocco?
When it comes to deciding the best time of year to visit Morocco, a lot will depend on where you are going and what experience you are hoping for. Much like vacationing in other countries, you'll want the summer for the beach, the winter for cold activities, and somewhere off-season if you want to feel like you have the country all to yourself.
For a boisterous experience, enjoy Morocco during the peak holiday season from July to September. You may experience a few travel inconveniences due to the swell in traffic as well as the Islamic fasting month of Ramadan but you'll love the festive atmosphere. Both the coastline and the mountains will be enjoyable from a weather standpoint, but if you plan to go inland at all, realize that Marrakech and other central cities are hot and miserable.
If you are considering the Marrakech area and want to enjoy more comfortable temperatures during the day, consider November through March travel. It will be sunny affording great views of the Atlas Mountains, but keep in mind that the nights can be quite frigid.
Many believe that spring is the best time of all. The crowds have not yet arrived, the air is crisp and clean, the views are unhampered by haze and there is still some snow on the mountain tops. If you plan on visiting the mountains during this time, be attentive to conditions as rainfall and melting snow can make for some treacherous roads and potential flash flooding.
Notwithstanding basing the decision upon seasonal climate, another consideration is to plan your visit to Morocco to coincide with an Islamic holiday. These times are festive and fun for tourists and Moroccans alike. Along with the aforementioned Ramadan, consider Eid al Fitr, Eid al Adha, Ras as-Sana, and Mouloud.
If you are still unsure when would be best for you, consulting a tour company for Morocco travel tips will be a good way to get more clarification.
Do I Need Vaccines When Traveling To Morocco?
As with all international travel, you should make sure your routine vaccines are up to date. In addition, although there aren't any mandatory vaccines that are needed in order to travel to Morocco, there are some that are highly recommended.
Two of the most important vaccines to consider are for hepatitis A and typhoid. Both of these can be contracted through contaminated food or water so rather than take the risk, protect yourself with the vaccines.
In more rare instances, you may want to also consider the vaccine for hepatitis B. Only certain activities pose a risk for this condition, which are probably not part of your plans. If you do plan to have a medical procedure, get a tattoo or piercing, or engage in other risky behaviors, you should consider this vaccine.
The last vaccine to consider would be if your adventures could put you at risk for animal bites. Having a rabies vaccine would be recommended if you will be spending a lot of time outdoors or working with animals. You can also ask your tour guide for Morocco travel advice in this area.
What Are The Best Things To See In Morocco?
With so many things to see and do in Morocco, it is challenging to come up with a list of the best things. That said, however, especially if time is limited, there are a few opportunities you simply do not want to miss.
While it is always about personal preference, there are some things that are just too different from what you see back home to miss while visiting Morocco. For example, watching a sunrise or a sunset with the golden and massive Erg of Chagaga sand dunes as a backdrop makes for an amazing experience and breathtaking photos.
Morocco has a remarkable history so anything that gives insight to that is a good bet. Consider visiting Ait Ben Haddou. This traditional mud brick city is well preserved and you may recognize it from the many films that have used it as a location. You'll also want to visit a Berber village to experience how the Moroccan people live.
Enjoying scenic drives between the coastline, desert and mountains is always a sure bet as well. Take time to stop and see historic kasbahs, famous mosques, beautiful gardens and captivating views. When it comes to getting the best out of Morocco, one of the best of the Morocco travel tips is to consult a tour company. You'll get the best in Morocco travel advice and steer clear of any problem areas.
Further reading: Morocco Tourist Attractions
Other Essential Tips for Morocco
Imagine yourself as a nomad traversing the Moroccan landscape, if only for a few days. Whether you want a rustic and unique experience of the remote areas, or the festiveness and activity of the city life here, there are a few essential tips that are part of wise Morocco travel advice that you should always follow.
First and foremost, if you are going to use a guide, make sure you retain an official one. There will be plenty of helpful locals clamoring to show you around, but you may not enjoy the results, nor their fee. An official tour guide is going to be worth their weight in gold with helpful Morocco travel tips and advice.
The second essential piece of Morocco travel advice is in regards to tipping and negotiations. Remember that nearly everything is up for negotiation. This includes cabs, hotels and shopping in those delightful bazaars.
While you shouldn't let yourself be pressured into over-tipping, recognize that for many workers, tips are how they survive. The currency in Morocco is the dirham (Dh) and most earn about 100 Dh a day which is about $10 USD, so just a dollar or two extra from you can really make their day at such a small cost to you. Plus, you'll get excellent service for your modest investment. Besides, you can't take any of those dirham with you when you return home anyhow, so you may as well bring a smile to that last person you see on the way to the airport. Your tour guide can also be helpful in providing Morocco travel advice about tipping and negotiations.
Further reading: The Morocco Travel Blog
Conclusion
All in all, one of the best resources for Morocco travel tips once you get there will be your tour guide. They can guide you to great destinations, answer your questions about customs and local laws, and sometimes even act as your negotiator for those special souvenirs. If you get set up with a tour company before you depart on your vacation, they will likely be able to answer those questions you need answered before you arrive also. A quality Morocco travel guide will make great reading on the flight as well. The more you know, the better you will enjoy your vacation. Sticking with Morocco travel tips from reliable sources is your best option.