Temple of Qasr Dush – A Fascinating Relic Of Roman Strength
Qasr Dush is one of two ancient architectural attractions found in the Kharga Oasis that more travelers visit than any other. That does not mean there is not more to see in the oasis. After all, the surrounding desert is filled with archeological sites. However, these two points are popular because they are so well preserved and quite easy to reach.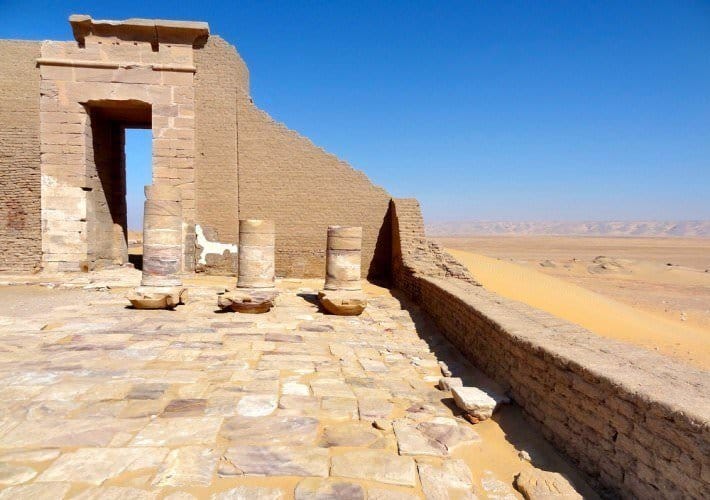 The Mud-brick Temple Of Qasr Dush
The Roman Fortress of Dush, which is also known as the mud-brick Temple of Qasr Dush, is interesting in that it was much more than just a place of worship when it was built in 177 AD. This temple functioned very much like a city, complete with a military compound, a religious center, and a sector for people to live in. Most of the temple is still standing to this day.
The Temple of Qasr Dush is located on a major caravan route, and that route is now used as a main road on which you can travel to visit many of the local sites.
When the temple was built, its religious section was dedicated to both Isis and Serapis. It was built in the first century, BC during the Trajan rule. The mud brick wall that surrounds the temple was added and decorated during the rule of Hadrian, and the temple remained occupied throughout the entire Ptolemaic Period.
The ceilings of several of the temple rooms remain in their vaulted elegance. When you take the tour of Qasr Dush, you will be able to view two of the adjoining rooms with vaulted ceilings. Additionally, you will be able to visit both of the chapels on the grounds. A great deal of the temple, including the walls, is still intact and decorated.
If you wish to visit the Temple of Qasr Dush, you will need to visit between 07h00 and 17h00. You do not have to pay a fee or admission charge in order to visit.
Getting There
The Temple of Qasr Dush can be reached in a number of different ways. Buses leave key spots in Egypt every day and make stops at the Kharga Oasis. Additionally, private Egypt desert tours visit the temple on a regular basis.
If you wish, you could even hire a taxi or private vehicle which will allow you to pick and choose which sites you want to visit (not recommended currently). Alternatively, you can take advantage of customized tours which can be tailored to fit your exact needs.
If you choose to go to the temple with a tour guide, you will be able to learn much more about its history, how it was used from one era to the next, and what each of the remaining rooms were used for. Egypt tour packages include a personal guide and driver, including tours to Qasr Dush.
Design Your Custom Egypt Tour
Explore Egypt your way by selecting only the attractions you want to visit