Agadir Tours – The Perfect Blend of Relaxation and Adventure
Dreaming of amazing Agadir tours? The city of Agadir is one of the most unusual in Morocco. Mostly destroyed by an earthquake in 1960, it was rebuilt along much more modern lines. It is one of the few cities in the country laid out along a grid work of roadways, making it a great place for strolling and enjoying the cafes and unusually modernistic architecture. Though some of its ancient kasbah withstood the earthquake, it stands roughly two miles distant and still rises above the town, providing a remarkable view. This blend of new and old is why Agadir tours are popular, and even better when they include spots just outside of town.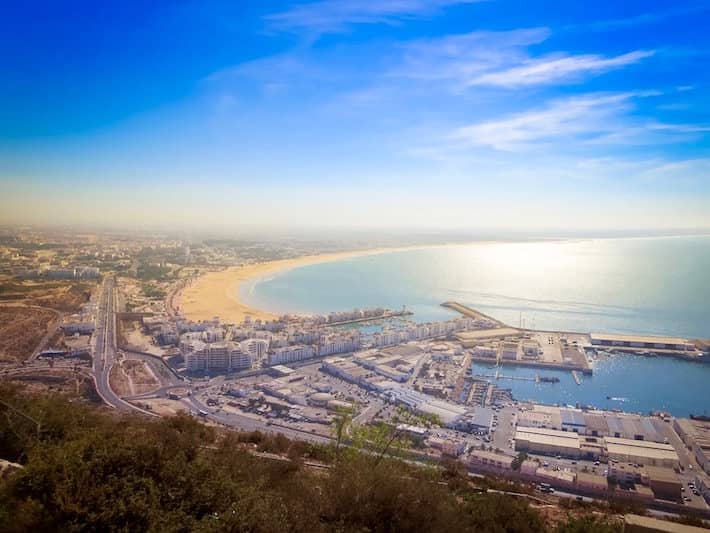 More Than "Just" Amazing Family Holidays
You may hear Agadir described as the perfect place for a family holiday because of its excellent beaches and fantastic hotels and resorts. This description is accurate, but there is so much more to the city than its holiday spots. It has a charming promenade along the beachfront that could serve as the ideal starting point for any Agadir trip.
Explore: Agadir Tourist Attractions
This promenade arcs around the beautiful bay and looks out over the new marina. The town is an active and working fishing port, and you can enjoy watching the different boats make their way in and out of the bay. It is also why your Agadir tour must include a meal of fresh local fish!
Of course, like any great Moroccan city, Agadir has its markets too. Agadir tours typically visit the Souq al-Had. Described as one of the most laid-back markets imaginable, it can have more than three thousand stalls at one time. It is a perfect spot to purchase spices but also has a thriving market for local goods and fresh foods.
While most Agadir trips emphasize time at the beach, or at one of the different surfing schools in the area, some Agadir tours focus on the cultural institutions. There is the charming little zoo called the Vallee des Oiseaux that is full of birds from the region. There are also two very important museums, including the Musee de Patrimoine Amazigh, where you can enjoy a large and high quality collection of Berber artifacts and antiquities.
An Agadir trip must also dedicate time to the beach, and so you may want to work with a private guide or driver for at least day or two to cover the main attractions and then dedicate a full day to some of the finest beaches in the country. Along the Atlantic coast, they are different from some of the other Moroccan beaches, and are sure to provide you with a memorable experience.
Discover: Things to do in Agadir