Egypt Tours from Melbourne
Egypt tours from Melbourne can be surprisingly affordable providing you book through a reputable and well-established Egypt tour operator. Besides affordable prices, lifelong memories will also be guaranteed. Whether you want to explore countless ancient sites; ride camels or quad bikes in the Sahara, or go SCUBA diving in the Red Sea, Egypt has it all, and more.
And, for those who want even more from their vacation, a trip across the border into Jordan opens up a whole new world of sightseeing opportunities. In fact, we would certainly recommend a visit to Jordan as well, even if it is only a day trip to see the Lost City of Petra. If you have any questions about booking and enjoying Egypt tours from Australia, you can get all the answers right here on our site.
Top 6 Egypt Tours from Melbourne
FREQUENTLY ASKED QUESTIONS
What to See In Egypt?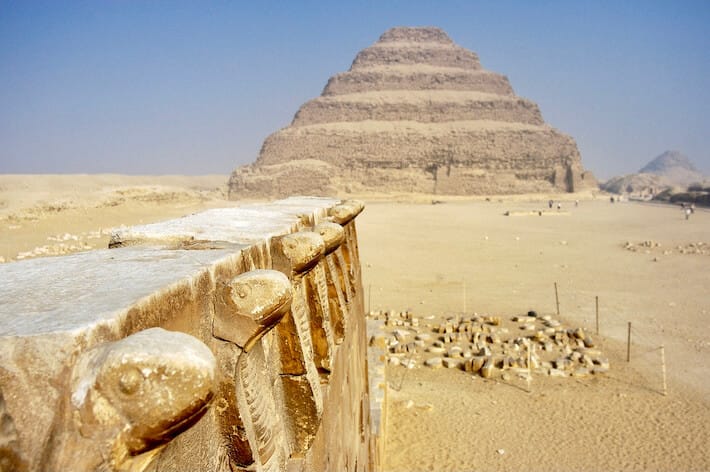 With so many wonderful Egypt tourist attractions to choose from, many visitors don't know where to begin. This is one of the main reasons why Egypt is a destination which is best enjoy by way of good quality tour packages. With a professionally crafted tour package, you are more likely to see a good selection of some of Egypt's very best ancient sites.
Naturally, visiting the iconic Giza Pyramids and the Sphinx is high on every visitor's wish list but there are many other sites which may impress even more. Other sites which we highly recommend include the Great Step Pyramid of Djozer at Saqqara and the Egyptian Museum in Cairo. Outside of Cairo, we would recommend Luxor Temple, Karnak Temple, Hatshepsut Temple and the Valley of Kings, all of which are in Luxor. The Abu Simbel Temples are also a site which every visitor should try to see.
Top 5 Attractions to See in Egypt
What to Pack for Egypt?
Egypt tours from Melbourne are enjoyed the most when traveling light, but you will most likely still have some questions about what to pack for Egypt. It is really up to each individual traveler what they want to pack, but there are a few things which we feel are essential.
Essential items include a good quality sunscreen lotion; sunglasses; a wide-brimmed hat; a few lightweight cotton tops, and a pair of comfortable shoes. We also recommend packing in at least one pair of trousers and a warm top because depending on where about in the country you are, Egypt can be quite cool in the evenings.
Distance and Flight Time from Melbourne to Egypt
The shortest flight distance from Melbourne Airport to Cairo International Airport in Egypt is approximately 13,938 kilometers, with an estimated flight time of approximately 15 hours and 65 minutes. However, at the time of writing, no airlines were operating direct non-stop flights between the two cities. The shortest and quickest flight was a one-stop flight with a total duration of 19 hours and 55 minutes.
How to Obtain a Tourist Visa for Egypt?
Australian passport holders who want to book and enjoy Egypt tours from Melbourne have a number of options for obtaining their Egypt tourist visa. The most convenient option would be to apply online for an Egypt e-Visa before traveling to Egypt. Alternatively, you can also obtain a Visa-on-Arrival at any international airport in Egypt. You can also apply for a visa at your nearest Egyptian embassy or consulate in Australia.
Is It Safe To Visit Egypt?
Yes, Egypt is a very safe destination for tourists. However, it is always a good idea to stay alert and aware of your surroundings, particularly in very busy touristy areas. We also recommend that female travelers and those traveling alone should try to avoid being out on foot in very quiet and/or poorly lit areas at night. The same advice applies when traveling in Jordan if you happen to book one of our Egypt and Jordan tours from Australia.
If people have any concerns about the current situation in Egypt and/or Jordan, they can check the relevant Travel Advisories issued by the Australian government prior to booking any tours.
Tailor Made Egypt Vacations from Melbourne, Australia
Explore Egypt your way by selecting only your favorite attractions. Click here to design your personal Egypt vacation from Melbourne.
We Proudly Arrange Egypt Tours from the Following Canadian Cities:
Calgary • Melbourne • Montreal • Ottawa • Toronto • Vancouver BC