This is a city known for its natural and manmade beauty. El Gouna tours always include the extensive canal system, one of the cities distinctive features, as well as the best of the Red Sea and often times even some ancient sightseeing!
While El Gouna doesn't feature in many of our own pre-packaged Egypt tour packages, it is nonetheless a very popular Egypt vacation resort located on the Red Sea coast in Egypt. The entire area of El Gouna which is privately owned by Orascom Hotels and Development is located just a short drive away from Hurghada International Airport.
While many tourist fly directly to Hurghada and then head on to El Gouna, there are also many who choose to visit the area after enjoying a Nile River cruise.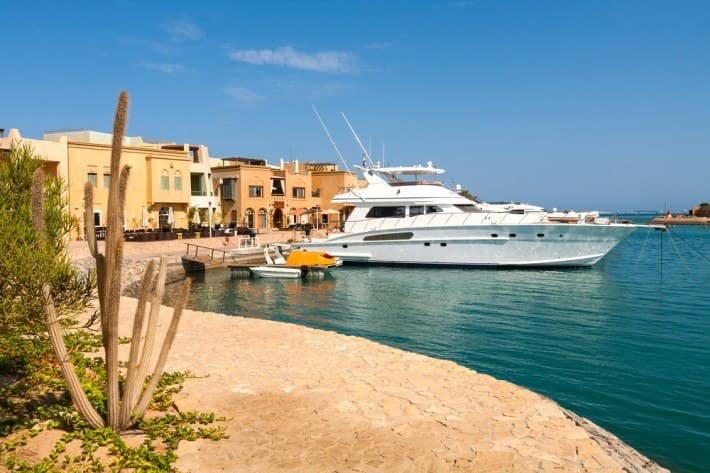 What is El Gouna Famous for?
What kind of activities can you look forward to on El Gouna tours? First, you should know what El Gouna is famous for. It specializes in water sports. Activities like scuba diving, windsurfing, kitesurfing, waterskiing, parasailing and snorkeling are the most popular past times among vacationers and tourists.
You will see most of this activity at major beaches like Zeytuna Beach, which has its own island, and Mangroovy Beach. (Which contrary to popular belief, was not named by a hippie)
One of the most fascinating aspects of El Gouna is its canal system, which actually allows many of its residential homes to have their own strip of beach.
Aside from the main beaches, become acquainted with El Gouna's three major commercial areas: downtown El Gouna, Tamr Henna Square and Abu Tig Marina. There are over a dozen quality hotels in the area that provide accommodation and a few that offer guided tours of the area.
Golfing is a popular sport worldwide and El Gouna boasts a golf course design that was created by golf gurus Gene Bates and Fred Couples. Although our tours don't include rounds of golf, our all-inclusive Egypt vacations can be customized to include a few rounds of golf.
If you like arts and culture, then there is a museum in the area with around 90 exhibits, including some Egyptian replicas and famous contemporary paintings by Hussein Bikar.
Design Your Custom Egypt Tour
Explore Egypt your way by selecting only the attractions you want to visit
A Popular Wedding and Honeymoon Location
El Gouna is a popular honeymoon location because of its many sparkling beaches, its isolated and romantic islands, and its first class hotel and dining services. Further sweetening the deal is the fact that many of these hotels offer entertainment packages, perhaps even escorted tours around El Gouna and other locations in Egypt.
El Gouna is actually a great resort for weddings, as nearly every hotel offers an extra special beach ceremony and reception. There are also many high-class restaurants and five star hotels. Imagine going to an exotic location and being able to experience the beaches and services of a foreign land. It's a trip that will be remembered for a lifetime!
Other Activities
Other activities you can look forward to include horseback riding, spas, hiking and go-karting. Whether you have a family or just want to enjoy a quick three-day weekend getaway, El Gouna is a great place to add on to your Egypt travel itinerary.
Visit us now to find out more about our bespoke Egypt private tours or even to book your own dream holiday today.
Country Specific Egypt Tour Information
Looking for more information before you decide? We have a specific international guide covering the most important points you need to be aware of before traveling to Egypt.