Goreme Open Air Museum – A Truly Fascinating Ancient Marvel
Goreme Open Air Museum in Turkey doesn't house any old collections, and you won't see rows of glass covered displays. Instead, you'll see rock churches. If you want to experience the really timeless history of Turkey, be sure to look for one of our Egypt and Turkey tours that include a visit to Goreme.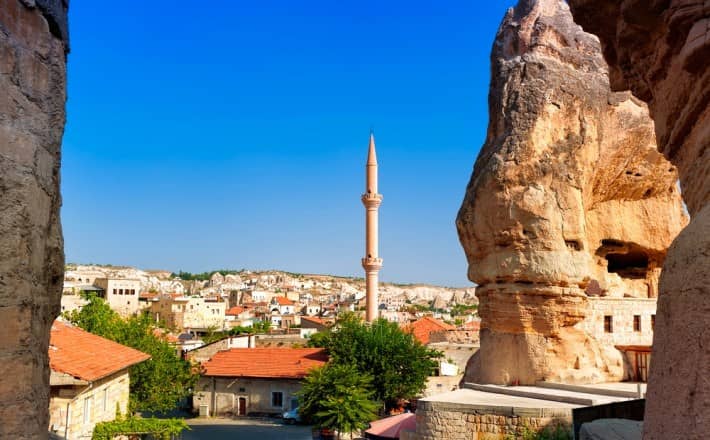 When most people think of a "museum" they immediately visualize vast collections of artifacts, most of which are housed in glass covered displays. In truth, most museums are laid out in such a manner, but certainly not all of them. In fact, some museums don't really display anything at all. The Goreme Open Air Museum is one such museum, and yet it attracts thousands upon thousands of visitors.
Goreme Open Air Museum in Cappadocia, Turkey
Goreme is located in Cappadocia; a region of Turkey which is of great historical significance. One of the key attractions in Cappadocia is an area which has countless naturally formed rocks which have come to be known as fairy chimneys, Monk's Valley. Goreme is located right in the midst of these chimneys but it's not only the chimneys that await the adventurous traveler.
Goreme has now become the official tourist hub of Cappadocia, and 1985 the Goreme National Park was added to the UNESCO World Heritage List. It was the early Christians who first gained control of the area now known as Goreme, and they certainly made sure nobody would forget, which brings us to the Goreme Open Air Museum.
Nearly all of our Egypt and Turkey tours include some time in Cappadocia, but not all of them feature Goreme Open Air Museum. We can however add it to any one of our itineraries if requested.
A Museum Like No Other
In short, the Goreme Open Air Museum is a collection of ancient churches, but they are a far cry from regular churches. The churches in the Open-Air museum are rock churches that were never built from rocks in the first place. Instead, the churches were physically carved out of existing rock.
No amount of words can truly describe the sight that greets visitors, so it's hardly surprising that it's the very first place people visit when they arrive in Goreme. There are so many of these churches carved into the mountain that one could even describe the museum as being a monastic complex.
The Goreme Open Air Museum is also conveniently located, being only a short fifteen minute walk from the main village of Goreme.  It's also home to some of the most impressive rock carved churches in the region, many of which are decorated with absolutely stunning frescos. Interestingly enough, the colors of the frescos are as vivid now as they've ever been.
The Goreme Open Air Museum was the second historical site in Turkey to earn a place on the UNESCO World Heritage List. Studies have also determined that all the churches at the Goreme Open Air Museum were made between the 10th and 12th centuries. One can literally spend days exploring the museum given the number of churches. However, some are without question better than others. The most highly recommended ones are:
Nunnery
St. Barbara Church
Apple Church
Snake Church
Dark Church
The Buckle Church
The Buckle Church is not actually within the grounds of the Goreme Open Air Museum, but it's only about 50 meters away, and can be visited with the same ticket. This particular church is in itself a complex consisting of four main chambers.
The frescos within the church, along with the tall slender columns and pillars actually make it hard to believe you're inside a church which has been carved out of solid rock. The church is also considered to have the best fresco images depicting the life of Christ, and once again, the colors have remained beautifully vivid.
Other Not To Be Missed Attractions In The Area
There are many ancient attractions in the area over and above the Goreme Open Air Museum. Among the most highly recommended sites are the Underground City of Kaymakli; Devrent Valley and Monk's Valley. Again, these are only some of the amazing Turkey tourist attractions awaiting visitors to Goreme. How much you actually get to see will really depend on just how time you have.
A visit to the Open-Air Church at Goreme is well and truly one experience you're never likely to forget. You can book your own exclusive package tour right now by visiting us now here: Egypt and Turkey Tours.
All our tours are designed to incorporate the very best attractions, but not all include a visit to Goreme open Air Museum. However, we'll be more than happy to create a customized tour based entirely on your own preferences.