Things to Do in Fez – Getting the Most Out of Your Stay
There are just so many things to do in Fez, and if you are the sort of person who enjoys being immersed in different cultures, you will almost certainly fall in love with this most amazing city.
Besides many popular Fez tourist attractions, this enchanting city is also home to so many other hidden gems and intriguing quiet corners which are so easy to miss if you visit the area as part of a poorly planned tour package. From condiments traders, to traditional Moroccan mosaic makers, Fez really does have so much to see.
→ Tell us about your dream trip and we will customize your itinerary to fit your exact needs and wants ←
The Best Things to Do In Fez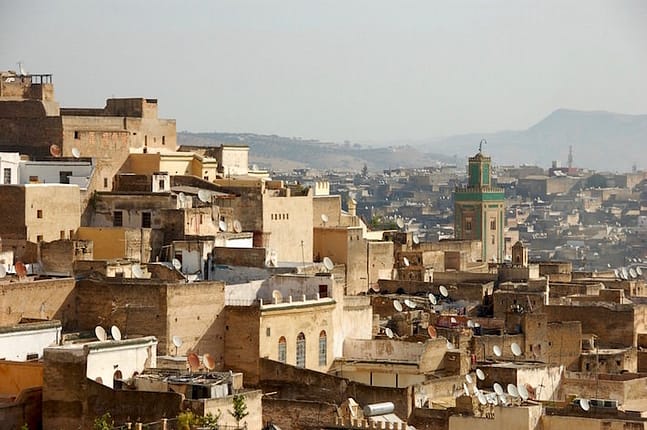 Nobody can complain about a lack of things to do in Fez, but I guess his is hardly surprising considering that Fez is the third largest city in Morocco. Sadly, so many independent travelers only visit the city's most touted attractions such as its famous Medina; its traditional souqs and etc. They only visit these places because they are not aware of all the other things they can see and do in and around Fez.
Fez is also Morocco's cultural, intellectual and spiritual heartland. Its long and very unique history make Fez one of the most fascinating and most unforgettable places to visit in Morocco. In fact, there are so many things to do in Fez, that for some people it might even seem as if there are too many things to do.
If you have any doubts, just remind yourself of the fact that Fez is often referred to as the "Mecca" of the West, or the "Athens" of Africa. The city is also home to the University of Al Quaraouiyine which was founded in 859, and today it is the world's oldest continuously functioning madrasa.
This is exactly why we recommend that you explore this wonderful city with a private guide and a driver using our Morocco private tours. We also hope that some of the tips we offer below will help you to make the most out of your visit to Fez.
You can open virtually any guide book that features the city of Fez and you are almost guaranteed to see mention of the city's tanneries, including the Choara Tannery which is located at Fez el Bali. This is a world famous walled Medina, and a visit to this Medina is right at the top of the list of things to do in Fez.
Choara Tannery
While tanneries are often described as being horribly aromatic, the Choara Tannery is also extremely photogenic so if you love taking fascinating pictures you'll be in heaven here. If you visit this tannery, then we would also recommend that you visit the nearby Talaa Kebira (also inside the walled Medina) where you will find a vast array of arts, souqs, crafts and other Moroccan style shops to suit all tastes.
Visiting the Magical Fez el Bali Medina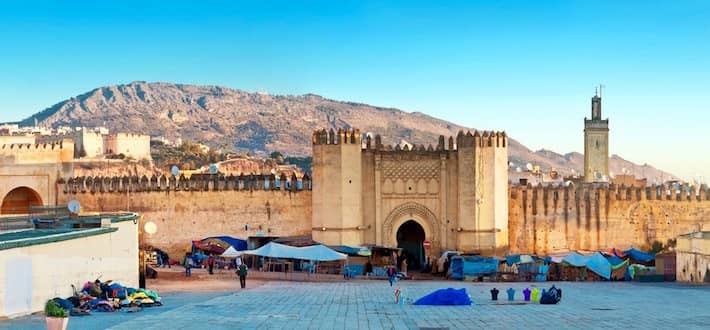 Of all the things to do in Fez, a visit to the Medina must sure be one of the best.Exploring this area is an almost surreal experience. It well and truly is the sort of thing that dreams are made of.
You probably won't want to buy too many things during your stay in Morocco, but you should seriously consider buying one or two things here as a way for you to remember this unforgettable part of Fez.
There are so many things you can buy here, but we recommend buying a pair of colorful slippers which are made from the hides that are tanned at the Choara Tannery. If you want to explore another Medina in Fez you can because the city actually has two walled medinas, but Fez el Bali is without a doubt the most fascinating.
Fez el Bali is also the bigger of the two, and in fact, it is thought to be one of the world's largest urban pedestrian zones. That's right, you can spend hours or even days exploring this wonderful part Fez without having to put up with any noisy traffic.
Soaking Up Some Tranquility
If you find yourself starting to feel weary from all the hustle and bustle which is typical on the streets of Fez, simply head off in the opposite as you exit through the Blue Gate. Just a short distance away, you find yourself at a place called JardinJnan Sbil.
This might not be one of the most exciting things to do in Fez, but if you are looking for tranquility, then this is one place which you will definitely want to visit. It really is a pool of calm which is home to many exotic plants, and beautiful scenery which is wonderfully soothing and relaxing.
Visiting the Old Jewish Quarter in Fez
If you are a die-hard shopper and you want to get back to shopping after you have recharged your batteries, then we suggest you make the short trip to Mellah which is the city's old Jewish Quarter. This area offers you a particularly unique shopping opportunity because nowhere else in Fez will you find so many antique shops lining the streets.
Not only are there so many of these fascinating shops here, but you will be amazed at some of the unbelievable deals you can get here. There's also an old historical synagogue nearby which has be beautifully restored and is now open to the public.
Fez, the Learning Capital of Morocco
Fez is home to the very first madras ever built in Morocco, and after completion of the first one, several more were built in the city. Many of the old madrassas you will see while you are exploring the city were built in the thirteenth and fourteenth centuries, and their designs are the hallmark of Marinid architecture.
The New City in Fez
When most people think of Fez, they tend to think of an historical city full of old architecture. While it is true that Fez is a UNESCO World Heritage Site, it also has a very modern side to it as well. This is particularly evident if you visit Ville Nouvelle.
Also known as the New City, this area is a bustling, fast paced commercial center. If you have time to spare during your stay in Fez, a visit to the New City is definitely recommended, even if only to remind yourself of just how traditional the rest of Fez actually is.
Catching a Game of Football in Fez
Going to watch football is not something which many people consider when they think about things to do in Fez, but if you are going to be in the city for several days, going to a football match can be a very welcome break from all the sightseeing.
Fez has two football teams which play in the highest tier in the country's football system, and both teams frequently play at the rather impressive 45,000 seat stadium in Fez.If you are a football fan, and either of these two teams happens to be playing at the stadium while you are in Fez, you should seriously consider going to watch a match.
If you are a football fan, and either of these two teams happens to be playing at the stadium while you are in Fez, you should seriously consider going to watch a match.
Day Trips & Excursions from Fez
While there is certainly no shortage of things to do in Fez, visitors can also take advantage of Morocco day tours to places like Voulibilis which is a 2000 year old Roman ruin.
The old imperial city of Meknes is also just a little way on from Voulibilis so if you visit the ruin you can easily continue on to Meknes for some more memorable sightseeing before returning to Fez in the late afternoon or early evening. Meknes is Morocco's sixth largest city, and it too has no shortage of fascinating attractions.
Even though there is an abundance of things to do in Fez, any people who visit Fez for a few days also like to go on short excursions to the Middle Atlas Mountains on a day trip. The scenery along the way is truly spectacular, and you usually visit a number of traditional Berber villages as well which makes for an even richer cultural experience.
Day Trip to Rabat from Fez
Rabat which is the fourth imperial city of Morocco is also within easy reach if you are staying in Fez for a few days and you feel like a short break from your daily routine. There are many tour operators who offer day trips from Fez to Rabat where you can explore Morocco's modern capital.
If you think you would enjoy a one day trip like this you could also just let us know this when you are booking your Morocco tour packages with us, and our tour representatives can include it in your itinerary.
If you are the type of person who enjoys a bit of adventure and you don't object to getting a bit dirty in the process, then a day trip to the Friouato Caves is also highly recommended. These caves are not only the biggest caves in North Africa, but also the deepest, with no shortage of tunnels and etc. for you to explore in the presence of a very competent guide.
Day Trip to Chefchaouen from Fez
If you are still looking for things to do in Fez, then booking a day trip to Chefchaouen is also highly recommended, particularly if you actual tour package doesn't include spending a few days in this charming city with its many blue and white washed buildings. The sort of culture and lifestyle you will encounter here is vastly different to what you will have witnessed in Fez.
This enchanting city which is also known as the "Blue City" was originally founded as a small fortress that was built by Moulay Ali Ben Moussa, a direct descendent of the prophet Mohammed.  Not only will you enjoy the city itself, but you will also enjoy the drive there and back because the Riff Valley Mountains are incredibly scenic.
Spread the Word
When you return home after you Morocco vacation and your friends and family ask you if you can recommend the best things to do in Fez, you will be well equipped to impress them with a list that will definitely not disappoint anyone.
In this short article, we have only discussed some of the best things to do in Fez, but there are so many more things you can see and do while you are staying in Fez. As with any exotic vacation, the more you explore, the more you will enjoy yourself, and the more knowledge you will gain.
Come Explore the Best of Morocco Your Way!
If you are longing to explore and enjoy all the top Morocco tourist attractions, you can visit us right now at EgyptToursPlus.com and our highly experienced team of tour representatives will work with you to ensure that your Morocco luxury tours will be a vacation you will never ever forget.
We have been turning people's travel dreams into reality for decades already, and with so much experience behind us, we believe that no other tour provider is better equipped than we are to ensure that you have the ultimate Moroccan vacation.
Whether you only want a short break in the sun, or whether you want a much longer lasting vacation in Morocco, we can make sure you get to enjoy all the best things to do in Fez and other cities included in your itinerary.
Explore the Best of Egypt and Morocco – And Beyond