Things to Do in Morocco – Your Guide to the Pearl of Africa
The lists of things to do in Morocco are endless. They can touch on any sort of activity, from spa going and sunbathing to trekking for days on end.  At EgyptToursPlus.com we would like to help you choose only the things you want to do to ensure your Moroccan adventure is a dream come true. Learn how here.
What are the Best Things to Do in Morocco?
You are considering a visit to the exotic and beautiful country of Morocco because you know it is full of amazing scenery, architecture, sights, and people. There are many things to do in Morocco, and there are just so many that it can get confusing and overwhelming.
Rather than miss out on something because you just couldn't fit it in, or because you chose something that was less satisfying, take some time to learn about the best things to do in Morocco, and how you can be sure to enjoy them!
At EgyptToursPlus.com you can enjoy a customized journey in Morocco, including pre-arranged visits to top Morocco tourist attractions and sites.
→ Tell us about your dream trip and we will customize your itinerary to fit your exact needs and wants ←
While you may use a tool like the internet to search around for ideas about fun things to do in Morocco, you may find that those lists of the "top 10 things to do in Morocco" become a bit redundant. Yes, you absolutely must visit as many of the cities as possible. While in them, you do need to pay a visit to the Old City or Medina. You will want to visit at least one authentic souq or market, and you need to dedicate time to seeing the most historic or famous sites.
However, the things to do in Morocco also include a long list of remarkably cool things to do in Morocco!
As a prime example, let's say that you have made your list of the best cities, and that you know your general itinerary. If you have worked with a private guide and driver, you know that you will get some great tips on different spots to eat or visit.
Apart from that, the other things to do in Morocco must include:
Visiting alternative sites close to the most popular areas. As an example of this, consider Chechaouen if you are staying in Tangier. The famous blue city is unbelievably photogenic. Hire a guide to take you up into the hills above town to get amazing photos, and then wander the Medina to get even more inspiring shots of this colorful locale. While in Tangier, don't miss a chance to visit the northern tip of Africa at Cap Spartel. Everywhere you go, there are these unique alternatives. A reputable and experienced guide will know exactly what to recommend.
Choose a themed tour of an area. For example, if you are staying near Casablanca, you can arrange a food-themed tour within the city and the environs. The town of Oualidia, for example, is famous for its oyster beds. Whether you are a fan of the shellfish or not, you can find local restaurants with heavenly seafood dishes. The Corniche in the city is also packed with world-class restaurants. Discuss the local specialties with your guide and arrange for a foodie's tour as one of the things to do in Morocco. Maybe one of the things to do in Morocco that has really drawn you to the country is to meet native Berbers or desert nomads…you can arrange for this!
Focus on the handicrafts. If you pay a visit to the bigger Medinas, you notice that there are souqs for specific goods. There are shoe souqs, leather souqs, and even spice souqs. Ask your guide to explain to you where the country's various crafts are best represented. As an example, Safi is a popular spot for day trips when visiting Casablanca – it is also the center of the country's best ceramics – including their famous blue pottery.
One of the best things to do in Morocco is to also pay a visit to Meknes. Though Volubilis nearby is one of the biggest tourist attractions, the town itself really rates as a must-see destination and a very smart thing to do if you are in Morocco. Visit Moulay Idriss along the way to Volubilis, and then pay visits to Bab al-Mansour gate, the Mausoleum of Moulay Ismail, dedicate time to the Medina and its amazing souqs, and gaze in awe at the Imperial City. The town offers the beautiful museum called the Dar Jamai, and boasts what must be one of the prettiest medersas in the country, the Bou Inania.
Do some true trekking. It is simple enough to book a pre-arranged trek or tour that leaves Marrakech or Fez and takes you through the mountains and down into the desert. From there you can drive, ride or walk into the dunes. This is a good option, but if you want enjoy one of the more original things to do in Morocco, arrange for a true trek of three days or more. Book a hiking guide in Toubkal National Park in the Atlas Mountains or arrange with a guide for camping in the desert and seeing the much larger Erg Chigaga.
A Dream Trip to Morocco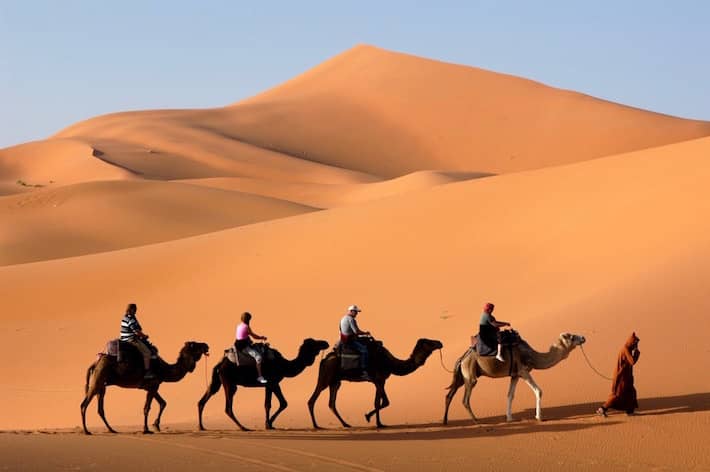 As you know, there are many things to do in Morocco, but you will want to be sure that everything you do is unique and unforgettable. You do not have to follow the itinerary of a tour provider or company.
The things to do in Morocco should be the things you want to do.
You do not need to compromise. Whether it is days and days at the beaches of Agadir, hours spent combing the markets for treasures, time in a hammam (bath) and spa, or a culinary tour of the country…it is all possible. However, one of the smartest things to do in Morocco is to work with a custom tour provider who can help you do the things you have dreamt of doing.
Explore the Best of Egypt and Morocco – And Beyond