Things to Do in Marrakech – An Imperial City Like No Other
A visit to Marrakech is a dream come true for many. However, it can offer so much that it may be impossible to know just which of the many things to do in Marrakech are the best. While you can easily find lists of activities, working with a private guide often brings the best results.
At EgyptToursPlus.com we can help you choose the right things to do and then make sure you get to do them!
→ Tell us about your dream trip and we will customize your itinerary to fit your exact needs and wants ←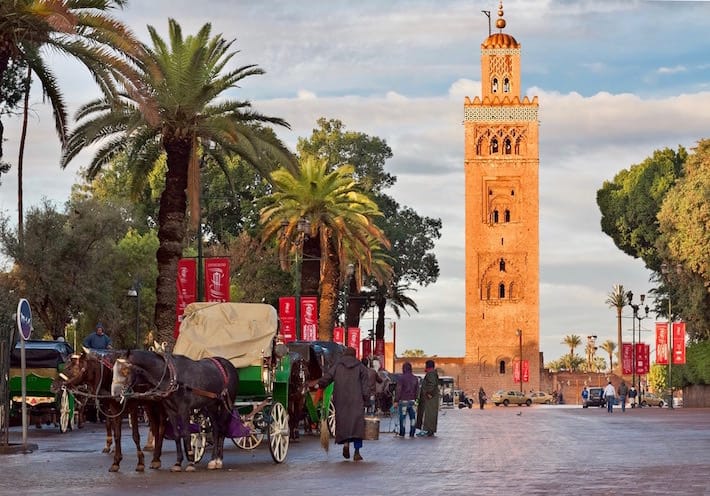 Your Guide to the Things to Do in Marrakech
You are planning your Marrakech tour, and that means you have already done one of the best things to do in Marrakech – arrive!
Although it is not Morocco's largest city, it is one of the most famous and beautiful. It encapsulates most peoples' visions of an exotic city and photos of its markets, palaces, mosques, tombs, and gardens prove it to live up to all of the myths and stories that surround it.
However, you may be wondering about the actual things to do in Marrakech. Stop worrying, we have some great suggestions.
One of the first things to do is consider getting help. It can be very challenging to navigate any new city, but one that is such a blend of modern and ancient, and with a large number of travelers speaking different languages is even more difficult.
At EgyptToursPlus.com you can enjoy a customized journey in Morocco, including a private guide and driver who can help you discover the best things to do in Marrakech.
Choose activities According to Your Wishes
Uncovering the top things to do in Marrakech can mean a few things. You can find lists upon lists put online and in books by travelers who have already experienced the best Marrakech tourist attractions. They will tell you about things to do in Marrakech that they experienced, liked and feel are worthy of notice. However, that does not mean they'll choose the ideal things for you!
For example, maybe you have your daily itineraries covered and are wondering about the safe and fun things to do in Marrakech at night? Perhaps you are more of an off the beaten path person and want to know about the unusual things to do in Marrakech. You may be on one of our Morocco honeymoon packages and need some tips about the romantic things to do in Marrakech.
That represents a big variety, and it can be difficult to find your answers in one place.
While there are plenty of unusual things to do in Marrakech, and a long list of things to do in Marrakech for couples, and at night…let's look at some of the most enjoyable, time-tested, and a bit lesser known. Doing this allows you to avoid crowds and plan days and evenings that are unforgettable and not in the least disappointing.
The Top and Somewhat Least Expected Things to do
With the help of a private guide and driver, you can begin to do some of the most unusual and enjoyable things in Marrakech.
Find a café or restaurant with a view over Djemma el Fna. While you will most definitely want to spend time wandering this remarkable square, you will also enjoy sipping a drink or eating a casual meal as you watch the spectacle below. Local and experienced guides will have suggestions for the best places to enjoy that view, and you can use it as your escape from the crowds. It can be amazing to watch the square really change as day moves into night!
Don't ignore the gardens –  Whether you are looking for something unusual, fun or romantic, you can never go wrong with gardens, and one of the most appealing things to do in Marrakech is to head to its impressive green spaces. Though many know all about La Mamounia, the Arset El-Mamoun are a masterpiece not to miss. While walking gardens may not sound like such a unique thing to do in Marrakech, imagine visiting to dine at the restaurant by the pool, enjoy ice cream and afternoon tea at Le Menzeh or relaxing in the cool of the terrace. Then you can move on to the stunningly colorful Jardin Majorelle. Again, you can add a twist to your experience by sampling the café or including a visit to the museum.
Get the "real" thing. You can go to the markets and souqs to find authentic goods, but you can also head to the unusual Ensemble Artisanal. This is a pricier place than a souq, but it is full of nothing but hand made goods. Asking your guide about this spot is sure to provide you with some of the most unique and unforgettable souvenirs imaginable.
Eat your way through the city. While we already suggested ice cream in the gardens and a rooftop cocktail over the Djemma el Fna, the city also has amazing restaurants dotting the different neighborhoods. Modern establishments can be found in the Medina, the Rahba Kedima magic market, and the Kasbah! Of course, you also want to try authentic Moroccan food as well, and with the help of a private guide, you know you'll get a true tagine!
Hit the baths. There are some very costly spas in the city, but there are also authentic hammans remaining. The Les Bains de Marrakech offers hammams and massages, the Hammam El-Bacha is very authentic, and the Hammam de la Rose is also known as a trustworthy spot. If you are unsure, you have your guide to steer you the right way.
As you can see, there are so many things to do in Marrakech that you could spend your entire trip inside the city. However, one of the other popular things to do in Marrakech is to leave! Actually, it serves as a base for many Marocco day tours and excursions.
Visits to Fez, trips to the Sahara or the Atlas Mountains, and so many other adventures await those looking for things to do in Marrakech.
Explore the Best of Egypt and Morocco – And Beyond