Valley of El Haiz – Natural Beauty And Unspoiled Marvel Await
The Valley of El Haiz which is part of the Black Desert is not only unique, but also breathtakingly beautiful. The valley is located in the western area of the Black Desert and is only reachable via suitable 4×4 vehicles. However, you can easily schedule tours of this beautiful area of the desert.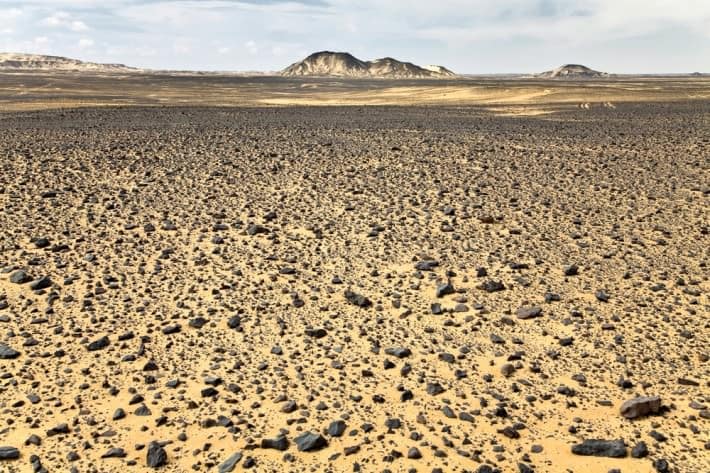 The Valley of El Haiz gained its name for a specific reason. All throughout the valley, the wind has strewn small black and gray pebbles that scatter along the floor. The result is the look of blackened breadcrumbs leading you along a path.
The reasons for the color of the sand and formations of the valley have to do with the minerals found within them. The valley is made almost entirely of Oligocene, Black Basalt, and Iron Pyrite.
The valley formed during the Miocene Epoch and has long been a breathtaking part of the desert. Limestone is also scattered through the valley, adding a distinct white look to the bottom of the formations.
What To See At The Valley Of El Haiz
When you tour the Valley of El Haiz, you will find yourself captivated by the rock formations that have been softened by the desert winds and sand during the ages. However, the formations are not the only things to note.
On the northern side of the Valley of El Haiz, you will find Qasr Masuda. This is the ruin of an old Roman fortress that once guarded the valley. The purpose of the fortress was to protect caravans of traders that traveled through the valley.
While only ruins remain of the fortress, they are still a site that you may want to see if you are interested in the time of Roman occupation. It's also interesting to note that at the time of Roman occupation, they area had not yet been claimed by the desert, and in fact, it was also a notable wine producing region.
No matter what part of Egyptian history interests you, you will find the Valley of El Haiz both fascinating and breathtaking. The formations rise well above vehicles, making them feel as if they are as tall as high rise buildings.
Getting There
Keep in mind that you cannot just take any vehicle to get to the Valley of El Haiz. This area is off-road and you will need to employ the proper kind of vehicle to be able to drive through the valley.
You can schedule Egypt desert tours of the area and various tours offer visits to the valley, the fortress, and other nearby monuments worth seeing in the black desert. The Valley of El Haiz is in the western area of Egypt, and it can take more than a full day's travel from Cairo or from Alexandria.
Design Your Custom Egypt Tour
Explore Egypt your way by selecting only the attractions you want to visit