Deir El Hagar Temple is a Roman temple located in the Dakhla Oasis. It is one of the smallest, if not "the" smallest temple in Egypt. The structure lay buried beneath the sand for centuries and this has in effect helped to preserve it, and it has now been completely restored to its original beauty.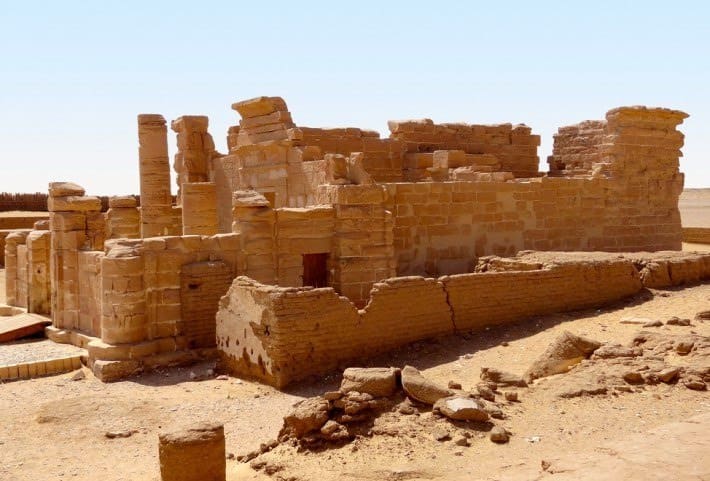 The Temple of Deir El Hagar is actually a sandstone monastery that was built by the Romans and was dedicated to several different individuals: the citizens of Mut, Khonsu, and Amun as well as the god of Farafra, Seth.
A Newly Restored Deir El Hagar Temple
When Deir El Hagar Temple was first discovered, some of it had fallen down. The entry court, which is made from mud brick, had collapsed, and the columns had fallen in.
However, since that time, restoration work has taken place at the temple. All of the restorations have been done using the same skills that would have been used when the Deir El Hagar Temple  was first erected. No modern technology has been used on the restoration.
The name, Deir El Haggar, translates to "Manastery of Stone" which is depicted in hieroglyphs on the temple walls. The hieroglyphs are still viewable when you tour the Deir El Hagar Temple . This temple was built during the reign of the Roman Emperor, Nero.
The Visitor's Center
On the same grounds as the Deir El Hagar Temple  is a modern visitor's center, which is also worth visiting and touring.
In the visitor's center, you will be able to see the process that was used in order to restore the temple. The images included show the whole process of restoration. In addition, the visitor's center offers historic information and artifacts that pertain to the temple.
Gettting There
Getting to the temple of Deir El Hagar is quite easy and it is often included as a stop on Egypt desert tours of the area.
You will find that you can easily enjoy a tour that begins in the town of Qasr Dakhla in the Dakhla Oasis. This tour will take you throughout the oasis to show you many of the different ruins and tombs, including the Temple of Deir el-Haggar. If you wish to enjoy a tour of the temple without a pre-packaged tour, then you may need to hire a tour guide in order to find it.
Deir El Hagar Temple can be reached by motorized vehicle from either Alexandria or Cairo. Because it is close to other Sahara attractions, it can often be included in an itinerary that will take you to several sites in the Farafra Oasis.
While the Farafra Oasis may be the smallest in population when compared to the other Oases, it offers a rich history of Greco-Roman temples, Coptic Christian burial grounds, and Pharaonic Egyptian sites. With premium quality Sahara Desert adventure tours, you can see Deir El Hagar Temple  and so many other fascinating ancient sites hidden in the desert.