Essaouira Tours – Spicing Up Your Moroccan Break
Essaouira Tours are becoming increasingly popular among people traveling to or through Morocco, and it is easy to understand why. Despite its ever-increasing popularity, it is still not a firm fixture on the typical Moroccan tourist trail.
In truth, there is so much to say about this gorgeous little seaside village of Essaouira, that it is actually very surprising how much of a "traveler's secret" it remains. Of course, depending on your personal views, this might not be such a bad thing. If you agree with this point of view, then this is a destination which you should visit sooner rather than later.
A Windsurfer's Paradise
Essaouria is considered by many to be the Wind City of Africa because of the alizee or taros. This is a coastal wind that provides windsurfers and kite surfers with dream conditions. However, this wind also keeps people off the beaches most of the year. Essaouira is also a place of tremendous color, character, and culture.
This marvelous seaside village is quite literally, a crossroads where the Haha Berber people, the Arab Chiadma people, the Gnawa people, and the many Europeans have all come together. This in itself is reason enough to see Essaouira tours as being an essential part of any visit to Morocco.
Of course, any and all Essaouria tours should include a large amount of time in its Medina. Also known as the Old City, Essaouira became a UNESCO World Heritage Site more than 15 years ago. It really is an utterly charming and magical place. Beautifully preserved, it dates to the 1700s and its walls are still intact to this day. When you visit, you will definitely want to set some time aside for walking along the ramparts to enjoy some of the most amazing scenery.
Most Essaouira tours also include a visit to the Skala de la Kasbah. This is an old fortification that gives even greater views of the entire town and the nearby islands. It is a working port, so it is a great spot to watch the boats bob in and out of the harbor. If you have enough time to spare, you should also try to spend some time at a fish auction.
Essaouira's Famous Woodworkers
Close to the Skala is something that you definitely don't want to miss, and which any decent Essaouira tours should include. That is a stop at the local woodcarving shops. Essaouira is famous for its woodwork, and near the Skala is a long line of shops where the artisans make and sell their work.
The Sidi Mohammed Ben Abdallah Museum is also in the downtown area and is a fantastic place to satisfy all of your desires to see costumes, carpets, arms, and musical instruments, all of which are native to this particular region.
Enjoy Freshly Caught Seafood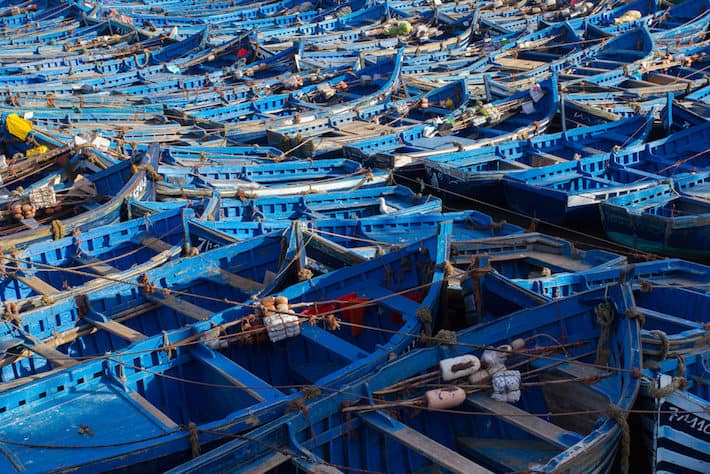 Because it is a fishing village, you will almost certainly want to stop and enjoy some of the freshest catch of the day. Though the fish auction is always a colorful event, some travelers prefer to avoid all the chaos. If this is you, then you may want to stop at one of the many excellent restaurants instead, and take in the aromas, scenery, and atmosphere that are unique to this town.
Essaouira is a historic town, a trendy town, and it is beautifully unique. It has been a coveted spot since the Roman era because of its natural port, but today it is also a popular destination for those people who hope to experience the best that Morocco has to offer.
Explore the Best of Egypt and Morocco – And Beyond