Yes, Egypt is a very safe country to visit. To be on the safe side, visitors should avoid discussions about religion and politics. Visitors should also avoid all travel in the north Sinai region.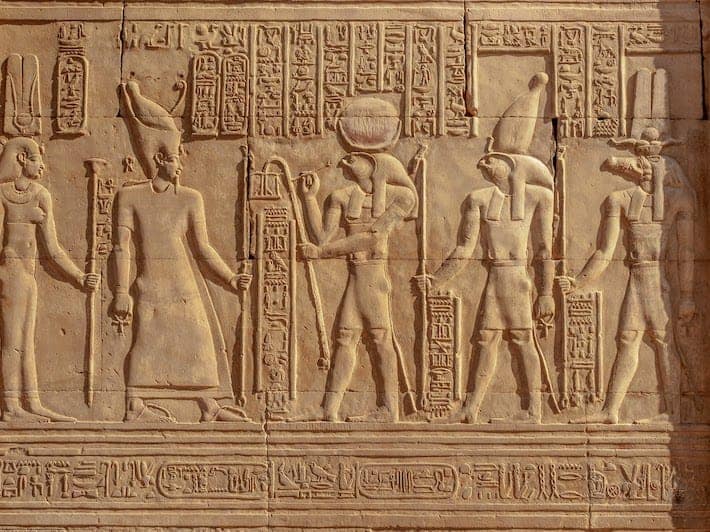 Is Egypt Safe to Visit?
Many people are asking if it is safe to travel to Egypt right now. Some are concerned about crime and/or terrorist attacks, while others are mostly concerned about Covid-19. We will be looking at all of these issues in this post, and also sharing a few tips which can help you to enjoy a totally hassle-free trip to the Land of the Pharaohs.
Read on to understand the basics or click below to find specific information:
Eating and Drinking in Egypt
Egyptians eat street food day in and day out without suffering any ill effects, so why do so many tourists end up with upset stomachs? The difference is, the locals know what to eat and where to eat. You will notice that they always tend to buy their food and snacks from places and vendors who get lots of customers. We strongly recommend that you do the same.
Outside of the big expensive restaurants, food hygiene is not the same as it is in many Western countries, but you should not let that put you off from sampling street food. As is so often the case, a bit of common sense can go a long way in helping you to avoid stomach problems.
Contaminated water or ice made from contaminated water can also cause stomach problems. Under no circumstance should you ever drink tap water in Egypt. Even in places where there are signs saying that the tap water is safe to drink, we advise against doing so. Bottled water is cheap and plentiful in Egypt so there is no need for you to take any chances.
Suggested Reading: What to Eat in Egypt
Covid-19 and Travel to Egypt
Is Egypt safe to visit in terms of the Covid-19 pandemic? While some governments are continuing to warn their citizens against travel due the Covid situation, it is nothing like it was before. In fact, most countries around the world have once again opened their borders. In Egypt, tourism has been picking up even faster than most people expected.
Even though it seems like the worst of the pandemic is over, at Egypt Tours Plus we still follow and comply with all World Health Organization recommendations. This is done for the sake of our clients and the sake of our staff members.
Vaccinated Tourists
Vaccinated tourists are not required to take a Covid-19 test prior to traveling to Egypt, nor do they need to take a test on arrival in Egypt. However, they will need to show proof of vaccination, and their most recent vaccine must have been received more than 14 day before their flight to Egypt.
Unvaccinated Tourists
People who have not been vaccinated will need to show proof of a negative test when they arrive in Egypt. The test must be done no more than 72 hours prior to their arrival in Egypt.
Vaccines Recognised by the Egyptian Government
AstraZeneca (Vaxzevria)
Janssen
Moderna (Spikevax)
Pfizer-BioNTech (Comirnaty)
Sinopharm
Sinovac
Sputnik V
Suggested Reading:
Is Egypt Safe to Visit as an American?
Yes, Egypt is as safe for Americans as it is for any other nationality.  At the time of writing, the US government had issued a travel advisory recommending that travel to Egypt should be reconsidered. The same advisory also warns people to avoid all travel in Egypt's North Sinai region due to the risk of encountering armed bandits and due to the threat of terrorism.
Despite the travel advisory, Egypt welcomes many American tourists and most, if not all, encounter no problems at all during their visit.
In-depth: Is Egypt Safe for American Tourists?
Is Egypt Safe to Visit as a Woman?
Yes it is, but again, a little bit of common sense can go a long way in keeping you out of harm's way. Unfortunately, women are more vulnerable to things like theft, assault and rape than men are, but that's how it is in most countries. In major cities and at popular tourist sites, female travellers are as safe as what men are. However, we do recommend that female travelers, and especially those traveling alone, should avoid very quiet and very poorly lit areas at night.
Women should also be on the lookout for bag snatchers in very busy and/or crowded areas. Bag snatching is not a big problem in Egypt, but it does happen.
Suggested Reading: Is it Safe to Visit Egypt as a Woman?
Is It Safe to Travel to Egypt Right Now, or Rather Wait?
Yes, there is absolutely no reason why you shouldn't travel to Egypt right now. Covid-19 is more or less the only safety concern people have about traveling, not only to Egypt, but also to just about any other country.
The political situation is also stable and it's been years since the last time there were any riots or civil unrest on the streets, so now is as good a time as any to visit this beautiful country.
Places to Avoid When You Visit Egypt
While most of Egypt is very safe for tourists, there are some parts of the country which are best avoided. Tourists should avoid visiting places that are nearer than 50 kilometers to the Libyan border. Most of the Sinai Peninsula is also best avoided, and particularly North Sinai.
In fact, people need to apply for special permits if they wish to travel to or through North Sinai due to ongoing military operations and the threat of attack by terrorists and/or armed bandits. If you do get clearance to visit or travel through risky areas, expect to encounter many security checkpoints manned by Egyptian security forces.
Suggested Reading: Where NOT to Visit in Egypt
Is Egypt Safe to Travel to on your Own?
Yes, there is no reason why you can't visit Egypt on your own as an independent traveler. Your biggest obstacle is likely to be the language barrier, even in urban centres and major cities. This can be a big challenge when it comes to things like using public transport, taxis, etc. While this might be hugely frustrating at times, it's not likely to have any impact on your personal safety.
The language barrier can of course lead to misunderstandings occasionally, which could in turn escalate into an argument, but nothing too serious should come of it. The best way to get around the language barrier is hire an English speaking guide.
Suggested Reading: Is Egypt Safe To Travel Alone?
Do You Need Travel Insurance for Egypt?
There is no mandatory requirement for tourists to have travel insurance when visiting Egypt. However, having good insurance coverage is something we highly recommend. We would recommend this to all travelers, regardless of what countries they visit.
Suggested Reading: Do I Need Travel Insurance for Egypt?
Consider Professional Egypt Travel Packages
Since we are in the business of selling private Egypt tours and deluxe Nile cruise and stay vacations, our opinion is obviously a bit biased. That aside, we really do believe that professionally designed tours are the way to go when visiting Egypt. They can save you time, money and hassle, and to a great extent, they also make travel to Egypt even safer.
A good travel company will see to it that you visit many of the country's major tourist sites with your own private English speaking guide and your own personal driver.
If tour packages seem like a better option, browse through our range of Egypt tour packages today, or even create your dream trip to Egypt right now.
Design Your Custom Egypt Tour
Explore Egypt your way by selecting only the attractions you want to visit