Wild Wadi Water Park – One of Dubai's Top Family Attractions
Wild Wadi Water Park is one of Dubai's most popular outdoor family attractions. It is located very near to the Jumeirah Beach Hotel and the iconic Burj Al Arab in the city's Jumeirah area. Because water parks only appeal to a limited number of tourists, you won't find Wild Wadi featured in our existing Egypt and Dubai tours but it can be added if requested.
As is to be expected in a place such as Dubai, the Wild Wadi Water Park is no ordinary water park. In fact, up until quite recently, the Wild Wadi Water Park had the world's largest water slide outside of the United States. However, this slide has since been replaced by two new rides.
Apart from all the fun-filled water activities, there is also ample space for those who just feel like relaxing, including private gazebos which can be rented, and which can accommodate groups of up to eight people.
Continue reading to find out more about this great attraction in the sun.
Surfing at the Wild Wadi Water Park in Dubai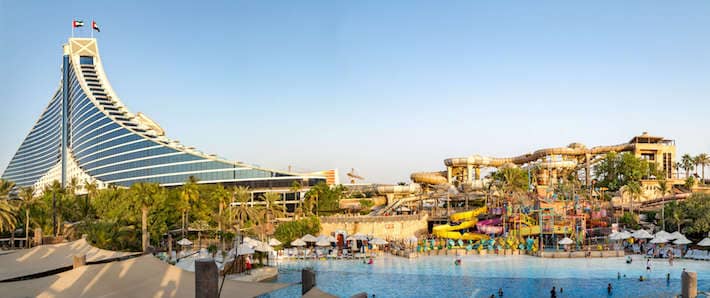 While many water parks, including this one, have wave pools and wave generating machines, Wild Wadi Water Park has taken wave generation to a whole new level with the park's FlowRider rides. The wave machines here pump out roughly 7 tons of water per second. For these rides, the water is pumped out as a thin sheet over structures made from molded foam.
While such a setup may be difficult to imagine, it produces incredibly realistic waves which are perfectly suited for body boarding, knee boarding, as well as regular surfing. Wild Wadi must surely be one fun-filled attractions in Dubai.
Breakers Bay
Welcome to the Middle East's largest and most advanced wave pool. The wave generators at Breakers Bay produce both parallel and crossing waves that average about 1.5 meters in height (4.9 feet). The machines can also be adjusted to produce five different wave configurations. So, if you feel like playing in the surf just as you would at your favorite beach, Breakers Bay is not likely to disappoint you.
Pump Up Your Adrenalin
For those who want to enjoy a good adrenaline rush, the Wild Wadi Water Park has just the answer: a stomach-churning 33 meter-high (108 feet) free-fall water slide called the Jumeirah Sceirah. Outside of North and South America, this is the world's highest and fastest free-fall ride. Considering that riders typically reach speeds of up to 80 km/h (50 mph), Jumeirah Sceirah is definitely not for the feint-hearted.
Wild Wadi Water Park – Non-Stop Entertainment for Everyone
If none of the above mentioned rides and activities appeal to you, don't worry because there is still plenty of other fun rides and activities to suite all ages, including 8 awesome long rides, and 5 fun-filled Ring Rides. Ring Rides are for the most part just regular downhill water slides where riders sit in Rings. At Wild Wadi Water Park, riders also have the option of using single-seat rings or double-seat rings.
There are also two relatively new rides at Wild Wadi, called Tantrum Alley and Burj Surj. They are the first such rides anywhere in the Middle East. They are perhaps best described as being sort of family rides. In fact, these two rides actually replaced Wild Wadi's old family rides.
Add a day at Wild Wadi to any one of our existing Dubai and Egypt vacation packages and make you stay in Dubai more memorable than ever.
Juha's Journey and Juha's Dhow and Lagoon
For those visitors who just want to spend some time relaxing on the water, Juha's Journey promises to be the ideal solution. This is a slow-paced ride that provides you with a great opportunity to relax on the water while you float slowly around the Wild Wadi Water Park, covering a distance of 360 m (1,080 ft) from start to finish. Juha's Dhow and Lagoon, on the other hand, is a large play area which is reserved exclusively for children. There are more than 100 different games and water rides, all of which have been designed specifically for young children.
Good to Know before You Go
When you pay the admission fee, you receive a magnetic wristband which you will need in order to go on any of the rides. The entrance fee is good for all rides at Wild Wadi Water Park, but adults and children over a certain age are not allowed to go on the rides in the kiddie's area. Very young children also might not be allowed on some of the adult rides.
Because of Wild Wadi's popularity, it can become quite crowded, especially on weekends and public holidays, as well as during school holidays. Showers, changing rooms, and private lockers are included in the entrance fee, and it is recommended that you leave all non-essential valuables locked away inside your locker.
You can also add funds to your magnetic wristband in order to avoid having to carry money around with you. Funds loaded onto your wristband can be spent at all of the shops, cafés and etc. Any money you don't spend is fully refundable when you leave.
Wild Wadi Water Park also has a total of 6 private cabanas which are suitable for groups of up to 8 people. Each cabana includes private seating for up to 8 people and 4 sun lounges which are positioned in the shade beneath a tent. Complimentary towels and a VIP Fast Pass is also included if you book a cabana, which does of course require an extra fee.
Visiting Wild Wadi Water Park with Egypt Tours Plus
At Egypt Tours Plus, we realize that water parks are not for everyone. For this reason, it is highly unlikely that you will find the Wild Wadi Water Park included in any of our regular Egypt and Dubai tours. However, since all of our tour packages are fully customizable, we can easily add a visit to the water park to any one of our existing tour itineraries.
Alternatively, we can work with you in order to create a tour from the ground up; a tour package which is based entirely on your own exact needs. We have been making people's travel dreams come true for decades already, and we can do the same for you.